Umno leaders and supporters harassed two Malaysiakini interns who were assigned to cover former premier Najib Abdul Razak's talk in Kuala Lumpur this afternoon, which later witnessed a fracas erupting across the road.
Journalism student Mariam Nizar, 25, said she was harassed by Petaling Jaya Selatan Umno chief Mutalib Abdul Rahim and Umno supreme council member Lokman Noor Adam.
The pair was upset with Malaysiakini's report about a Universiti Malaya student leader being held in a headlock during the incident and vented their anger on her.
"A man wearing a jubah (Lokman) put his face near mine, and I told him to move aside and respect my personal space.
"He then told me 'mak kaulah personal space'," said Mariam in her police report lodged with the Petaling Jaya district headquarters this evening.
She then called Malaysiakini's BM desk editor Jimadie Shah Othman to alert him regarding the situation, during which, Mutalib snatched his namecard from her hand, injuring her finger in the process.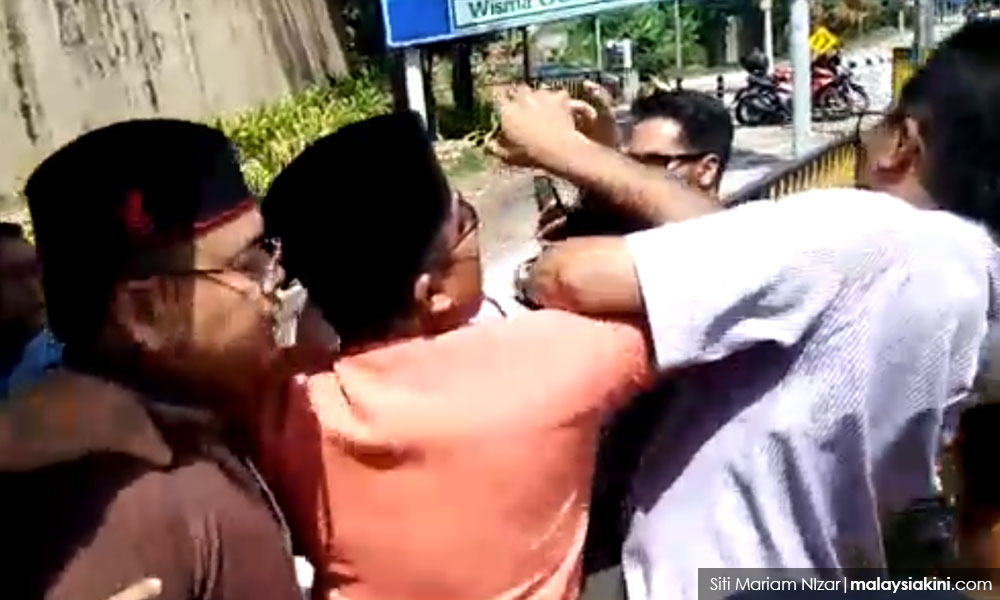 Meanwhile, another intern Ramieza Wahid, 25, was shoved by one of the men.
The two interns, who were traumatised by the incident, were verbally abused with words such as "stupid" and "liar" as well as expletives.
Malaysiakini later accompanied them to lodge their police report.

Malaysiakini editor-in-chief Steven Gan condemned the harassment.
"They have crossed the line by verbally and physically attacking our interns who were just doing their job. We must send a loud and clear message that such violence will not be tolerated," he said.
Meanwhile, Najib told Malaysiakini that he regretted that reporters were caught up in the altercation.
He also regretted the provocation of the students who protested and the ensuing scuffle.
Related stories
Najib thinks students should not have protested, expresses regret
PKR wants cops to probe Najib's supporters, urges ex-PM to apologise
Umno in the dark over man who headlocked student, claims Najib
We were told Najib won't be present, restaurant cries foul
Manhandled student: Najib has to be reminded of his misdeeds
KJ condemns thuggish behaviour, Lokman claims Umno rescued 'DAP' student
Maszlee to uni students: 'Jangan malu', you have role to play
Umno leaders, supporters harass M'kini interns after altercation