Police are probing the scuffle between supporters of former premier Najib Abdul Razak and student protestors under Section 160 of the Penal Code.
The section outlines punishment for committing an affray, which carries a jail term of up to six months, or a fine of up to RM1,000, or both.
Yesterday, a group of seven Universiti Malaya students staged a protest across the street from a restaurant where Najib was giving a talk.
The students were then confronted by a group of Najib's supporters, led by Umno supreme council member Lokman Noor Adam.
Kuala Lumpur police chief Mazlan Lazim said in a statement today that police will also take action against anyone who violated Section 9(1) of the Peaceful Assembly Act.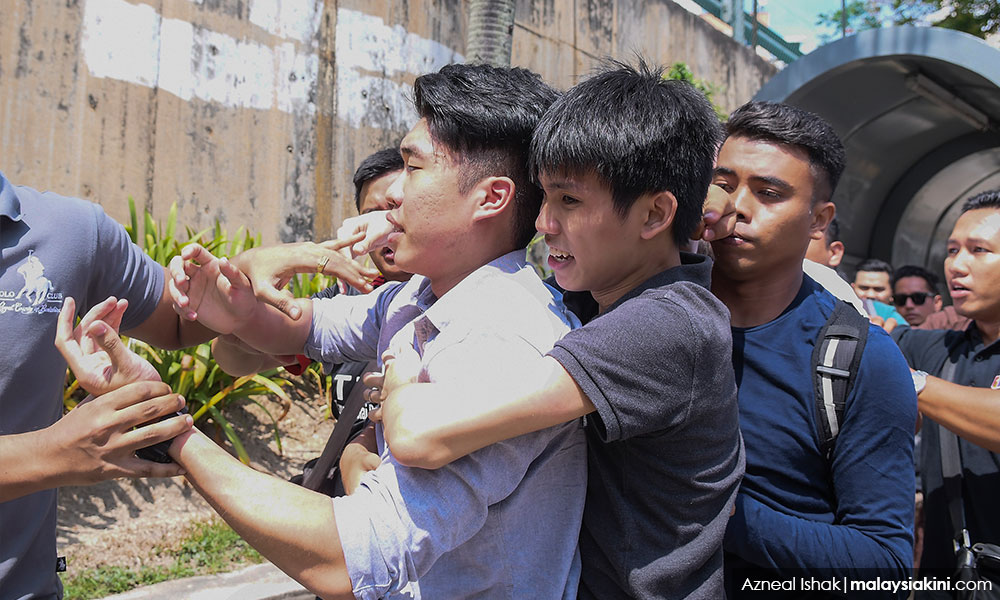 This is the section that requires police be notified 10 days prior to an assembly.
Mazlan said 12 police reports have been lodged over the scuffle and that 10 witness statements have been taken.
He said the seven students, who were whisked away from the confrontation to safety by police, have also had their statements taken as witnesses.
Besides the scuffle with students, Lokman and others harassed two Malaysiakini interns over the news portal's report on the incident.
---
RELATED REPORTS
MCA Youth slams attack on students, offers them legal aid
UM student: I protested against Maszlee too but was not harassed
Hands off journalists, says communications minister
Academics tell cops to go after real wrongdoers in attack on UM students