The Johor Bahru-Singapore Rapid Transit System (RTS) Link project has been formally deferred by six months to Sept 30.
This was announced by the transport ministers of both countries in a joint agreement signing ceremony and press conference in Singapore today.
Malaysia, who requested the deferment, will be required to pay Singapore RM2 million in abortive costs. Transport Minister Anthony Loke has promised to do so by July 30.
"The agreement will allow us some time to explore other affordable and sustainable solutions to address traffic congestion at the border," Loke said.
"These include new initiatives, such as improvements to the physical infrastructure at the border, a review of inter-boundary policies and regulations, and enhancing the quality of cross-border services.
"Malaysia will bear the agreed costs for suspending the RTS Link project. If by Sep 30 Malaysia does not proceed with the RTS Link project, Malaysia will also bear the agreed costs incurred by Singapore in fulfilling the RTS Link bilateral agreement."
---
Read more: Malaysia hoping to privatise Johor-S'pore RTS
---
Loke stressed that the deferment did not mean the project was off, but instead gave Putrajaya a chance to renegotiate the project's existing terms, which were agreed to under the previous BN administration.
It will also allow the government to pursue its intention to privatise the project.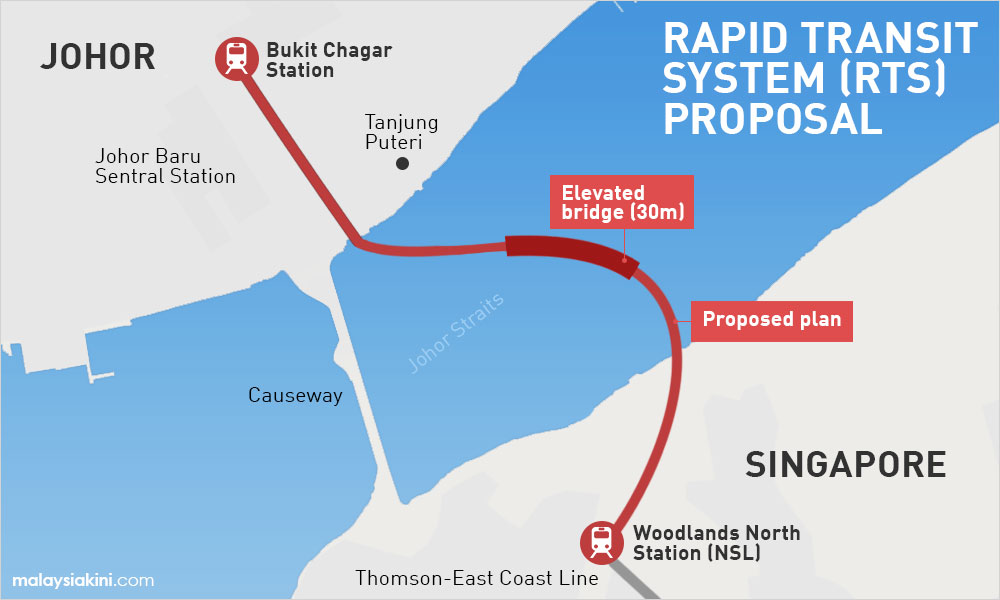 Loke hoped that any renegotiation would help reduce the eventual fares for RTS Link users.
"What we want to see is not only a completed project but also lower fares for passengers.
"The fare structure agreed to previously was quite high – RM15 for a one-way ticket.
"We believe this will be a burden to Malaysians, especially to those who commute to Singapore for work every day," he later told reporters.
The 4km RTS train line was planned to link up the Bukit Chagar station in Johor Bahru to the RTS Link Woodlands North station in Singapore, via a 25m-high bridge across the Straits of Johor.
Loke previously estimated the cost of the train line to be RM4 billion.
The development previously hit a snag when federal land in Bukit Chagar required for the project was found to be in the name of the Johor ruler Sultan Ibrahim Sultan Iskandar – requiring Putrajaya to compensate the ruler, which subsequently inflated the project's original cost.
The land transfer was done in 2017 during the previous BN administration, two days after the state ruler had publicly expressed "serious reservations" about the RTS Link alignment.
In response, Sultan Ibrahim said he was unaware if he owned any land involved in the RTS Link project, and was willing to surrender it to the government at zero cost.