One of Mohamed Azmin Ali's senior officers today confronted a group of youths who held a protest after Friday prayers at Masjid Putra to demand the resignation of the economic affairs minister.
Khalid Jaafar, who chanced upon the protesters while leaving the mosque, chided the 20 youths for slander and for covering their faces.
"Didn't you listen to the sermon? It is about not spreading lies. This is fitnah (slander)," said an irate Khalid, a usually low-key member of Azmin's inner circle.
He also accused the group of cowardice for hiding their faces, to which the group retorted with chants of "tolak semburit (reject homosexuals)".
One of the protesters later engaged Khalid, and pointed out that former Santubong PKR Youth chief Haziq Abdullah Abdul Aziz had confessed to having an intimate relationship with Azmin.
To this, Khalid said action should then be taken against Haziq for confessing to involvement in unlawful activities.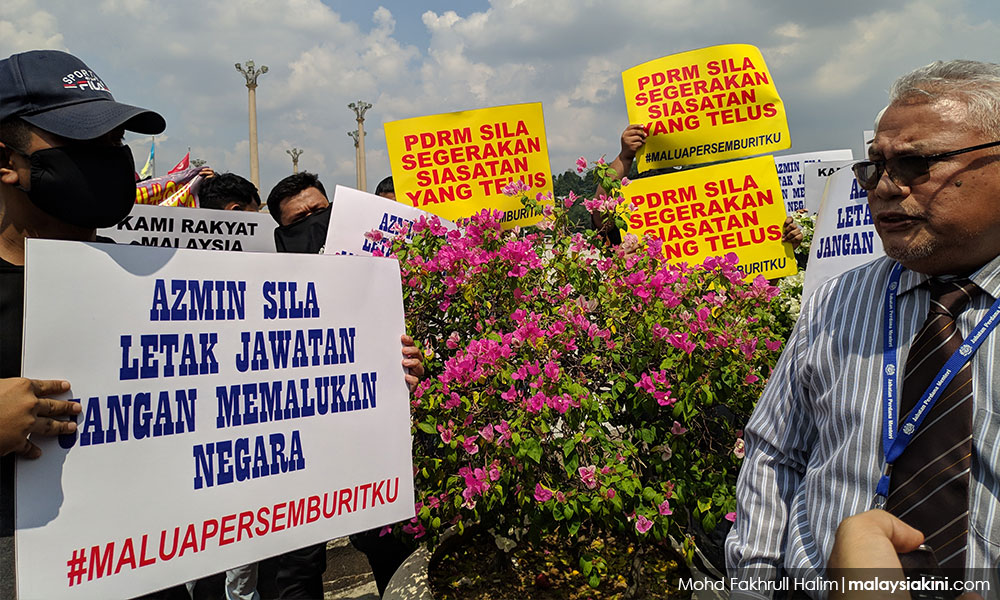 The 20 youths had gathered in front of Masjid Putra at about 2.30pm, holding up placards demanding Azmin's resignation over allegations of sexual impropriety.
One placard read "We love (Prime Minister Dr) Mahathir (Mohamad). Do not burden him. Azmin please resign," while another urged the police to expedite investigations.
The same placards were also spotted during a similar protest in front of Parliament yesterday.
When approached, the youths were unable to identify the organiser of the protest. The name of the organisation which issued the press invite – Anak Muda Tolak Semburit dan Bersih 0.7 – also appeared unfamiliar to them.
Some covered their faces with T-shirts from previous Bersih rallies.
Umno supreme council member Lokman Noor Adam, who was also at the mosque, denied having anything to do with the youths or knowing the protest organisers.
"I just came to show our friends support.
"I came to monitor, to observe. If there are not enough people, we will join in the next time," he told reporters.
Lokman (photo) also questioned why police have not taken action against Haziq despite reports being lodged nearly a month ago.
Police are currently investigating a series of video clips – the first of which emerged on June 12 – which depict two men in bed.
Haziq admitted to being one of the men shown in the videos, and accused Azmin of being the other.
Azmin has denied the allegations, and accused his enemies of engaging in a nefarious plot to discredit him.
Haziq has been since been sacked as an officer to the deputy primary industries minister, and also expelled from PKR.