PAS central committee member Nik Abduh Nik Aziz (above) said no non-Muslims would attempt to expel controversial preacher Zakir Naik from this country unless they were enemies of Islam.
His statement via Facebook post today came amidst a controversy courted by the preacher following his remarks on Malaysian Chinese and Indians during a talk in Kelantan last week.
"Whoever supports the enemies of Islam in their action against the community (ummah), he or she is a stooge," he said.
Nik Abduh also trained his guns on Muslims who wished for Zakir to be expelled.
"No Muslims will be happy and agree for Zakir Naik to be ousted from this country unless they are hypocrites and they will bear great sin."
The Bachok MP added that every Muslim belongs in a family and it was forbidden to be cruel to one's own family members and to allow anyone to do harm to the members.
"The real victory is in the fight to uphold the name of Allah in oneself and the country," he said.
Zakir had remarked that Hindu Malaysians seemed to trust the Indian government more than Prime Minister Dr Mahathir Mohamad, while he also suggested that "old guests", referring to the Chinese, "go back."
However, Zakir stressed that his statement on the Hindu community had been misquoted.
Among the ministers who had sought for Zakir to be deported were Gobind Singh Deo, M Kulasegaran, Xavier Jayakumar and Syed Saddiq Abdul Rahman.
"An attack against our Chinese and Indian brothers and sisters is an attack against all Malaysians," Saddiq had said, while agreeing with other ministers that Zakir should be deported.
Following the incident, a total of 115 police reports have been filed against Zakir.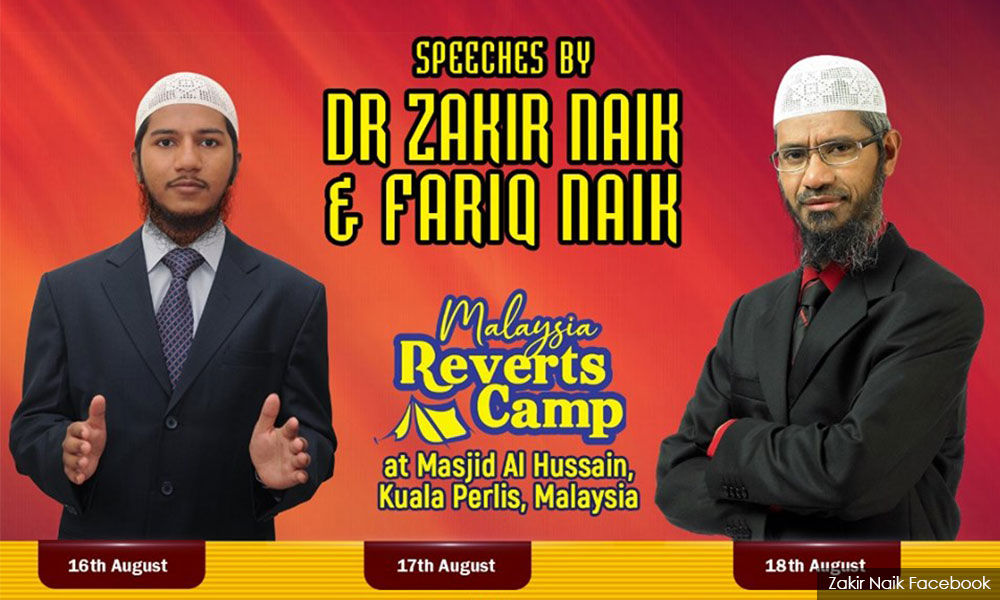 Despite facing pressure, Zakir and his family are expected to deliver speeches at a three-day religious event in Kuala Perlis which begins tomorrow (above).
Meanwhile, PAS Ulama wing chief Mohd Nor Hamzah, in a statement, condemned the cabinet ministers who wanted Zakir expelled from the country.
Mohd Nor reminded them of Home Minister Muhyiddin Yassin's answer to Kubang Kerian MP Tuan Ibrahim Tuan Man in the Dewan Rakyat last month.
Muhyiddin had said then that the government had not restricted Zakir from entering the country as it was done based on usual procedures and followed all laws and regulations.
Mohd Nor also expressed disappointment with the de facto Islamic affairs minister Mujahid Yusof Rawa whom he claimed had failed to explain matters to the ministers concerned.
"He does not play an effective role, but instead remains tightlipped at a time when Islam is being undermined by others," said Mohd Nor.
Zakir, a Malaysian permanent resident, is on a self-imposed exile in the country as he is wanted in his native India on money-laundering charges.
Putrajaya has refused to deport the preacher despite requests from India, saying he may not receive a fair trial there.
Muhyiddin had also noted that Zakir was not on Interpol's Red Notice list and he was not a suspected terrorist listed under the UN Security Council resolutions list.