COVID-19 | The country reported 2,720 new cases of Covid-19 as of noon today, most of which were still concentrated in the Klang Valley.
A total of 1,391 (51.1 percent) new cases involved Malaysians, while the remaining 1,329 (48.9 percent) were non-citizens. All of the latest cases were locally transmitted.
Only 57 of them (2.1 percent) involved prisons and other detention facilities.

The number of active cases continued to slide for the fifth consecutive day, helped by a record-high 5,718 discharges in a single day.
This would provide much-needed relief for the strained healthcare system.
However, it must be noted that the Health Ministry had reduced testing on Jan 13, especially for asymptomatic close contacts.
Nevertheless, Health Ministry director-general Dr Noor Hisham Abdullah today assured that the level of testing in Malaysia was still adequate.

Active cases: 44,129
Patients in ICU: 253
Intubated: 118
Cases in Selangor were back to four-digit figures with 1,300 cases reported, while Sabah recorded 132 after dipping into the double-digits yesterday for the first time in months.
The number of cases was also high in Johor, which reported 451 today compared to 269 yesterday.
Cases in Johor were mainly driven by four newly identified clusters, three of which involved factories. Together, the four clusters accounted for 70.1 percent of cases in the state.
Similarly, a newly identified construction site cluster in Kuala Lumpur accounted for most of the new Covid-19 cases there.
Perlis - which is the only state to be under the recovery movement control order beginning Feb 19 - reported no cases for the third consecutive day.
Deaths
Another eight people succumbed to the virus, bringing the death toll to 983.
Three of the deaths occurred in Kuala Lumpur, two in Selangor; while Sarawak, Sabah, and Negeri Sembilan each recorded one death.
The oldest of the deceased were two 86-year-olds – a female with diabetes and high blood pressure who died at Keningau Hospital, Sabah, and a male with chronic lung disease who died at Tuanku Jaafar Hospital, Seremban. 
The youngest was a 47-year-old male with no history of chronic illness who died at Kuala Lumpur Hospital. He was the only non-citizen among Covid-19 deaths reported today.
New cases by state
Selangor (1,300)
Existing clusters: 563
New clusters (Rawang Bestari, Jalan Lazuardi, Jalan Industri Dua Belas, Jalan Industri Tiga): 82
Close contacts: 422
Other screenings: 233
Johor (451)
Existing clusters: 49
New clusters (Package Pengerang, Wawasan Kulai, Industri Cyber, Jalan Pelepas Empat): 316
Close contacts: 37
Other screenings: 49
Kuala Lumpur (318)
Existing clusters: 49
New clusters (Tapak Bina Jalan Segambut): 173
Close contacts: 33
Other screenings: 63
Sarawak (193)
Existing clusters: 14
New clusters (Kidurong Dua, Gelong, Univista, Kampung Sungai Maong, Jalan Geronggang): 48
Close contacts: 28
Other screenings: 103
Sabah (132)
Existing clusters: 55
New clusters (Jalan Apas Empat, Simpang Tiga): 8
Close contacts: 56
Other screenings: 13
Negeri Sembilan (64)
Existing clusters: 7
Close contacts: 44
Other screenings: 13
Penang (72)
Existing clusters: 30
Close contacts: 14
Other screenings: 28
Perak (69)
Existing clusters: 58
New cluster (Jalan Kayu Manis): 3
Close contacts: 5
Other screenings: 3
Kedah (38)
Existing clusters: 24
New cluster (Jalan Day): 2
Close contacts: 6
Other screenings: 6
Terengganu (26)
Existing clusters: 20
Close contacts: 2
Other screenings: 4
Pahang (19)
Existing clusters: 2
New cluster (Jengka Tujuh): 14
Close contacts: 2
Other screenings: 1
Kelantan (17)
Close contacts: 15
Other screenings: 2
Malacca (14)
Existing clusters: 7
Close contacts: 4
Other screenings: 3
Putrajaya (6)
Existing clusters: 1
Close contacts: 4
Other screenings: 1
Labuan (1)
Other screenings: 1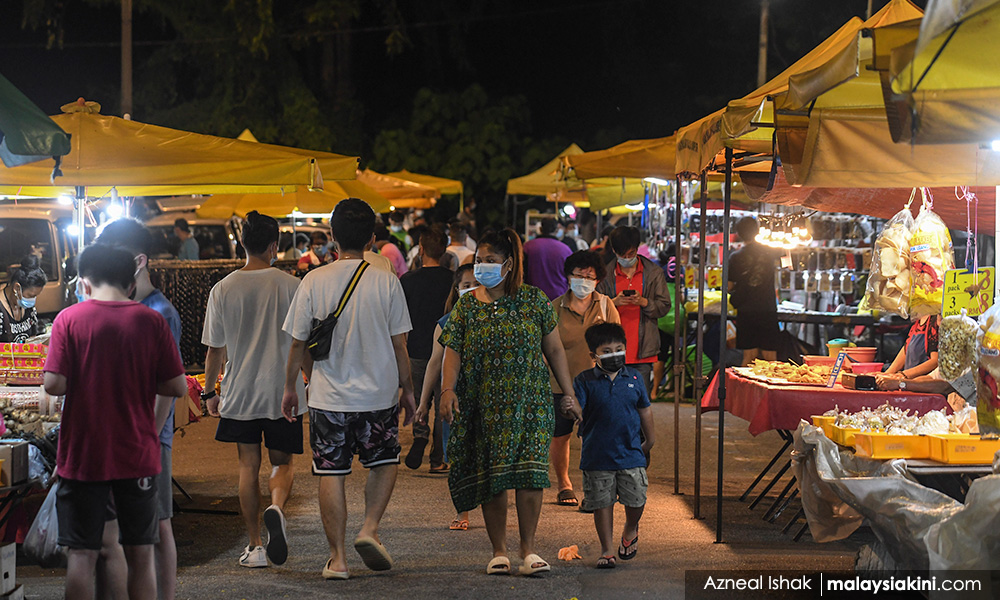 Clusters
The Health Ministry was tracking 499 active clusters including 19 new ones reported today, while monitoring has ended for another nine.
Of the active clusters, 79 reported new cases particularly the Tapak Bina Damar cluster in Selangor and Putrajaya that reported 201. 
This was followed by the two newly detected clusters – the Tapak Bina Jalan Segambut in Kuala Lumpur (173 cases) and Industri Cyber cluster in Kulai, Johor (161).
These three clusters were the only ones reporting triple-digit new cases today.
Details of the 19 new clusters are as follows:

Package Pengerang cluster
District(s): Kota Tinggi, Johor
Locality/Source: Services company in Pengerang, Kota Tinggi
Cluster category: Workplace
First case: Feb 2, index case with symptoms
Total infected: 10 out of 157 screened

Wawasan Kulai cluster
District(s): Kulai and Kota Tinggi, Johor
Locality/Source: Factory in Taman Wawasan, Kulai
Cluster category: Workplace
First case: Feb 14, targeted screening of workers
Total infected: 68 out of 220 screened

Industri Cyber cluster
District(s): Kulai, Johor
Locality/Source: Factory at Jalan Cyber 14, Senai 4 Industrial Area, Kulai
Cluster category: Workplace
First case: Feb 16, targeted screening of workers
Total infected: 161 out of 315 screened

Jalan Pelepas Empat cluster
District(s): Johor Bahru, Johor
Locality/Source: Factory at Jalan Pelepas 4/6, Johor Bahru
Cluster category: Workplace
First case: Feb 16, targeted screening of workers
Total infected: 87 out of 255 screened

Rawang Bestari cluster
District(s): Gombak and Hulu Selangor, Selangor
Locality/Source: Factory at Rawang Integrated Industrial Park, Gombak
Cluster category: Workplace
First case: Feb 8, targeted screening of workers
Total infected: 45 out of 594 screened

Jalan Industri Dua Belas cluster
District(s): Petaling, Selangor
Locality/Source: Factory at Jalan Industri 12, Kampung Baru Sungai Buloh
Cluster category: Workplace
First case: Feb 16, targeted screening of workers
Total infected: 17 out of 123 screened

Jalan Industri Tiga cluster
District(s): Gombak, Selangor
Locality/Source: Factory at Jalan Industri 3/4, Rawang Integrated Industrial Park
Cluster category: Workplace
First case: Feb 7, targeted screening of workers
Total infected: 16 out of 157 screened

Jalan Lazuardi cluster
District(s): Petaling, Selangor
Locality/Source: Services company at Jalan Lazuardi, Shah Alam
Cluster category: Workplace
First case: Feb 16, targeted screening of workers
Total infected: 24 out of 61 screened

Simpang Tiga cluster
District(s): Kota Belud, Kota Marudu, and Pitas, Sabah
Locality/Source: Services company at Simpang Tiga, Kudat
Cluster category: Workplace
First case: Feb 7, index case with symptoms
Total infected: 25 out of 53 screened

Jalan Apas Empat cluster
District(s): Tawau and Kalabakan, Sabah
Locality/Source: Two factories in Tawau. Index case works at Jalan Apas 4.
Cluster category: Workplace
First case: Jan 29, index case with symptoms
Total infected: 22 out of 390 screened

Tapak Bina Jalan Segambut cluster
District(s): Kepong, Kuala Lumpur
Locality/Source: Construction site at Jalan Segambut, Kepong
Cluster category: Workplace
First case: Feb 16, targeted screening of workers
Total infected: 173 out of 483 screened

Jengka Tujuh cluster
District(s): Maran and Jerantut, Pahang
Locality/Source: Two educational institutions in Maran. Index case lives in Jengka 7
Cluster category: Workplace
First case: Feb 6, pre-surgery screening
Total infected: 20 out of 182 screened

Jalan Day cluster
District(s): Kota Setar and Kubang Pasu, Kedah
Locality/Source: Educational institution at Jalan Day, Alor Setar
Cluster category: Workplace
First case: Feb 10, index case with symptoms
Total infected: 12 out of 109 screened

Jalan Kayu Manis cluster
District(s): Manjung, Perak
Locality/Source: Supermarket near Jalan Kayu Manis, Seri Manjung
Cluster category: Workplace
First case: Feb 3, index case with symptoms
Total infected: 12 out of 34 screened

Gelong cluster
District(s): Kapit, Sarawak
Locality/Source: Funeral attended by the index case who lives at Taman Sri Gelong, Jalan Selirik, Kapit
Cluster category: Community
First case: Feb 14, private screening
Total infected: 14 out of 86 screened

Kidurong Dua cluster
District(s): Bintulu, Sarawak
Locality/Source: Family members and close contacts of an individual who works at Kidurong Dua, Bintulu
Cluster category: Community
First case: Feb 11, index case with symptoms
Total infected: 12 out of 74 screened

Kampung Sungai Maong cluster
District(s): Kuching, Sarawak
Locality/Source: Residence at Kampung Sungai Maong, Kuching
Cluster category: Community
First case: Feb 13, index case with symptoms
Total infected: 18 out of 50 screened

Univista cluster
District(s): Samarahan and Kuching, Sarawak
Locality/Source: Residence at Taman Univista, Samarahan
Cluster category: Community
First case: Feb 13, index case with symptoms
Total infected: 45 out of 184 screened

Jalan Geronggang cluster
District(s): Sibu, Sarawak
Locality/Source: Elderly care facility at Jalan Geronggang, Sibu
Cluster category: High-risk group
First case: Feb 11, community screening
Total infected: All 41 screened