COVID-19 | The Health Ministry today reported 7,703 new Covid-19 cases.
Today saw a record high number of Covid-19 deaths being reported. The number of daily new cases peaked just four days ago.
This is the first time since the start of the pandemic where the number of deaths reaching the triple digits.
Also reported was a record number of Covid-19 patients in intensive care or requiring ventilators.
Active cases: 82,274
Patients in ICU: 878*
Intubated: 441*
(*These figures do not include "probable" or "suspected' Covid-19 cases. See here.)
New cases by state
Selangor (2728)

Kuala Lumpur (701)

Sarawak (588)

Negeri Sembilan (586)

Johor (554)

Kelantan (541)

Penang (407)

Kedah (283)

Sabah (254)

Pahang (237)

Perak (224)

Terengganu (224)

Malacca (209)

Labuan (159)

Perlis (7)

Putrajaya (1)
In Selangor (2,728), approximately one in 11 new Covid-19 cases detected today was confirmed only after they complained of symptoms.
Kuala Lumpur continued to see elevated levels with 701 new infections while Putrajaya only saw one new case.
The Klang Valley made up 44.5 percent of the total new cases.
The R-naught has been steadily trending downwards since peaking at 1.21 on May 21, down to 1.06 as of yesterday.
As long as the R-naught remains above 1.00, the spread of Covid-19 was still accelerating.
Perlis is the only part of Malaysia where the R-naught was not above 1.00
Deaths
The 126 new Covid-19 related deaths reported today has pushed the national cumulative total to 2,993.
These deaths were reported in Selangor (29), Kuala Lumpur (18), Negeri Sembilan (14), Kelantan (12), Johor (11), Kedah (10), Labuan (8), Malacca (5), Terengganu (5), Sarawak (4), Pahang (3), Perak (2), Putrajaya (2), Sabah (2) and Penang (1).
The youngest victim was a 26-year-old woman in Labuan. She had no history of other illnesses. 
There were 10 victims who were pronounced dead upon arrival at the hospital and four victims that were in their 20s.
For a detailed breakdown on the reported deaths today, please refer to our Covid-19 tracker site.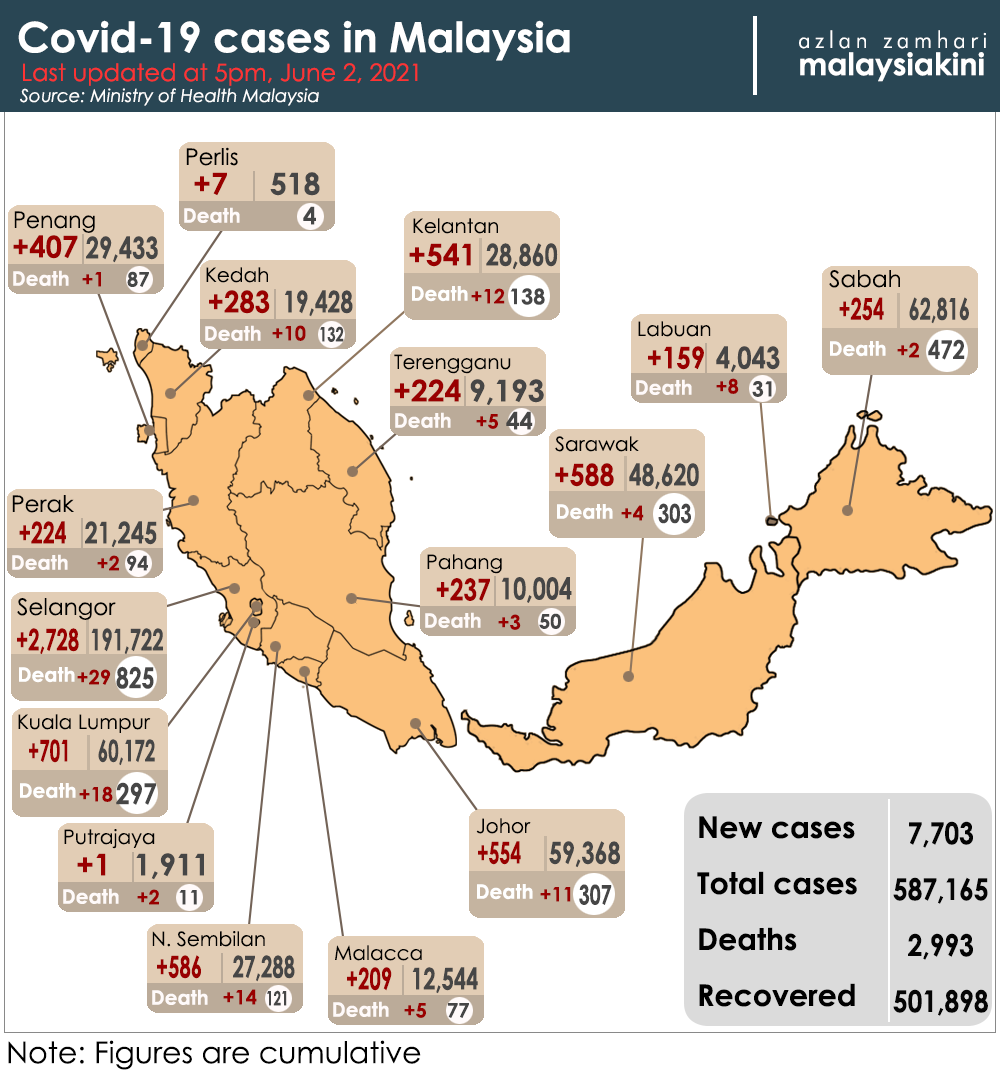 Clusters
The Health Ministry is currently monitoring 674 active Covid-19 clusters. For comparison, there were 398 active clusters a month ago on May 2.
Another 22 new clusters were reported today, of which half were workplace clusters and seven were caused by community spread. Details follow:
Jalan Waja Lima Belas cluster
Category: Workplace
State(s): Selangor
District(s): Kuala Langat and Petaling
Total infected: 23 out of 277 screened
Jalan Balam cluster
Category: Workplace
State(s): Kuala Lumpur
District(s): Kepong and Titiwangsa
Total infected: 11 out of 42 screened
Jalan Jee Cattleya cluster
Category: Workplace
State(s): Sarawak
District(s): Miri
Total infected: 23 out of 145 screened
Jalan Pinang Riam cluster
Category: Workplace
State(s): Sarawak
District(s): Miri
Total infected: 15 out of 129 screened
Jalan SILC Satu cluster
Category: Workplace
State(s): Johor
District(s): Johor Bahru and Pontian
Total infected: 15 out of 110 screened
Teknologi Enam cluster
Category: Workplace
State(s): Johor
District(s): Tangkak
Total infected: 15 out of 85 screened
Jalan Bioteknologi Satu cluster
Category: Workplace
State(s): Johor
District(s): Johor Bahru
Total infected: 24 out of 62 screened
Pantai Kemayang cluster
Category: Workplace
State(s): Kelantan
District(s): Bachok
Total infected: 22 out of 186 screened
Industri Jemapoh cluster
Category: Workplace
State(s): Negeri Sembilan
District(s): Kuala Pilah and Jempol
Total infected: 50 out of 285 screened
Jalan Tambun cluster
Category: Workplace
State(s): Perak
District(s): Kinta and Hulu Perak
Total infected: 20 out of 75 screened
Industri Bukit Panchor cluster
Category: Workplace
State(s): Penang
District(s): Seberang Perai Utama, Seberang Perai Tengah, Seberang Perai Selatan and Timur Laut
Total infected: 94 out of 545 screened
Jalan Parit Raja Tengah cluster
Category: Community
State(s): Johor
District(s): Muar
Total infected: 27 out of 42 screened
Nanga Meruan cluster
Category: Community
State(s): Sarawak
District(s): Selangau, Sibu and Kanowit
Total infected: 34 out of 115 screened
Sungai Penyarai cluster
Category: Community
State(s): Sarawak
District(s): Tatau
Total infected: 27 out of 109 screened
Kelisa Emas cluster
Category: Community
State(s): Penang
District(s): Seberang Perai Tengah and Barat Daya
Total infected: 20 out of 43 screened
Taman Fasa 2A cluster
Category: Community
State(s): Perak and Kuala Lumpur
District(s): Manjung and cheras
Total infected: 33 out of 118 screened
Dah Kampung Lancuk cluster
Category: Community
State(s): Kedah
District(s): Kota Setar, Kuala Muda and Sik
Total infected: 57 out of 167 screened
Kampung Alai cluster
Category: Community
State(s): Perak
District(s): Hulu Perak
Total infected: 18 out of 42 screened
Jalan Beringin cluster
Category: High Education
State(s): Selangor
District(s): Hulu Selangor and Petaling
Total infected: 13 out of 686 screened
Jalan Yaacob Latif 2 cluster
Category: High Education
State(s): Kuala Lumpur
District(s): Cheras
Total infected: 10 out of 39 screened
DTI Kemayan cluster
Category: Detention Centre
State(s): Pahang
District(s): Bera
Total infected: 40 out of 156 screened
Jalan Mutiara Galla cluster
Category: Religious event
State(s): Negeri Sembilan
District(s): Seremban
Total infected: 33 out of 45 screened