COVID-19 | The Health Ministry reported 13,754 new cases of Covid-19 today.
Perlis (113), which has the highest Covid-19 Intensive Care Unit (ICU) bed usage in the country, hit a new record.
It is the third time cases in Malaysia's smallest state has hit triple digits.
Nationally, the R-naught for Covid-19 as of yesterday is 0.92. This is the 22nd consecutive day the figure has remained below 1.00.
Any number higher than 1.00 suggests a growing outbreak that is accelerating in pace. Conversely, a figure below 1.00 suggests the outbreak is in decline.
Nevertheless, there are still six states where the R-naught is at or above 1.00, namely – Pahang (1.03), Perak (1.02), Terengganu (1.01), Perlis (1.01), Sarawak (1.00), and Kelantan (1.00).

Active cases and deaths will only be reported after midnight. For yesterday's figures, click here.
Patients in ICU: 1,107 [868 confirmed, 239 suspected]
Intubated: 613 [387 confirmed, 226 suspected]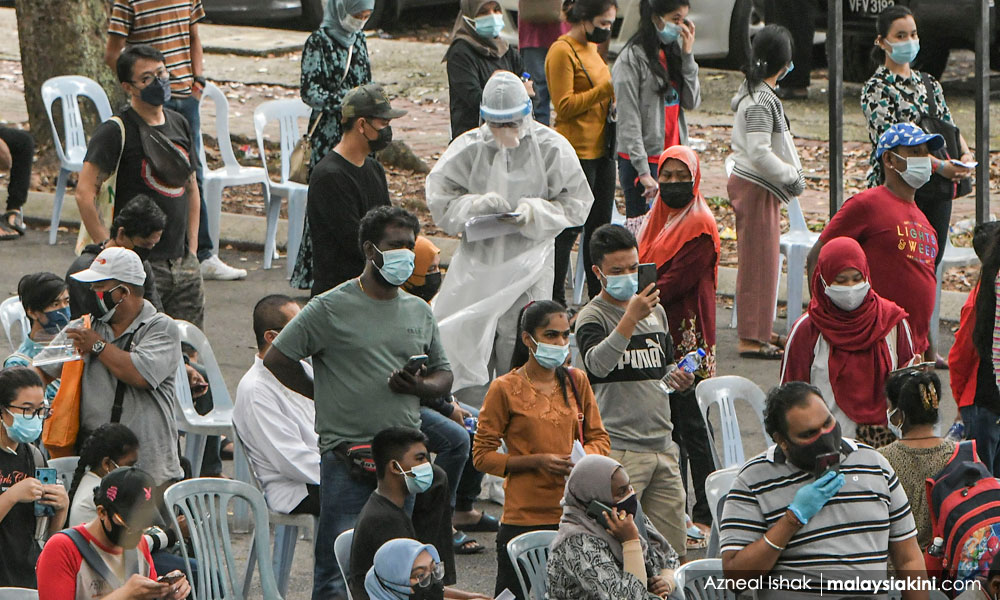 Cases by state

Selangor (1,985)
Johor (1,913)
Sarawak (1,766)
Sabah (1,629)
Kelantan (1,264)
Penang (1,052)
Pahang (869)
Perak (844)
Kedah (783)
Terengganu (664)
Kuala Lumpur (383)
Malacca (292)
Negeri Sembilan (175)
Perlis (113)
Putrajaya (14)
Labuan (8)
Clusters
A total of 1,268 out of 5,369 clusters are still active. This includes 15 new clusters.
Eight of the new clusters are community clusters, while the remaining seven are workplace clusters.

Details of the new clusters are as follows:
Kampung Sireh Kota Bharu
Category: Community
State(s): Kelantan
District(s): Kota Bharu
Total infected: 17 out of 23 screened
Jalan Gertak Ular Repek
Category: Community
State(s): Kelantan
District(s): Pasir Mas
Total infected: 13 out of 14 screened
Kampung Binjai Mulong
Category: Community
State(s): Kelantan
District(s): Kota Bharu
Total infected: 13 out of 16 screened
Kampung Bunga Mas
Category: Community
State(s): Kelantan
District(s): Kota Bharu
Total infected: 12 out of 18 screened
Kampung Bechah Semak Hilir
Category: Community
State(s): Kelantan
District(s): Pasir Mas
Total infected: 8 out of 8 screened
Kampung Kubang Chenok
Category: Community
State(s): Kelantan
District(s): Pasir Mas
Total infected: 6 out of 10 screened
Kampung Telimau Pos Terisu
Category: Community
State(s): Pahang
District(s): Cameron Highlands
Total infected: 22 out of 188 screened
Batu 8 Tanjung
Category: Community
State(s): Perak
District(s): Kinta
Total infected: 10 out of 430 screened
Jalan Er Luan
Category: Workplace
State(s): Johor
District(s): Muar
Total infected: 61 out of 210 screened
Shan Pengerang
Category: Workplace
State(s): Johor
District(s): Kota Tinggi
Total infected: 14 out of 18 screened
Industri Jalan 1/9C
Category: Workplace
State(s): Selangor
District(s): Hulu Langat, Kuala Langat, Gombak, Sepang and Petaling
Total infected: 70 out of 141 screened
Industri Jalan Semenyih Batu 19
Category: Workplace
State(s): Selangor
District(s): Hulu Langat and Petaling
Total infected: 26 out of 112 screened
Industri Batu 29 Ijok
Category: Workplace
State(s): Selangor
District(s): Kuala Selangor
Total infected: 12 out of 79 screened
Ladang Chiku Satu
Category: Workplace
State(s): Kelantan
District(s): Gua Musang
Total infected: 9 out of 13 screened
Batu 46 Tulid
Category: Workplace
State(s): Sabah
District(s): Keningau
Total infected: 48 out of 190 screened