DAY 10 SG LIMAU Quotable quotes, planned events and unplanned incidents as they take place in the run-up to the by-election on Nov 4.
---
10.32pm: SMK Chung Hwa, Gurun
Penang Chief Minister Lim Guan Eng laments that Umno often treats the Chinese minority in the country as "second class citizens".
In the 1,000-strong 'Super Saturday' dinner organised by Kedah DAP, Lim tells the Chinese community in Gurun that it is important for them to maintain their dignity.
"Don't vote for BN, let them know that we are still determined with our stance," he says to loud applause from the crowd. Most of them are Chinese, though not all are Sg Limau voters.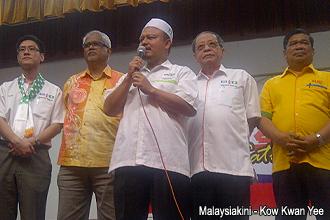 He urges Sg Limau voters to back PAS candidate Mohd Azam Samat (right) come Monday.
"We are one in Pakatan, and we are for all. Together we will fight corruption and the GST (goods and services tax)," he thunders.
10.00pm: SMK Chung Hwa, Gurun
PAS election director Dr Hatta Ramli told the 1,000 strong crowd at DAP's 'Super Saturday' dinner that Malaysia "is not for extremists".
"This country is for people like us," he said at the dinner hosted by Kedah DAP.
"Don't be worried. Don't let anyone tell you that if you don't like the laws, you can leave the country," he said.
"You have the right to fight for your rights. You still have a good future here in this country."
9.50pm - SMK Chung Hwa, Gurun
A voter from Sungai Limau has Penang Chief Minister Lim Guan Eng's autograph etched on his half-bald head.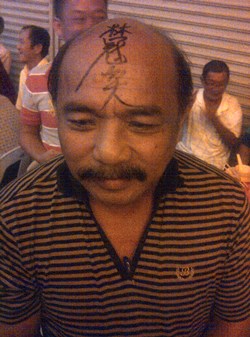 Tan Eng Hua, 58, gives a black marker to Lim and requests him to ink his signature on his balding head during the DAP 'Super Saturday' dinner.
The crowd cheers as Lim scribbles his Chinese name on Tan's scalp, drawing some attention from shutterbugs.
Tan, a rice dealer from Kampung Batu 17 in Sungai Limau, says he was struck with the idea when seeing Lim signing his name on the party's mascot Ubah.
"I'll not wash my hair until the end of polling day," he grins.
9.30pm - SMK Chung Hwa, Gurun
In the midst of a 1,000 dinner organised by DAP Kedah to introduce PAS candidate Mohd Azam Samat, state interim DAP chief Zairil Khir Johari was shown an SMS which he had allegedly sent out.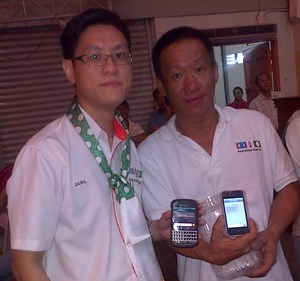 Zairil, the Bukit Bendera MP, vehemently denies he sent the message asking people to support him as he is a Malay.
"The SMS says that I should be heading the Kedah DAP. I did not send this message at all. My phone has been hacked and I will lodge a police report tomorrow," he fumes.
Zairil reveals that he has been receiving messages condemning him and calling him "stupid" earlier today but he did not know why.
"Only after being shown this SMS that I now understand why I have been receiving all those negative messages," he adds.
Penang Chief Minister Lim Guan Eng and PAS leaders are here at the DAP dinner dubbed 'Super Saturday'.
7.15pm: Dulang Besar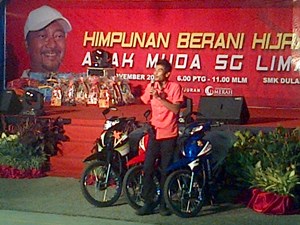 The Himpunan Berani Hijrah organised by Umno at SMK Dulang features Scenario comedian Lan Pet Pet (right) as emcee.
The event kicked off at 6pm and is expected to end at 11pm. About 1,000 people are at the event, mostly youths under 30.
The main attraction are three Modenas motorbikes, which are up for grabs in a lucky draw later tonight.
7.00pm: Dulang Besar
Kedah PAS Youth has lodged a police report against Menteri Besar Mukhriz Mahathir for flouting election rules.
The wing's chief Nasir Zakaria said that Mukhriz is using SMK Dulang to hold his Himpunan Berani Hijrah event, which is an offence according to the 1954 Election Offences Act.
"Schools are exclusive for learning and for students. Mukhriz is putting the party's logo all over the school and that is wrong," he said at the Yan police headquarters today.
Nasir wants the police and the Election Commission to probe the matter and take appropriate action.
5.10pm Dulang Kechil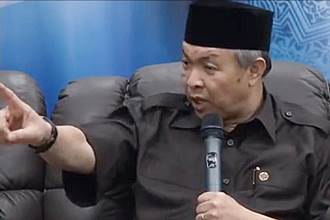 Home Minister Ahmad Zahid Hamidi officiates a groundbreaking ceremony for the Volunteer Corps (Rela) community centre in Yan near the fire station.
He calls on Rela members in the area to vote for BN in the upcoming by-election.
"I am confident Rela will give BN at least 9,000 votes," he says to the roughly 1,000 Relea members at the event.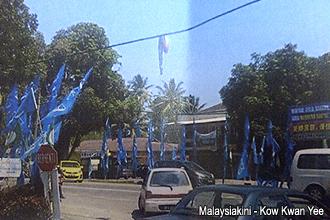 Commenting on the replica of amputated legs found in two towns that take a swipe at the late Sg Limau assemblyperson, Ahmad Zahid denies it was the work of BN members.
He hopes PAS and BN members will refrain from provocation in the final lap of campaigning.
"I want to guarantee all Sungai Limau voters that there will be no dirty tactics or insulting tactics used by the BN machinery," he says.
4.00pm, around Sg Kering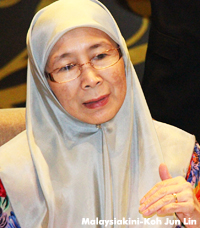 PKR president Wan Azizah Wan Ismail hits the campaign trail quietly in Sg Limau today, preferring a low-key affair.
She arrived in Alor Setar at 11am today, and attended a funeral of a PKR supporter.
Later at 5pm, she meets members at the PKR operations centre in Dulang Besar at a closed session.
Azizah comes a day after her husband Opposition leader Anwar Ibrahim stole the crowd at last night's ceramah sessions.
She will be speaking at a ceramah in Dulang Besar tonight along with local PAS leaders.
2.30pm: Pekan Sungai Limau Dalam, Gerakan ops centre
Gerakan national youth chief Tan Keng Liang has demanded that the Pakatan Rakyat leadership makes a stand on the implementation of the Goods and Services Tax (GST) system before Nov 4, polling day in Sg Limau.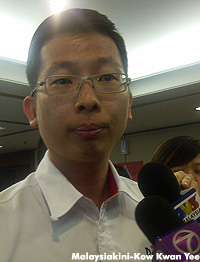 Tan says while Opposition leader Anwar Ibrahim has allegedly been "supporting" the GST, his colleagues in PAS has been condemning it in all their ceramahs.
Whenever PAS slams at the GST, which Prime Minister Najib Razak announced during Budget 2014 in Parliament, everyone in the ceramah claps, says Tan (left).
"It seems they are out to confuse the voters here. A stand by Pakatan leadership must be made now," Tan says, before going on a walk-about at the Pekan Sg Limau Dalam area.
"There is no point to make a decision after polling day. What are they afraid of?" he queried.
During his ceramahs in Sg Limau, Anwar said while he agrees the GST system is efficient, unless the overall system is good, the tax should not be implemented in the country.
With this, the mainstream press has trumpeted that Anwar supports the controversial tax.
1.55pm: Yan
Tenaga Nasional Berhad (TNB) will provide 18 sets of generators for back-up electricty supply during polling for the Sungai Limau by-election on Monday, said Energy, Green Technology and Water deputy minister Mahdzir Khalid.
"One 1,000 kilowatt generator will be placed at the vote tallying centre at Sekolah Menengah Kebangsaan Agama, Yan while 17 sets, each with a capacity of 1.5 kilowatts, will be placed at voting centres," he said.
According to Bernama, he was speaking to reporters after a briefing on electricity supply and a ceremony to hand over TNB contributions to mosques in the Sungai Limau state constituency.
TNB contributed RM23,000 to 22 mosques and aid in the form of items of basic needs and electrical goods to 51 families under its corporate social responsibility.
12pm: Sg Limau Dalam
DAP senior leader Lim Kit Siang in Sg Limau says MCA is trying to mislead the public about the Chinese community's support for the party.
"In fact, according to DAP's analysis, BN has got 45 percent and PAS 55 percent of Chinese votes in the May 5 general elections," he said when met by reporters today.
"MCA is creating a scenario that they garnered only 10 percent of Chinese votes in Sg Limau (in the last GE), so that when polling day comes and they get higher votes, they can claim the Chinese have swung back to them," he added.
About 1,400 out of 1,842 voters turned out to vote that in the last election, of which BN got some 600 votes, and PAS managed to obtain about 800.