International Trade and Industry Minister Darell Leiking has stated that the third national car project "should be" an affordable and compact electric car.
"I think we should be talking about electric car, why must we talk about fossil fuels anymore? We should be talking about the future.
"It need not be a big car, there are many manufacturers of big cars. It could be a small smart car, maybe an Asean smart car.
"Maybe something cheap," he told the media after speaking at the "Living in the Age of Automation and Disruption" forum at Universiti Malaya in Kuala Lumpur this afternoon.
Leiking (centre in photo) stopped short of confirming that a decision had been made, maintaining that all options remained on the table.
"I think we should consider all options but an affordable car, a current-time car is what we want," he said.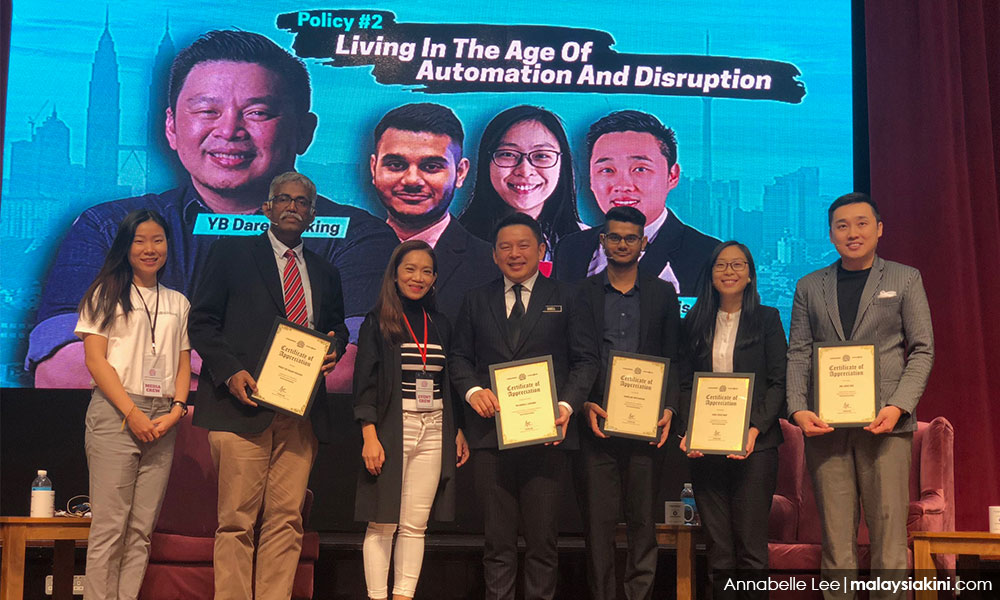 On Sept 15, the minister announced that private automotive industry players had one month to submit their proposals for the third national car project.
Today, he said that the government had received "a lot" of suggestions thus far.
He stressed that the project would continue in the event of a change of prime minister.
"The government must continue (the project) no matter who takes over the premiership," he said.
While no time frame has been confirmed, Prime Minister Dr Mahathir Mohamad has promised to eventually make way for PKR president-elect Anwar Ibrahim.
Address existing inequalities
During the forum, Leiking said addressing existing inequalities within Malaysian society would enable the country to fully harness opportunities provided by the fourth industrial revolution.
The Parti Warisan Sabah deputy president said this included gaps between genders, races and the rate of development between West and East Malaysia.
"We have not even reached the stage where we actually have equalised everything else - where we are no longer gender-biased, (or) where we no longer look at the colour, creed or faith of the person.
"[...] (Also) Sabah and Sarawak have been sidelined. I've been stressing in the cabinet and in the government (that) in the coming policies, we can't ignore that Sabah and Sarawak are totally far behind from West Malaysia.
"[...] In order for us to make sure that all will benefit from Industrial Revolution 4.0, we need to solve (these) three sets of problems," he told the audience, many of whom were university students.
The other speakers at the forum were Osel Group clinical scientist Dr Kris See, Universiti Malaya law student M Kabilan and AIESEC Malaysia president Ong Hsiao Mei.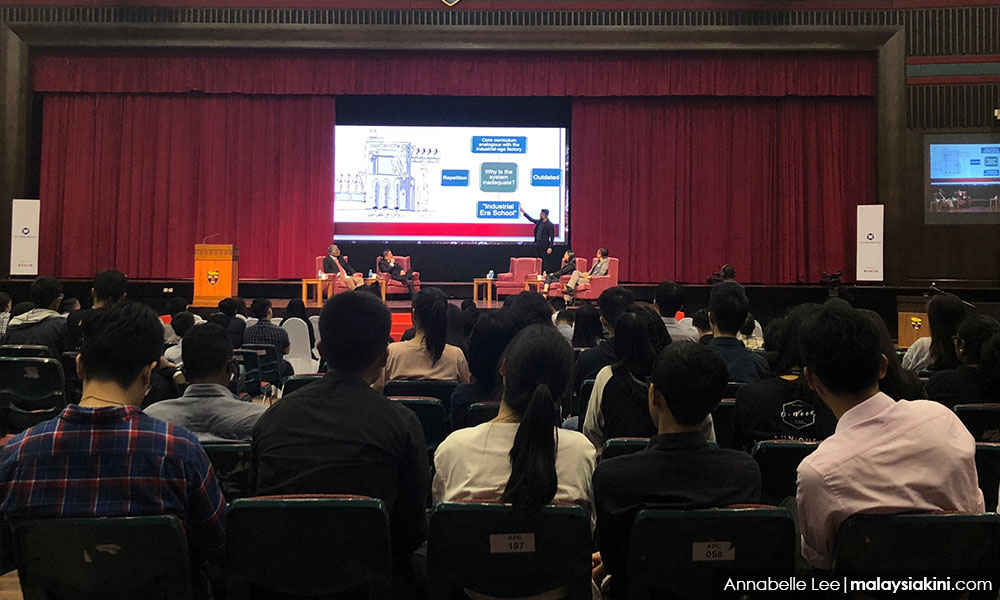 See and Kabilan both stressed the need to re-design the education system to facilitate the learning of more digital and entrepreneurial skills while Ong urged for a multi-pronged approach to benefiting from the fourth industrial revolution by the government, private firms, educational institutions and the youth.
Today's event, which was moderated by economist Professor Rajah Rasiah, was organised by Malaysiakini's events arm [email protected] as part of the "Youth for Nation Building" series of discussions.
---
RELATED REPORTS
Syed Saddiq says plan afoot to undo senate block on Harapan bills
M'kini debate sees call for public protests as part of political education
Lowered voting age part of larger electoral reforms plan - Syed Saddiq
UUCA on the way out, Syed Saddiq assures in M'kini debate
Enforce environmental laws with 'iron fist', urge activist
'Educate youths to prepare them for lower voting age'
Youths a 'partner' in nation building, not vulnerable group - deputy minister