The cabinet's agreement to lower the voting age to 18 is part of a bigger package of reforms.
Mooted by the Youth and Sports Ministry, this package includes automatic voter registration and lowering the age for running for office to 18, revealed minister Syed Saddiq Syed Abdul Rahman.
"What was discussed in cabinet was not just on reducing voting age, it was also about pushing the package on electoral reforms which include (automatic) voter registration," he said during the "Voting at 18 - Are we ready?" debate at Universiti Malaya last night.
"(The) list of reforms include reducing the age to contest in Parliament to 18 years old. Because if you can vote, why can't you also be in Parliament?" he also said.
Debating against former Bar Council president K Ragunath, Syed Saddiq recognised the need for a more conducive environment for youth political engagement alongside these electoral reform proposals.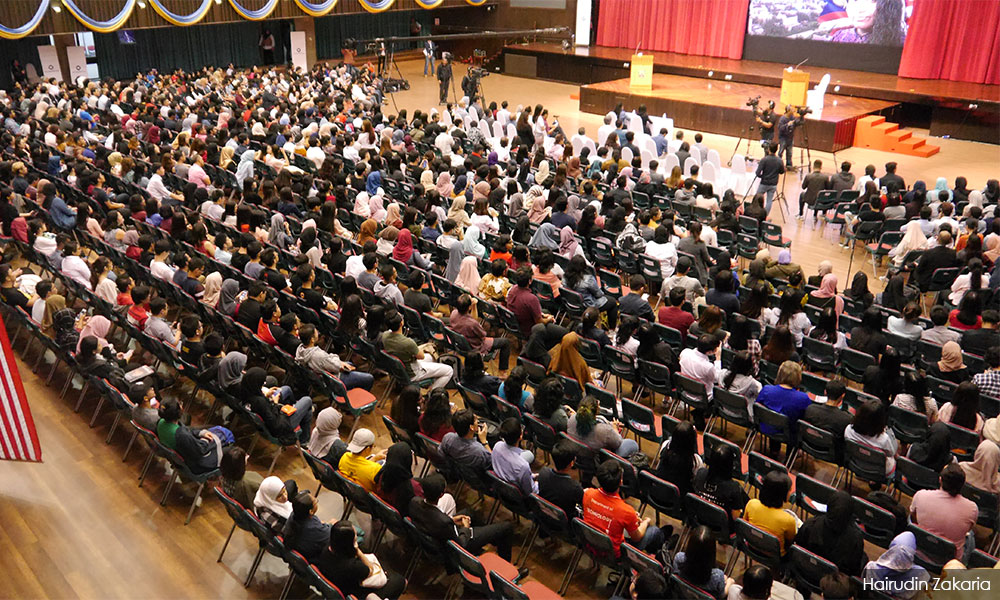 He assured the audience that the Universities and University Colleges Act 1971 (UUCA) would be repealed next year, and that the cabinet would also take these electoral reforms to Parliament then.
Lowering the voting age requires two-thirds of the Dewan Rakyat to vote on a constitutional amendment.
Khazanah helming BTN reform
Speaking to the media afterwards, Syed Saddiq said that the state sovereign wealth fund Khazanah Nasional Bhd is leading the reform of the National Civics Bureau (BTN).
"The ministry and Khazanah will be working hand in hand in forming a new programme to create the youth of the future," he said.
Previously heavily criticised for being a vehicle for political indoctrination by the BN government, the Bersatu minister assured that mechanisms were being put in place to ensure a different use for the bureau.
"The focus of the programme is to instill a strong sense of patriotism, nation building, critical thinking, soft skills development.
"[...] (We will be) inviting NGOs, NGIs, government agencies and multiple different corporate actors to ensure trust in the creation in this new institution," he said, adding that banks like CIMB and Maybank were possibly on board for the initiative.
Last night's debate was attended by more than 1,000 people, mostly comprising university students. It was organised by Malaysiakini's events arm, [email protected], as part of the "Youth for Nation Building" series of public discussions.
---
RELATED REPORTS
Syed Saddiq says plan afoot to undo senate block on Harapan bills
M'kini debate sees call for public protests as part of political education
UUCA on the way out, Syed Saddiq assures in M'kini debate
Trade minister: Third national car should be green, compact and affordable
Enforce environmental laws with 'iron fist', urge activist
'Educate youths to prepare them for lower voting age'
Youths a 'partner' in nation building, not vulnerable group - deputy minister