Children should receive an early education in politics to prepare them for the proposed lowering of the minimum voting age to 18, a forum on youths and nation-building heard today.
In discussing the suggestion, panellists at a forum today titled "Engaging Youths in Nation-building" agreed that the secondary education system should include a syllabus that teaches students good governance, among others.
Ambiga Sreenevasan, one of the panellists and former chairperson of electoral watchdog Bersih 2.0, said such education can begin at a young age to inculcate good values.
"I think education can start much younger. Maybe what we need to do is to look at local council elections, start small to get children involved even in schools.
"The topic can be good governance. We should inculcate good governance and anti-corruption measures in children anyway. There is no mystery in politics in that sense.
"So my own view is that there is no problem in getting children involved in the conversation on good governance," she told an audience of approximately 200 people at the forum, which was held at Universiti Malaya.
Ambiga (photo) was responding to an audience member, who had asked a question about the need to engage 13-year-olds today, who will be of voting age by the end of current federal government's term.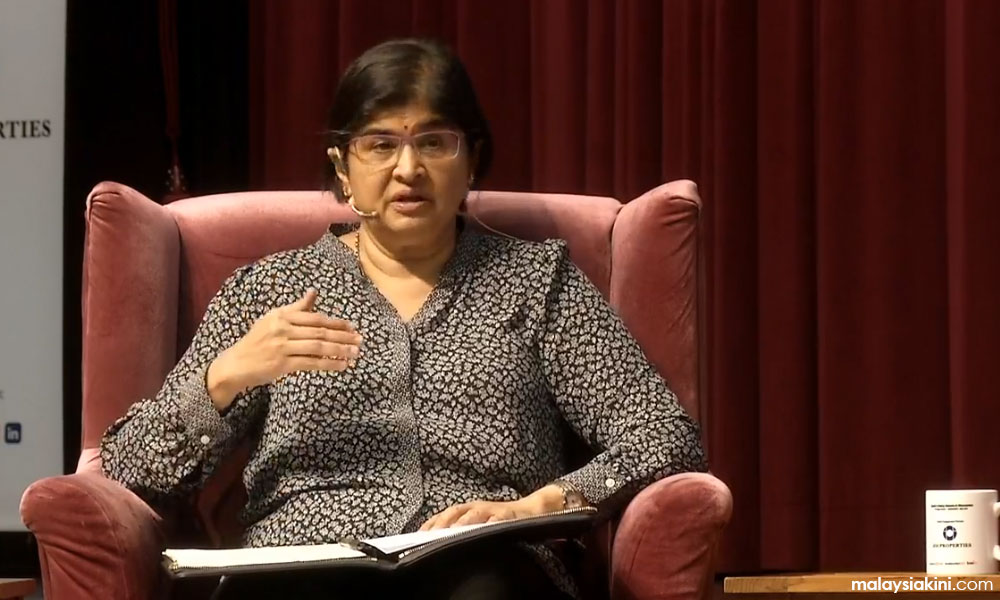 She told Malaysiakini later that there was no point for the government to amend the voting age without preparing future voters to make informed decisions.
"It can be just a module in school, it can easily be done without interference of other school subjects.
"I think it is something that we should think about, it is a very good point that they raised. No point to just amending the age... you have to think now how to educate the people," Ambiga said, adding that she believed that the education system must be changed.
Her co-panellist Tony Pua, who is Damansara MP and special officer to Finance Minister Lim Guan Eng, said he believed that the suggestions raised during the forum should be considered by the government.
However, Pua (left in photo) pointed out that preparing young people to understand politics requires the participation of all parties, including society, parents and NGOs.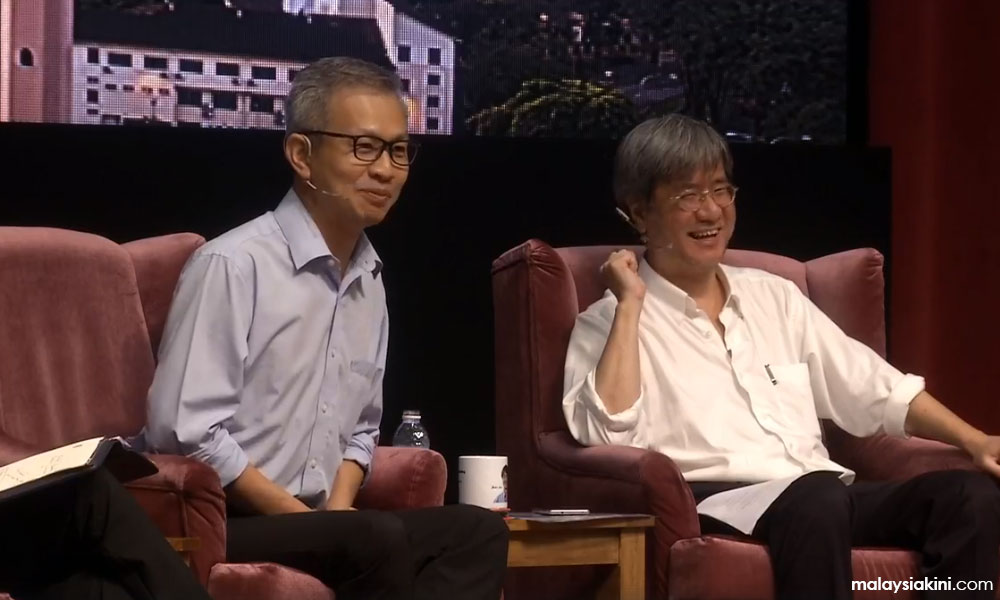 "Perception on politics is not an issue that can be solved by government policies alone. It must include the society, parents, and NGOs so that they (children) do not see politics as something that is dirty and does not involve their lives.
"Parents can educate their offspring so they would understand what is politics, its effects on the public and rakyat. (By doing this) I believe our people would be more matured in politics," he said.
Earlier during the discussion, Pua touched upon challenges faced in educating the young about politics, saying that most parents had been discouraging their children from taking interest in political matters.
Last week, Youth and Sports Minister Syed Saddiq Syed Abdul Rahman announced that the cabinet had agreed to lower the voting age to 18.
Syed Saddiq had urged the government to lower the voting age in July, saying that many other countries had allowed 18-year-olds to cast votes since the 1960s.
Other panellists in the forum, which was moderated by Malaysiakini co-founder and editor-in-chief Steven Gan, were Fadiah Nadwa Fikri of Malaysia Muda and Mazni Ibrahim of the Malaysian Centre for Constitutionalism and Human Rights.
The forum was a part of a one-day programme on youth policy debates and discussions organised by Malaysiakini and its new events arm, [email protected] in conjunction with the inaugural Pesta Harapan Malaysia.
The final event tonight features a debate on whether Malaysia is ready for a lowered voting age, which will take place at 8pm between Syed Saddiq and former Bar Council president Ragunath Kesavan. The debate will be streamed live on Malaysiakini's Facebook page.
---
RELATED REPORTS
Syed Saddiq says plan afoot to undo senate block on Harapan bills
M'kini debate sees call for public protests as part of political education
Lowered voting age part of larger electoral reforms plan - Syed Saddiq
UUCA on the way out, Syed Saddiq assures in M'kini debate
Trade minister: Third national car should be green, compact and affordable
Enforce environmental laws with 'iron fist', urge activist
Youths a 'partner' in nation building, not vulnerable group - deputy minister