KINIGUIDE | As the Pasir Gudang toxic dumping incident developed over the past week, the idea of declaring a state of emergency had been mooted, but ultimately did not materialise.
PKR's Pasir Gudang MP Hassan Abdul Karim raised the issue by urging the government to declare an emergency during parliamentary debates on Thursday.
Dewan Rakyat Speaker Mohamad Ariff Mohd Yusof allowed Hassan's motion to be debated on the same day without coming to a vote, but Prime Minister Dr Mahathir Mohamad said there is no need to declare an emergency.
What is happening in Pasir Gudang and how would a state of emergency change things? This is the topic for this instalment of KiniGuide.
What is happening in Pasir Gudang?
After staff and pupils at two schools in the district have fallen ill, the source of the problem was traced to noxious fumes emanating from chemicals dumped illegally under a bridge along Sungai Kim Kim.
The chemical was described as a black, oily substance. Singapore's Straits Times newspaper quoted an unnamed investigator saying it was identified as marine oil waste that had been used to lubricate ships' engines.
According to Energy, Science, Technology, Environment, and Climate Change Minister Yeo Bee Yin said tests conducted by a hazardous materials unit has found methane, hydrogen chloride, acrylonitrile, acrolein and benzene.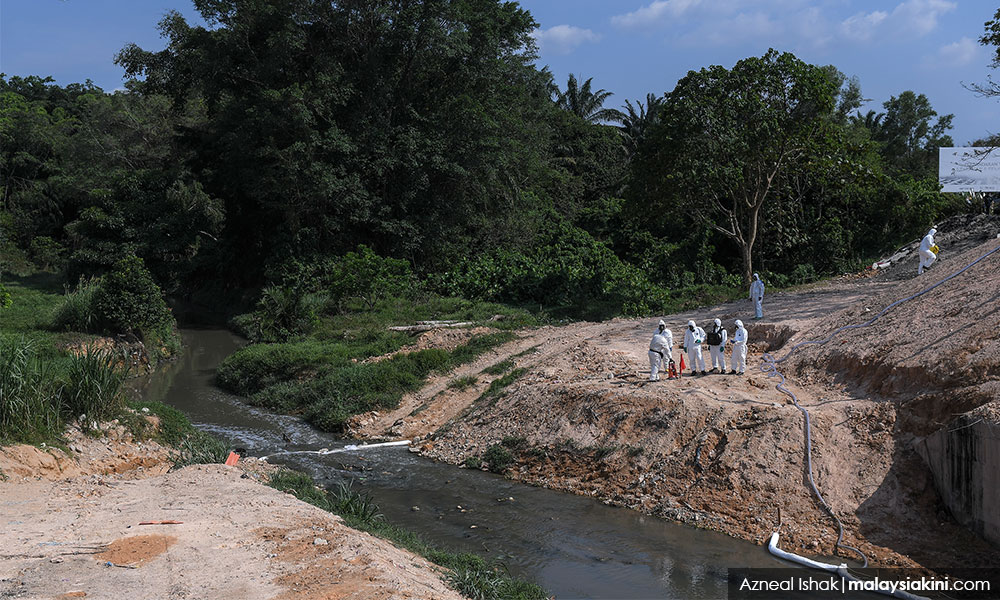 In addition, she said tests on samples taken from Sungai Kim Kim by the Department of Environment (DOE) detected the organic solvents benzene, toluene, xylene, ethylbenzene, and d-limonene. However, she did not say whether the chemicals found in the DOE samples were also traced to the illegal dump site.
Who is affected?
The first sign of trouble came on March 7 when students and staff at SK Taman Pasir Putih and SMK Taman Pasir Putih complained of breathing difficulties, nausea, vomiting and an unpleasant odour.
At least 79 people sought treatment that day of which 47 were warded including six in the Intensive Care Unit (ICU).
The next day, people at the same schools and two other schools further south complained of the same symptoms. The two schools joining the casualty list were SK Tanjung Puteri Resort and SMK Tanjung Puteri Resort.
The schools reopened on March 11 when the situation appeared to have improved, but the National Disaster Management Agency (Nadma) said chemical reactions from the clean-up operation caused a sharp increase in casualties.
As of 4pm on Thursday, 1,906 people have sought treatment for chemical exposure of which 390 had been warded. Of these, 10 people were admitted to an ICU.
In addition, all 111 schools in Pasir Gudang have been closed until further notice, as well as 64 preschools.
What is already being done?
Disaster management efforts are currently run by the Johor government through the State Disaster Management Committee.
According to Nadma, the Fire and Rescue Services Department's hazardous materials (Hazmat) team and the Department of Drainage and Irrigation had begun clean-up operations on the day the dump site was found, removing 2.43 tonnes of chemicals and contaminated soil.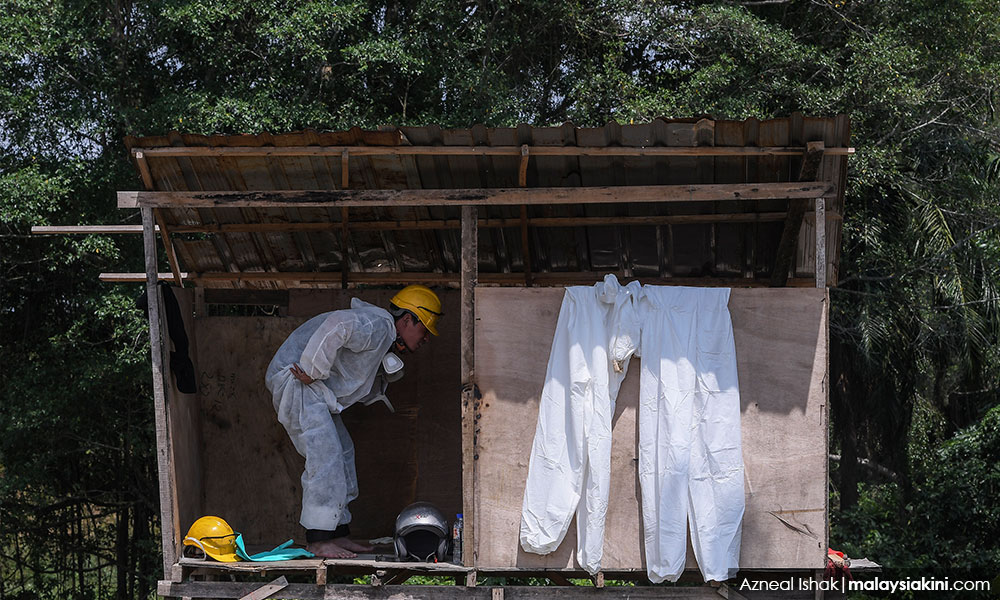 However, work was temporarily halted the next day until qualified contractors could be found because it was learned that the chemicals were scheduled wastes that need to be handled and disposed of with extra care.
Yeo told the Dewan Rakyat on Thursday that there four contractors have been appointed to clear the dump site.
According to Nadma, other agencies conducting operations in the area include the police, the Hazmat team, the 12th Squadron Royal Engineer Corps, the Special Malaysia Disaster Assistance and Rescue Team's chemical, biological, radiological, nuclear and explosives unit, the DOE and more.
It said the federal government would share the cost of the clean-up operation with the state government and each affected family would also be given some monetary aid.
The Johor government has, meanwhile, allocated RM6.4 million for the clean-up operation. The federal government has allocated RM8 million.
As for medical treatment, a makeshift medical station has been set up at the Taman Pasir Putih community hall.
How does declaring an emergency change things?
In the context of disaster management, declaring an emergency invokes Clause 42 of National Security Directive 20 (Revised), which deals with policies and mechanisms for disaster management.
The directive defines a disaster emergency (darurat bencana) as "a major disaster that involves many losses of life, extensive destruction to property, threats to social, economic and political condition, and (threats to) security and public order".
Clause 42 (i) stipulates that a disaster emergency can be declared by the prime minister if deemed necessary upon the advice of the Federal Disaster Management Committee.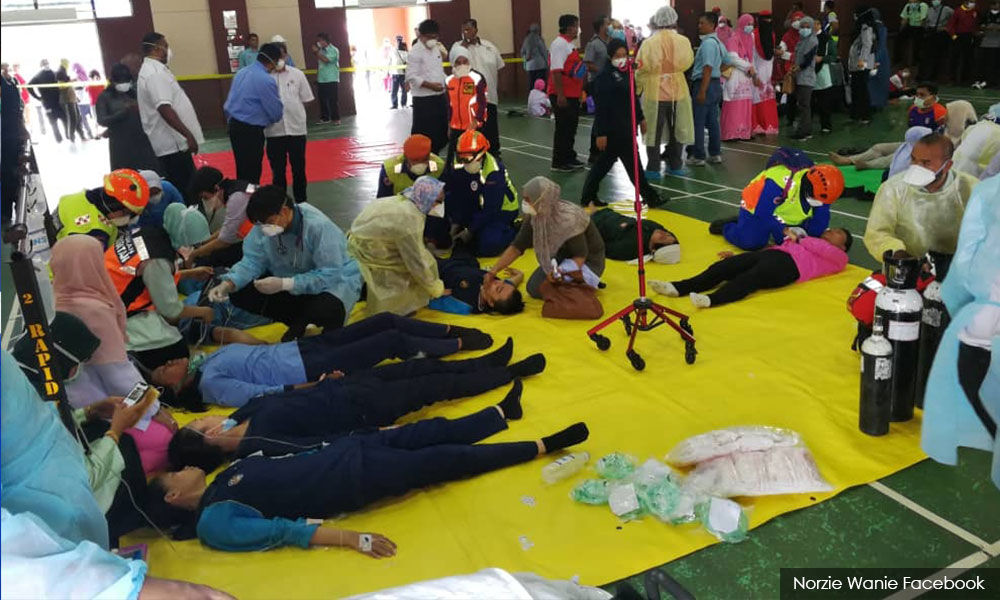 Clause 42 (ii) stipulates that once a disaster emergency is declared, the federal government will take over disaster management, disaster relief and recovery operations. This includes bearing its financial cost.
There is no other mention of what declaring a disaster emergency will entail throughout Directive 20.
For clarity, a disaster emergency declared under Directive 20 is unrelated to the Yang Di-Pertuan Agong's emergency powers under Article 150 of the Federal Constitution, the latter of which is used to respond to dire threats to national security.
What are the arguments in favour of declaring an emergency?
Hassan argued that if a state of emergency is declared, it would improve coordination between various agencies and allow more resources to be allocated.
His argument found support from Umno's Pontian MP Ahmad Maslan and PKR's Tebrau MP Choong Shiau Yoon who both echoed Hassan's points during their parliamentary debates.
What are the arguments against declaring an emergency?
Mahathir said the situation is still under control. Prior to that, when a decision had yet to be reached, his deputy Dr Wan Azizah Wan Ismail had expressed concern that declaring an emergency could lead to a "panic attack".
De facto deputy law minister Hanipa Maidin said although no emergency has been declared, the disaster is already treated with utmost urgency and the state government is still in control of the situation.
What are previous examples of disaster emergencies?
Immediate past prime minister Najib Abdul Razak declared an emergency in Muar and Ledang in 2013. This was due to a severe haze with an air pollutant index (API) reading exceeding 750.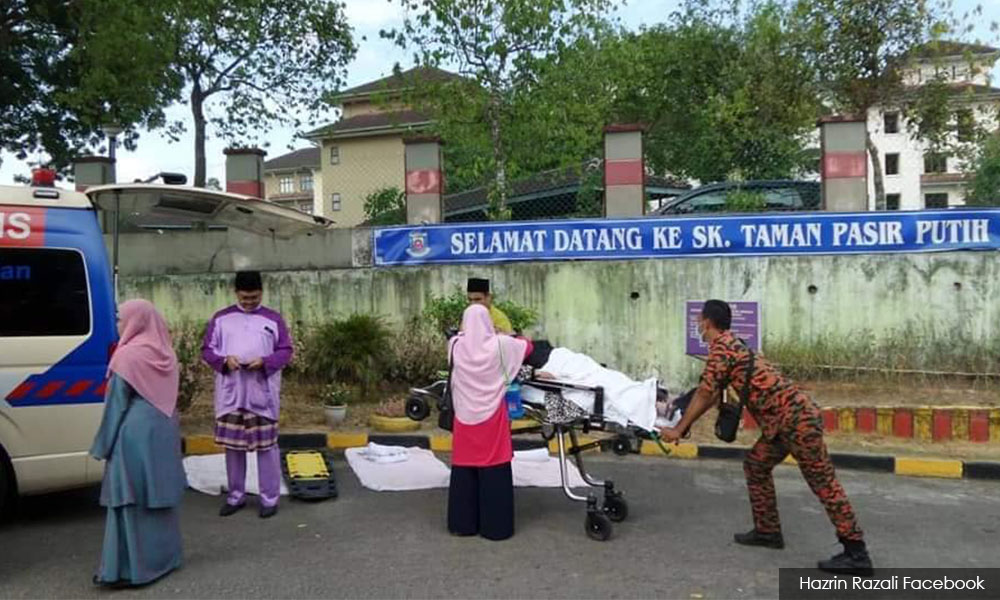 He said at the time that this would not involve the imposition of a curfew.
Instead, all ministries and agencies involved in haze disaster management at the federal, state and district levels must plan and take the needed measures to ensure safety and public health were protected.
His predecessor Abdullah Ahmad Badawi had also declared an emergency due to a severe haze in Kuala Selangor and Port Klang in 2005.
This entailed the closure of all government and private offices and workplaces in the affected areas. This except shops that sell food and drinks including markets and supermarkets, clinics and pharmacies and those which provide essential services.
How are the chemicals dangerous?
Methane is a non-toxic gas but is highly flammable. In very large concentrations, especially in confined spaces, it can also suffocate victims by depriving them of oxygen. According to a Nadma press release on Thursday, the concentration at Pasir Gudang dumping site is relatively low at 0.96 parts per million (ppm).
Hydrogen chloride is a gas that forms a highly corrosive acid when it comes into contact with moisture. This includes the moisture found on skin, in the eyes and in the respiratory tract including the lungs.
Hence, exposure to this chemical could cause irritation or burns to the affected organs including the possibility of permanent disability (such as blindness) or death.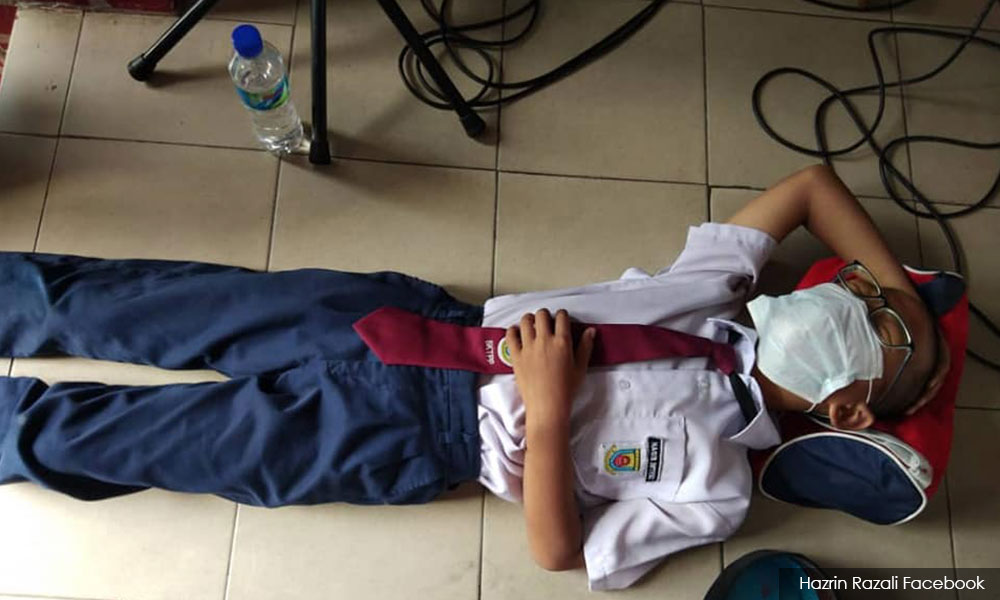 Nadma reported its concentration to be 1.63 ppm at the affected site but did not mention what level is considered permissible. For comparison, US regulators have set the ceiling limit at 5 ppm for work environments.
Acrylonitrile is classified as a "possible carcinogen" by the International Agency for Research on Cancer (as opposed to "probable carcinogen" or "is carcinogenic").
Its fumes can also cause irritation to the skin, eyes, and respiratory system. Nadma said concentrations of 7.33ppm had been detected, compared to the permissible level of 2 ppm and danger level of 8.5 ppm.
Acrolein probably poses the most immediate danger out of the five chemicals found at the dumping site. The concentration found was 5.29 ppm, whereas regulators consider 2 ppm enough to pose an immediate danger to life and health (IDLH). The permissible level in work environments is merely 0.1 ppm.
Of the five hazardous chemicals found at the dumping site, it is the only one to exceed IDLH levels. It can cause severe irritation, pulmonary oedema and burns.
Benzene inhalation can cause drowsiness, dizziness, rapid heart rate, headaches, tremors, confusion and unconsciousness in the short term.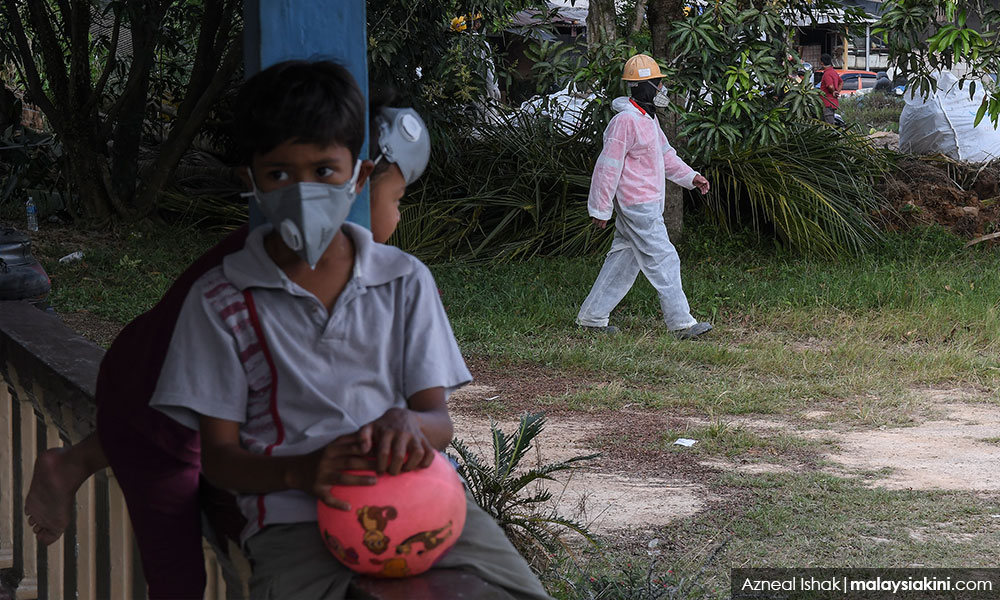 In the long run, benzene is known to cause leukaemia and impair foetal development. For example, animal tests found that pregnant mice that have inhaled benzene are more likely to suffer miscarriages or give birth to pups with birth defects. Benzene is also a mild irritant.
Nadma said it was detected in concentrations 1.87 ppm, compared to the permissible level of 1 ppm at Sungai Kim Kim.
I have a mask that I used during the last haze season. Will that keep me safe?
No. At a minimum, you would need a respirator that is designed to protect its wearer from organic vapours, and perhaps acidic gasses too depending on the hydrogen chloride concentration at your location.
The masks commonly used in Malaysia during the haze season are surgical masks designed to prevent the spread of infectious diseases or N95 respirators designed to filter out airborne particles.
Neither of these offers any protection to the chemicals found in Sungai Kim Kim.
It would be better to avoid the affected areas entirely and seek immediate shelter if you catch a whiff of the chemicals' distinct odour.
Health Minister Dzulkefly Ahmad has urged members of the public to stay at least five kilometres away from the contaminated river.
---
This instalment of KiniGuide is compiled by Koh Jun Lin.