Supporters of Najib Abdul Razak confronted a group of Universiti Malaya (UM) students after one of them held up a large cutout mocking the former premier this afternoon.
One student was manhandled during the incident across the street from a restaurant in Kuala Lumpur where Najib was speaking. The restaurant is located near the UM entrance.
Umno supreme council member Lokman Noor Adam later snatched the 'clown-faced' cutout and tore it.
Subsequently, another supporter grabbed the student, who was carrying the cutout, in a reverse chokehold and attempted to pull him over the railing which separated the pavement from the road.
However, other supporters, including Lokman, intervened and stopped him.
Malaysiakini understands that the manhandled student was Universiti Malaya Association of New Youth (Umany) president Wong Yan Ke.
Following the confrontation, the students retreated from the scene.
Police arrived shortly after and whisked the students away to safety in their vehicles to the Pantai Dalam police station.
"We were brought to the police station for protection. We're not under investigation," Wong told Malaysiakini when contacted later.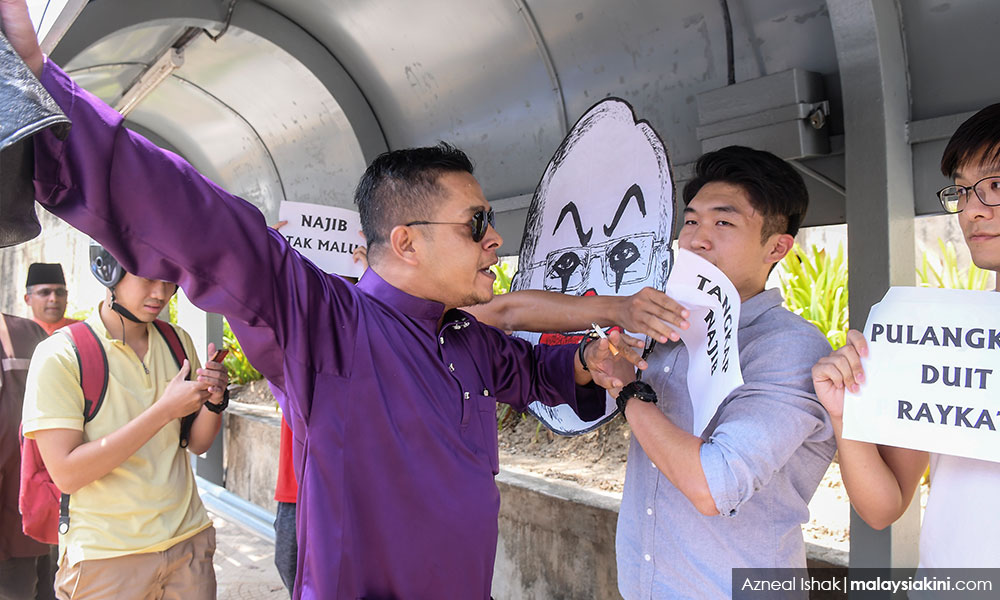 Meanwhile, Lokman defended the supporters' action and accused the students of provoking them.
"I don't care if they protest, but when they use a picture of Najib, that is our boss. It is our right to take that picture and tear it," he added.
Apart from the cutout, the students also came armed with placards, which read: "Arrest Najib", "Najib is shameless", "Return the people's money" and "Where is RM2.6 billion?"
Najib is facing 42 charges of money laundering and corruption in relation to the 1MDB scandal. More charges are expected to be levelled against him in future.
International investigators believe that at least US$4.5 billion was misappropriated from 1MDB. Najib has denied any wrongdoing.
Related stories
Najib thinks students should not have protested, expresses regret
PKR wants cops to probe Najib's supporters, urges ex-PM to apologise
Umno in the dark over man who headlocked student, claims Najib
We were told Najib won't be present, restaurant cries foul
Manhandled student: Najib has to be reminded of his misdeeds
KJ condemns thuggish behaviour, Lokman claims Umno rescued 'DAP' student
Maszlee to uni students: 'Jangan malu', you have role to play
Umno leaders, supporters harass M'kini interns after altercation