Umno claimed to be in the dark regarding the person who reverse headlocked a Universiti Malaya student during a protest in Kuala Lumpur this afternoon.
Former premier Najib Abdul Razak said he was informed that the man is not an Umno member.
"He is not a party member nor was he involved in the ceramah. He, according to what I was told, was a passer-by who decided to join in when the fracas happened," he told Malaysiakini.
The incident happened when a group of students with placards protested across the street from a restaurant where Najib was holding a talk.
The former premier's supporters, led by Umno supreme council member Lokman Noor Adam, then confronted the group and tore a cutout of a "clown-faced Najib."
During the altercation, the man dressed in a white shirt, grabbed UM Association of New Youth (Umany) president Wong Yan Ke by the neck and attempted to drag him across the railing.
However, the other supporters, including Lokman, intervened and stopped the man from doing so.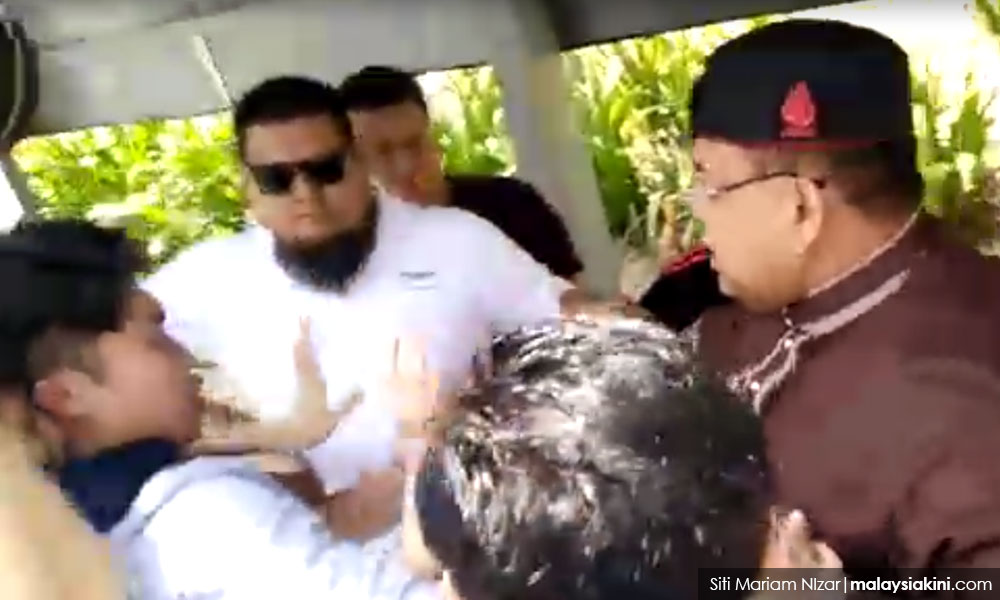 Meanwhile, Umno has also lodged a report over the incident at the Pantai police station, accusing the students of provocation.
According to the report sighted by Malaysiakini, Najib's supporters had "politely requested" the students to disperse but the group refused to do so.
"They refused to disperse and continued to provoke, and used harsh words against Najib. This led to pushing and shoving until the police arrived at the scene and diffused the situation.
"There were no injuries," read the report.
Meanwhile, Najib had earlier expressed regret over the incident but also said that the students should not have protested.
"They should have practiced openness. We should respect one another even though we have differing opinions," he said.
Related stories
Najib thinks students should not have protested, expresses regret
PKR wants cops to probe Najib's supporters, urges ex-PM to apologise
Umno in the dark over man who headlocked student, claims Najib
We were told Najib won't be present, restaurant cries foul
Manhandled student: Najib has to be reminded of his misdeeds
KJ condemns thuggish behaviour, Lokman claims Umno rescued 'DAP' student
Maszlee to uni students: 'Jangan malu', you have role to play
Umno leaders, supporters harass M'kini interns after altercation