PKR will wait for its president Anwar Ibrahim, who has just returned from his pilgrimage to Mecca, to chair a meeting to decide regarding Muslim preacher Dr Zakir Naik, said secretary-general Saifuddin Nasution Ismail.
"Let him perform his pilgrimage in peace," he told reporters at the sidelines of an event in Kuala Lumpur this afternoon.
"We will wait for him to come back and preside over a meeting and then we will come out with our official stand.
"We will comment when the time comes," added Saifuddin, who is also domestic trade and consumer affairs minister.
Anwar returned this afternoon after one week pilgrimage to Mecca.
The Indian-born Muslim preacher, who is a Malaysian permanent resident, had courted flak for questioning the loyalty of Hindu Malaysians and suggesting Chinese Malaysians are "old guests" in the country.
The latter had reportedly said this during a dialogue hosted by the PAS-led Kelantan government on Aug 8.
Zakir (below) has claimed he was misquoted over the Hindu Malaysian comment, but had yet to explain his remark on the local Chinese.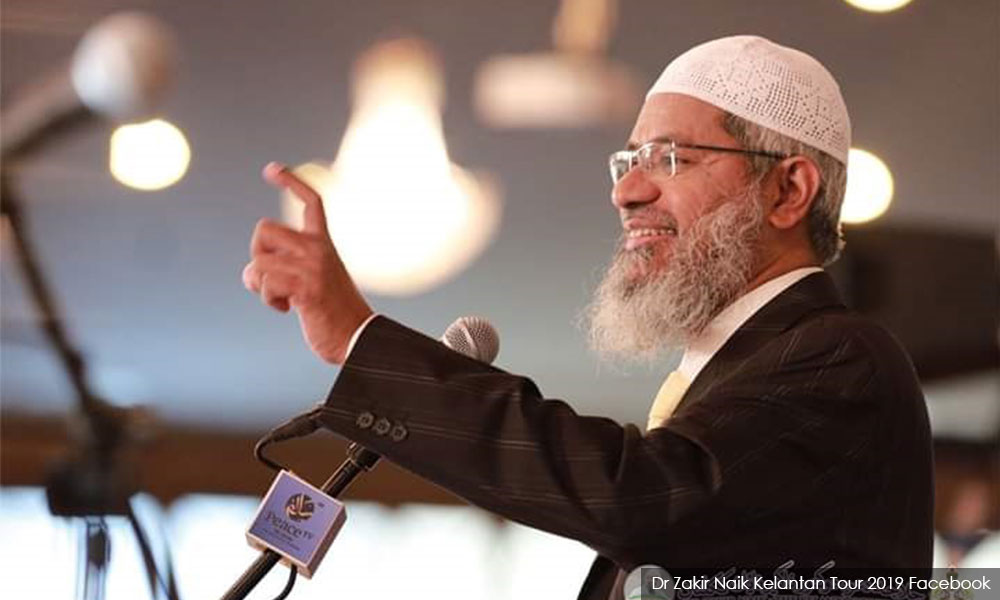 DAP and PKR ministers have raised their protest to Prime Minister Dr Mahathir Mohamad on the matter.
In a joint statement, the ministers said they were now leaving it to Prime Mahathir to consider the country's position on this.
Zakir is wanted in India for alleged money laundering charges, which the preacher claims are fabricated.
Meanwhile, Saifuddin also gave his view on the government's decision in the implementation of khat lessons for Year Four students in national-type schools.
"PKR is part of the government and the government's stand (on khat) had been announced by (Education Minister) Maszlee (Malik)," he said.
The government had planned to introduce six pages of Jawi calligraphy lesson in the Year Four Bahasa Malaysia textbook beginning next year.
Following backlash from Chinese and Tamil education groups, however, the cabinet decided to reduce the lessons to three pages and make it an optional subject.
Nevertheless, the compromise failed to appease critics. Chinese educationist group Dong Zong, in particular, had opposed the move by claiming that the government's move to introduce khat in schools was a form of "Islamisation".
Yesterday, the Education Ministry said the lessons will be made optional and would only be taught if approved by parent-teacher associations, parents, and pupils.
RELATED REPORTS
Why are we at each other's throats because of a foreigner, asks Rafidah
More than 100 police reports lodged against Zakir Naik
Afif wants Zakir to say sorry, but supports his right to refuge
Annuar Musa comes to the defence of Zakir Naik
Lim: Zakir issue not solely left to DAP's 'Indian ministers' to raise
Marina takes aim at Zakir, netizens ask her to tell that to her dad
'I'll separate head from body' - Lawyer threatened over Zakir Naik criticism