Nooryana Najwa Najib believes that the latest allegation against her father, former premier Najib Abdul Razak, is an attempt to divert public attention.
In an Instagram posting this afternoon, she described the allegation that her father ordered the killing of Mongolian national Altantuya Shaariibuu as slanderous.
"My father is not a murderer," she exclaimed in capital letters.
"I just spent the last two hours listening to (former US) president (Barack) Obama speak about the need for political leaders to realise that 'you are in this position to do your job and work for the people'.
"For a brief moment, I was rejuvenated. Then, I came home to see such slanderous claims promulgated to mask certain parties' incompetencies," she added.
Nooryana said it is the Malaysian people who would have to pay the price for such campaigns.
"And who is the biggest victim in all of these never ending games of betrayal and slander?
"It is the rakyat, our children, our grandchildren... Are we going to allow lies and deceit to be the new order of success in our country?" she asked.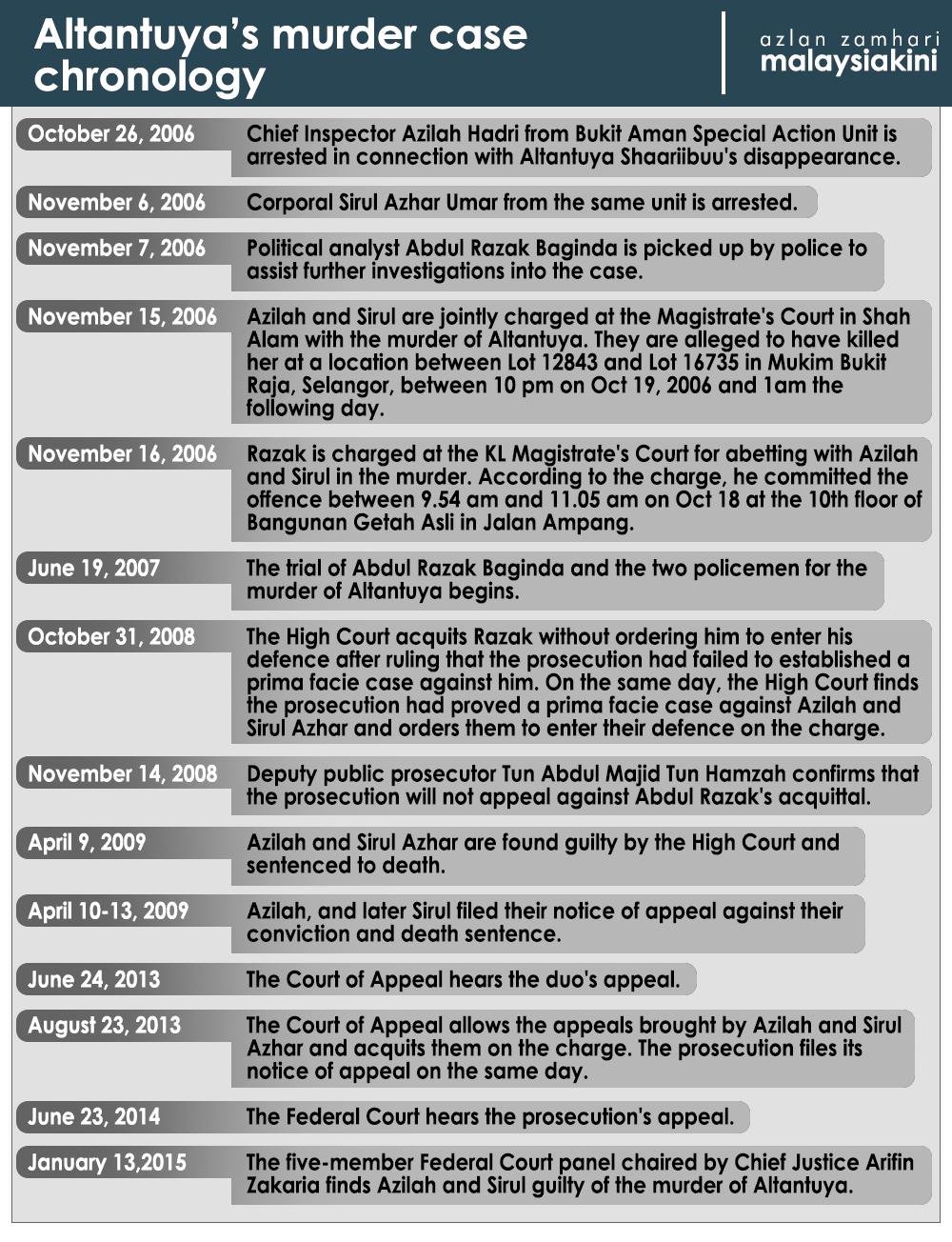 Earlier, Najib also dismissed the allegation as a plot by the Pakatan Harapan government to shift the focus from his shortcomings.
Both father and daughter were commenting on a Malaysiakini exclusive report on the claims by former police special action force (UTK) personnel Azilah Hadri.
In admitting for the first time that he and Sirul Azhar Umar killed the Mongolian national, he claimed that he was merely following an explicit "shoot to kill" order from Najib, who was then the deputy premier.
These details were contained in an application filed by Azilah, who is seeking the Federal Court to review its decision in the conviction and death sentence imposed on him and Sirul, who is also a former UTK personnel, in 2015.
He is also seeking a retrial in order to provide full evidence on the clandestine operation in open court so that "justice will be served".
The court has fixed tomorrow for case management.
Azilah, who is serving his sentence in the Kajang prison, claimed there was suppression of evidence and material facts during the proceedings at the High Court and Court of Appeal.
---
RELATED REPORTS
'Najib ordered me to kill Altantuya' - Azilah's shocking allegation from death row
This is a complete fabrication, Najib rubbishes Azilah's claims
Convinced of threat, I agreed to do it for my beloved nation – Azilah's SD
My father is not a murderer, says Najib's daughter
Use ex-cop's SD to renew probe into Altantuya's murder: Ramkarpal
The Altantuya murder — a recap
Bukit Aman: Police want to see Azilah's SD first

This is an attempt to detain me without bail for murder, claims Najib
---