COMMENT | When I first joined Dr Wan Azizah Wan Ismail as her press secretary at the end of May 2018, I had no idea what to expect.
I had only covered her as a journalist before and now I was going to work for her.
So imagine my surprise when I was greeted with a hug on the day I was told I got the job.
That was just the beginning.
From then onwards, Dr Wan Azizah has continued to amaze me with her kindness and grace in everything she does.
When one of the journalists collapsed during an assignment in another state, she immediately sent money to help with his expenses.
Whenever I was not feeling well, she would call or message to ask if I was ok.
She would also then pass me vitamin C and coconut oil capsules when she saw me next.
When my cousin passed away, she asked if she could also pass me some money for the family. 
Anonymously.
She attended the wedding of the child of a cleaner at the Ministry of Women, Family and Community Development and yet never said a word about it to us.
I only found out through seeing it in her schedule.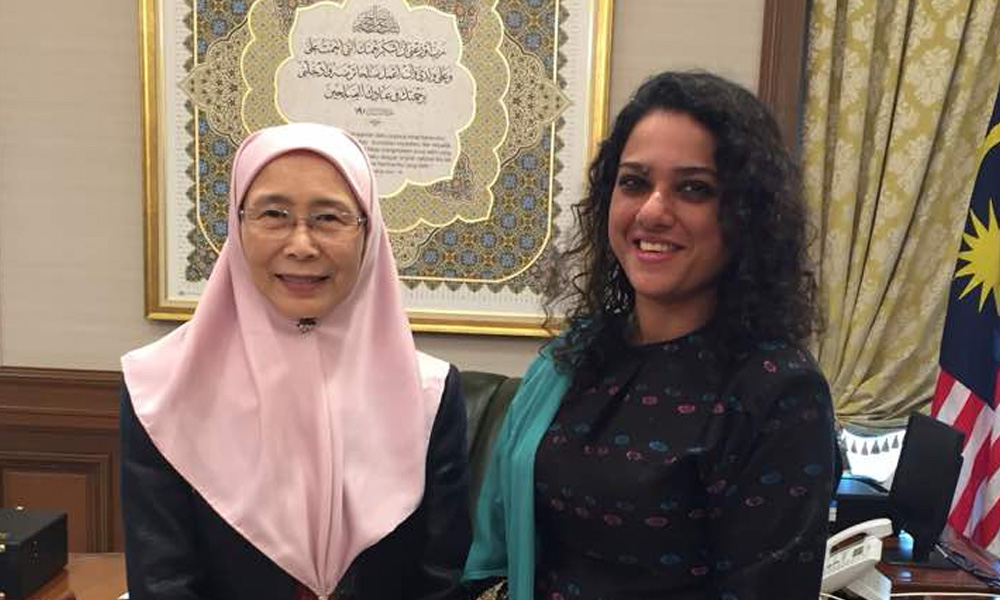 When one of her staff's wife had a serious affliction, Dr Wan Azizah was very concerned and immediately sent over stuff that she thought might help.
Dr Wan Azizah was down with food poisoning but that didn't stop her from coming into the office on a weekend to chair a meeting on COVID-19 that lasted hours.
During her birthday, she was busy attending to flood victims in another state.
For her, the rakyat always came first.
In honour of her mother who was a housewife, she initiated i-Suri so that housewives would have a safety net in the case of any eventuality.
Dr Wan Azizah would always greet all of us with a smile, and this was so even when she packed her things at her office (after the Pakatan Harapan government fell).
In fact, she was the one consoling us and telling us not to cry.
Dr Wan Azizah was also the humblest of souls.
She would carry her own cup of coffee and notes for meetings although she had many officers accompanying her.
Rarely would she let us help do these things for her, as she said she was used to doing things herself.
She was entitled to a police entourage and yet she always felt guilty for making others stop for her.
She always had a moment for us and we could see her whenever we wanted.
She always put everyone else before herself.
Just recently she was offered a cinema hall by a news organisation to watch Ejen Ali where she could bring her staff and family.
Instead, she asked if she could bring the disabled from one of the homes under her ministry and she and her husband Anwar Ibrahim joined them for the screening.
These are just a few examples of the type of woman Dr Wan Azizah is - up close and behind the scenes.
I am deeply honoured and privileged to have worked with her as her press secretary, not because she was the Deputy Prime Minister of this country, but because she is a truly wonderful human being.
She is indeed, a class above the rest.
---
SONIA RAMACHANDRAN served as press secretary to Dr Wan Azizah during her stint as deputy prime minister of Malaysia.
The views expressed here are those of the author/contributor and do not necessarily represent the views of Malaysiakini.
RELATED REPORTS

Anwar: Approaching Dr M not discussed but relationship with Bersatu in flux
Palace declares new coalition gov't in Johor after interviewing 54 of 56 reps
Halted abruptly: The reforms underway before cabinet dissolution
Ranau MP denies quitting PKR with Azmin's bloc, then deletes post
Malay rulers to meet Agong tomorrow
Guan Eng: Dr M no longer committed to Harapan manifesto
Political impasse: Analysing Mahathir, Harapan's positions
Harapan leaders explain backing Anwar, why unity gov't 'unworkable'
Doubts over numbers of MPs backing PM candidates given to media
Anwar has support of MPs from outside Harapan too, claims PKR sec-gen
Unionist: Usurping Harapan's term of office is an act of treason
Comment: Malaysia's 'prisoner's political dilemma': Choices ahead
Comment: Malaysia's fairy dust just got dusted up some more
Comment: Let the Tun be PM for Life!
Comment: An open letter to a long-suffering homeland