Three days after a bloc of rogue PKR MPs announced they were quitting the party, one of them has now come out to deny that he was involved in the move.
Ranau MP Jonathan Yasin (above), in a Facebook post, denied he had quit PKR but then deleted the denial almost an hour later.
"For the record, I am still in PKR. I also deny that I had consented to quit PKR.
"I will explain this matter to the (party) committee and bureau this evening," he said in the now-deleted statement on Facebook.
After deleting the Facebook post, he uploaded a new one which read: "Any issues about my position in the party will be discussed with the party's committee members and bureau this evening. #Keep calm".
The quit move was announced in a joint statement on Monday which carried the names of the 11 rogue PKR MPs, including that of Jonathan.
As of Tuesday, Jonathan was photographed with the 10 other rogue PKR MPs at Sofitel Hotel in Kuala Lumpur, the base of the rebel group following the political imbroglio triggered by the Sheraton Move.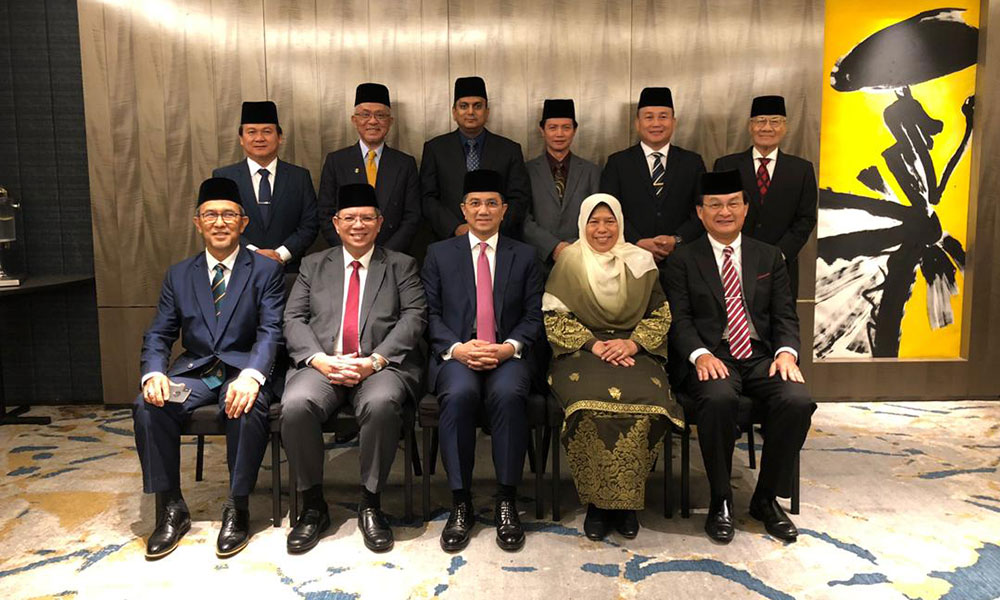 Jonathan was also spotted in a video where the group of rogue MPs had bid PKR "bye-bye", albeit half-heartedly.
Jonathan did not mention whether he was abandoning the group in the Facebook post. It is unclear what Jonathan's position is now.
The group, led by Gombak MP, also comprise Zuraida Kamaruddin (Ampang), Saifuddin Abdullah (Indera Mahkota), Baru Bian (Selangau), Kamaruddin Jaafar (Bandar Tun Razak), Mansor Othman (Nibong Tebal), Rashid Hasnon (Batu Pahat), Edmund Santhara (Segamat), Ali Biju (Saratok) and Willie Mongin (Puncak Borneo).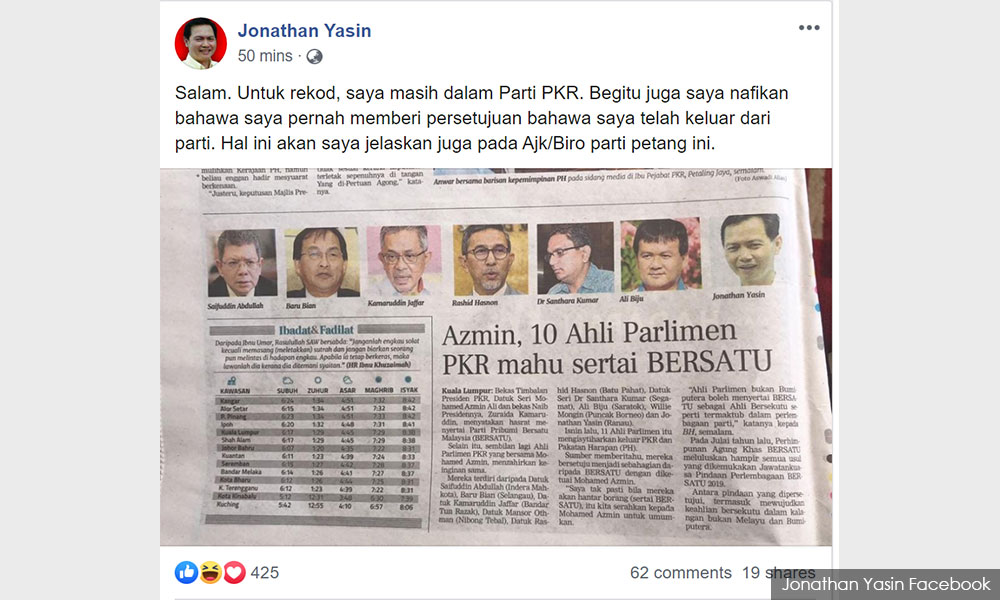 They were part of a move to oust the Pakatan Harapan government and replace it with a new coalition dubbed "Perikatan Nasional" comprising Bersatu, BN, PAS, GPS and Warisan.
RELATED REPORTS

Anwar: Approaching Dr M not discussed but relationship with Bersatu in flux
Palace declares new coalition gov't in Johor after interviewing 54 of 56 reps
Halted abruptly: The reforms underway before cabinet dissolution
Ranau MP denies quitting PKR with Azmin's bloc, then deletes post
Malay rulers to meet Agong tomorrow
Guan Eng: Dr M no longer committed to Harapan manifesto
Political impasse: Analysing Mahathir, Harapan's positions
Harapan leaders explain backing Anwar, why unity gov't 'unworkable'
Doubts over numbers of MPs backing PM candidates given to media
Anwar has support of MPs from outside Harapan too, claims PKR sec-gen
Unionist: Usurping Harapan's term of office is an act of treason
Comment: Malaysia's 'prisoner's political dilemma': Choices ahead
Comment: Malaysia's fairy dust just got dusted up some more
Comment: Let the Tun be PM for Life!
Comment: An open letter to a long-suffering homeland