---
At least five marches have broken out in Petaling Street, near Daya Bumi Complex, Masjid Jamek, Pudu and Sogo and the police responded with tear gas and water cannon fire.
Later, the marches converged near the Puduraya-Menara Maybank area. The crowd was estimated to be 10,000 strong. Several unsuccessful attempts to disperse the crowd resulted in a standoff.
Meanwhile, Bersih 2.0 chief Ambiga Sreenevasan, PAS president Abdul Hadi Awang and Batu MP Tian Chua had been arrested.
LIVE REPORTS
12.20pm: Pudu Plaza - At Jalan Landak, Pudu, some 200 people have started to gather, preparing for the rally.
Police are scattered about, searching the protestors' bags but take no further action.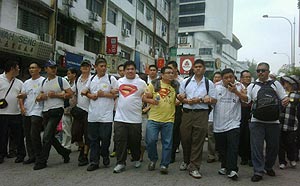 A small quarrel breaks out between protestors and Pudu security personnel when latter try to chase them away.
Some foodstalls and restaurants are still open, and a durian stall is seen offering protestors a taste of its wares.
DAP leaders who have shown up include Bukit Bintang MP Fong Kui Lun, PJ Utara MP Tony Pua, Serdang MP Teo Nie Ching, Bukit Bendera MP Liew Ching Tong, Segambut MP Lim Lip Éng, Beruas MP Ngeh Koo Ham, Selangor exco Ean Yong Hian Wah, Lukut Adun Ean Yong Tin Sin, Pasir Pinjir Adun Thomas Soo, Bahau Adun Teo Kok Seong.
12.45pm: Dataran Merdeka - Police have fired tear gas at a group of protestors heading towards the area. The cannisters land near the Bar Council building.
This group is believed to started from the former KTM headquarters nearby. The crowd is estimated to be 1,000.
12.50pm: About 3,000 to 4,000 people are marching from Petaling Street in downtown Kuala Lumpur to Stadium Negara.
They are chanting "Bersih, Bersih, Pilihanraya" and "Hidup, Hidup, Rakyat".
Six middle-aged protestors began a rendition of Negaraku, immediately receiving strong response from the crowd which sings along.
Dr Wong Fort Pin, one of the six singers, said they are celebrating peace.
"We are walking for a better Malaysia," he said.
12.51pm:
Hilton Hotel - PKR leaders Nurul Izzah Anwar, Syed Husin Ali, Lateefah Koya arrive at Anwar Ibrahim's hotel room. Local and foreign media are at the lobby.
12.55pm: Pudu Plaza - DAP leader Teresa Kok is defying her ban and leading protesters to start the walk towards Merdeka Stadium.
The crowd is shouting, "Bersih, bersih," "Hidup rakyat" , "Rakyat sudah bangun," and "Daulat Tuanku."
The have at press time reached Shaw Parade, with no sign yet of police interference.
The crowd soon swells to two thousand, with the DAP-led march cleverly sticking to tourist spots at Sungei Wang and Low Yat Plaza past Federal Hotel to foil the police.
They are also sending out motorcycle recces to keep them informed of police presence ahead.
1pm: Masjid Jamek - The crowd here has grown to about 1,000 people and is beginning to march.
Earlier, a student was hit by a tear gas cannister. He refused to have his photograph taken due to his status.
1pm: Pudu-Bukit Bintang - At Jln Puduraya, the DAP-led march of up to 2,000 people reach the city centre, converging with the PKR-led team. The crowd cheers in delight, and chant, "Bersih" and other slogans.
They now gather at the Jln Tun Perak and Jln Pudu junction.
1.10pm: Masjid Negara - The mosque is mostly empty. Some are complaining that the toilets are locked.
1.14pm: A fake Twitter account @bersihrally have appeared, apparently created only at 9.42 this morning.
Claiming to provide "live coverage of the Bersih 2.0 rally, with multiple small groups of volunteers in the field reporting" it has since provided false accounts of the goings-on at the current Bersih 2.0 rally.
Among some of the allegations are looting in Pasar Seni, clashes with the police at KLCC as well as shots being fired in Bangsar.
After being 'outed' by other Twitter users, @bersihrally finally posted a message: "Took you guys long enough to figure it out. I've done my job. Thanks for playing."
1.15pm: Official police figures - 514 arrested. 478 males, 36 females.
1.20pm: Masjid Jamek - There is a standoff here. The growing crowd continues chanting while the police await reinforcements.
1.21am: Top Bersih leaders Ambiga Sreenevasan, Haris Ibrahim, Wong Chin Huat and A Samad Said are in Hilton Hotel. They are with politicians William Leong, Kamaruddin Jaafar, Zaid Kamaruddin, Syed Azman Syed Nawawi and Tian Chua. They join Anwar Ibrahim who is in the hotel.
It is confirmed that PKR deputy president Azmin Ali has been arrested and taken to Pulapol (Police Training Centre).
(Later today, at 5.30pm, PKR sources clarified that Azmin was not arrested).
Earlier, PAS vice-presidents Mahfuz Omar and Salahuddin Ayub were also nabbed.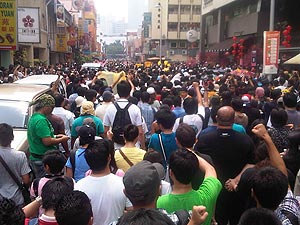 1.22pm: Petaling Street - The group of a few thousand which is marching to Stadium Negara turn back to Jalan Tan Cheng Lock after encountering a roadblock.
A large group of Sarawakians are chanting 'Hidup Sarawak', receive applause from the rest.
1.30pm: Malaysia Hotel - About 500 Umno Youth members have gathered at Jalan Bukit Bintang. All are wearing red T-shirts with the word 'Patriot'. These T-shirts are also being handed the public, including tourists.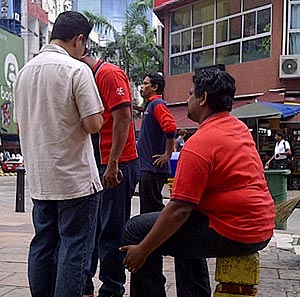 The Umno Youth rally is aided with a pickup truck. Speakers would give speeches from the back of the truck and throw down T-shirts.
Among those present are Umno Youth leaders Arman Azhar Abu Hanifah, Reezal Merican Naina Merican, Ahmad Zaki Zahid but there is no sign of the movement's leader Khairy Jamaluddin. His officers insist he will show up later.
The group is currently stationary and chanting " Hancur Bersih " (destroy Bersih) and "Who are we? Patriot!". They narrowly miss a Bersih 2.0 procession by about five minutes.
1.30pm: Pudu-Bukit Bintang - The authorities fire tear gas at Jln Tun Perak, forcing the crowd to retreat once, then the angry crowd shouts, " Masuk " (go in) and starts moving toward Jln Tun Perak .
1.33pm: Jalan Tun Perak - PAS leader Dr Hatta Ramli with a loudspeaker tells the crowd of at least 4,000 that party vice-president Mahfuz Omar and about 300 others have been arrested.
"The rakyat's struggle requires sacrifices... Those under 40 here have never seen real democracy in this country," he said.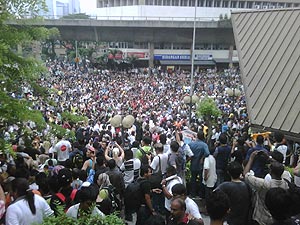 The crowd reply with "Allahuakbar".
There are traffic marshals from Bersih also directing the crowd to make way for vehicles passing through.
1.35pm: Press statement by IPK KL.
Thus far, 540 people have been arrested (479 male, 58 women, three juvenile) have been arrested for further investigation.
Among the arrested, 11 were wearing yellow Bersih T-shirt and one was wearing a red Patriot T-shirt.
Meanwhile, three individuals believed to be leaders or organisers of the rally were also arrested. They are PAS deputy president Mohamad Sabu, and party veeps Salahuddin Ayub, Mahfuz Omar.
1.36pm: KL Hilton - Bersih leaders hold a press conference and say they will march to Stadium Merdeka and will not give in to intimidation.
National laureate A Samad Said is also there.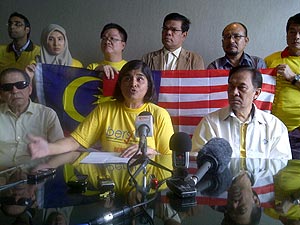 S Ambiga says, "the cause of Bersih has been achieved, even before we have taken the first step."
She said the authorities use of force was useless against the people's will. "No matter what right will always prevail."
Slamming the mass arrests, Ambiga said their original goals of rallying for electoral reform has grown into something bigger as it has stirred emotions amongst "right thinking rakyat".
"First, it has stirred a sense of outrage against the exhibition of raw power by our government, that seems to be living in a time warp.
"Secondly, it has stirred in us (the desire) to bring back a sense of balance and decency into our government," she said.
Thirdly, she said the rakyat are beginning to feel empowered to make change, despite police "intimidation".
"You cannot quell the voices," she said.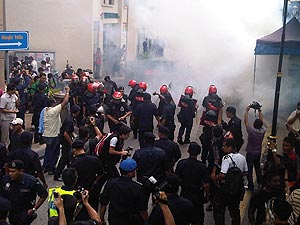 1.38pm: LRT Masjid Jamek - A police officer with loudhailer announced: "Perhimpunan hari in tak ada kebenaran jadi diminta semua bersurai serta merta atau kami suraikan dengan kekerasan."
The officer also gave three minutes for the crowd to disperse.
This was met with "takbir" and jeers from the crowd, numbering about more than 500 people.
1.40pm: Menara Maybank - Water cannons unleashed on more than 1,000 protestors.
1.43pm: Masjid Jamek - A group of about 10 general duty police officers with gas masks chased after the protesters who ran helter skelter into Masjid India area. [Watch video - 17 sec]
1.44pm: Menara Maybank - Water cannon truck fires at the crowd a second time, this time with chemical laced irritants mixed with blue dye.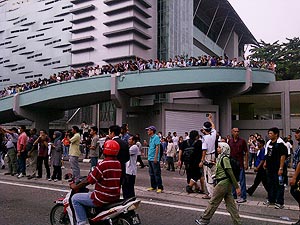 Instead of dispersing, the crowd charged forward. Some were seen hitting the water cannon truck with their bare fist.
This was met with another round of tear gas. The tear gas managed to disperse the crowd slowly.
1.52pm: Masjid Jamek - There are at least four police trucks stationed at Masjid Jamek LRT station.
Crowd has been dispersed by the police tear gas for now, but it is expected they will be regrouped later.
1.55pm: It begins raining in Kuala Lumpur.
1.57pm: Malaysia Hotel - Khairy Jamaluddin appears at the Umno Youth rally and gives out a short speech. He said that Bersih 2.0 cannot be supported because it is infiltrated by opposition parties.
He then leads the crowd in a march towards Stadium Merdeka. They will likely bump into a section of the Bersih 2.0 crowd at the Jalan Bukit Bintang - Jalan Pudu intersection.
1.59pm: Puduraya - Police fired tear gas on an estimated 10,000-strong crowd, which converges in Puduraya, in front of Menara Maybank. Part of the crowd came in from Masjid Jamek while others are from Petaling Street
Police had to resort to using tear gas after the water cannon failed to stop their advance. People in the crowd appear to be recovering from the tear gas and are coming back together to continue with their march.
2pm: Hilton Hotel - It is still raining cats and dogs outside the hotel and the atmosphere inside is tense as Pakatan leaders prepare to march out into the streets.
Despite the tension, they seem energetic and vowed to carry with their march to Stadium Merdeka once they get past the police barricade already set up outside the hotel waiting for them to emerge.
The Pakatan leaders are surrounded by a gaggle of reporters as they slowly make their way out towards the confrontation with authorities.
2.10pm: Puduraya - The police are increasingly harsh towards protestors.
They move in to detain dozens of protesters, with officers going in groups of five to six to detain individual protesters.
Some are dragged on the road. One protestor was bleeding from the head.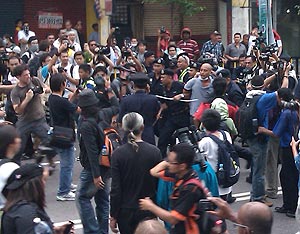 Incidences of police brutality were seen, with officers allegedly punching and shoving detainees. They were also allegedly seen manhandling female detainees.
Some protesters jumped off a six-foot high ledge to evade capture in possibly one of the most dangerous situations of the day so far.
2.15pm: Puduraya - At Jalan Pudu, the Bersih group moves on towards the Maybank building, passing nearby the junction of Jalan Bukit Bintang, where the Umno Youth Patriot group is holding station.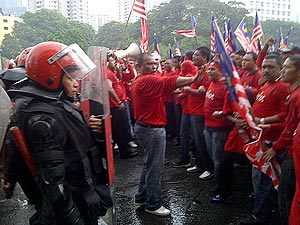 It appears that both sides are coordinating despite their differences, to ensure members refrain from clashing.
However some Umno Youth members persist in pressing forward, baying for blood.
With them are Umno Youth's Megat Firdouz, Reezal Merican and Arman Azha Abu Hanifah, all banned from the city.
2.15pm: Bukit Bintang - Umno Youth's 'Patriot' procession has stalled momentarily.
According to sources within Umno Youth, the group is waiting for 'further clearance' when their desired route to Stadium Merdeka has been blocked by the police.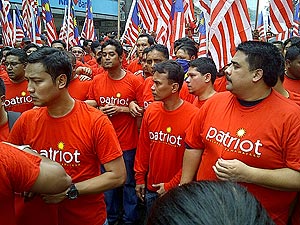 The group are also waiting for smaller pockets of Umno Youth supporters to march from Kampung Attap and PWTC.
Umno Youth leader Arman Azha is also seen trying to control the crowd from inching ahead.
It has started drizzling.
2.15pm: KL Sentral - Pakatan Rakyat and Bersih leaders are marching towards from the Hilton Hotel towards KL Sentral shouting "Bersih! Bersih!" but are stopped by the police.
People from inside the station are chanting with the leaders as well. PKR vice-president Tian Chua managed to find a weak spot in the police barricade and led the entire delegation through.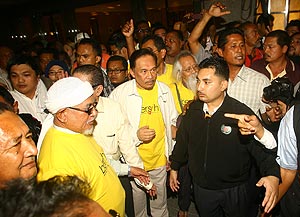 The top leaders are expected to march towards Stadium Merdeka.
"The outrageous arrest and mass detentions is most unwarranted especially after the wise advice from the Agong. Bersih has become more than a struggle for electoral reforms but is now for clean politics and governance," said Pakatan leader Anwar Ibrahim.
2.18pm: Pudu-Bukit Bintang - As the drizzle starts, the crowds raise their hands and cheer again, and retreat towards Bukit Bintang.
Penang deputy chief minister II P Ramasamy's political secretary Satees Muniandy reports, "I'm at Jln Pudu. Rain is God's blessing. The crowd is building up especially under the bridge. Thousands are not leaving despite water cannons, tear gas."
2.25pm: Brickfields - The Pakatan Rakyat and Bersih 2.0 crowd has managed to emerge from KL Sentral and attempted to enter Jalan Tun Sambanthan where they are met by almost 1,000 supporters.
Bersih 2.0 chief Ambiga Sreenevasan, Anwar Ibrahim, Dr Wan Azizah Wan Ismail, Lim Kit Siang and other personalities are spotted among the crowd.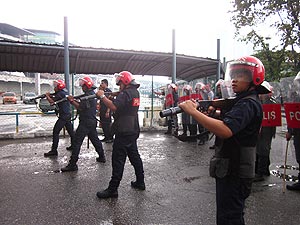 While proceeding towards the city centre, they were pelted with tear gas cannisters and chaos ensued. A number of top leaders have been arrested.
2.30pm: Human Rights Watch's Asia division deputy director Phil Robertson says, "This is a maelstrom of the Malaysian authorities' own making.
"The failure of the top levels of the Malaysian government to engage in good faith dialogue with citizens demanding basic electoral reforms is the heart of the matter," he says in a statement, blasting continuing police action against the rallyers.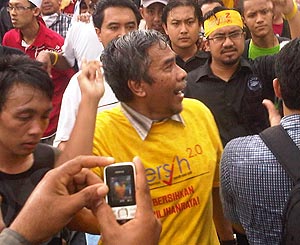 2.30pm: Puduraya - The 10,000-strong crowd led by PAS leader Dr Hatta Ramli and PKR leader Badrul Hisham Shaharin has regrouped and move towards Kotaraya from Jalan Pudu.
However, the police stationed at the Puduraya junction fire yet another round of tear gas to disperse the crowd.
They are unable to retreat to Petaling Street as the road in front of Kota Raya complex has been cordoned off.
Half of them retreated back to Jalan Pudu while others are forced to disperse into the back lanes behind Ancasa Hotel and Puduraya while the police pick on the dispersed groups, making arrests.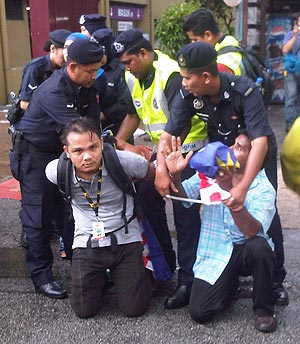 Several protestors distribute Malaysian flags to others. But those carrying flags become easy targets for the cops and are swooped up.
In the ensuing melee, two TV Selangor reporters are mistakenly arrested despite wearing the press tags. However the duo, Abdul Muin Basuri (right) and Norfarahidayu Baharudin are immediately released after other reporters identity them.
About six are arrested in front of Angkasa Hotel. The rain pounds down on the rally and protestors run helter skelter for shelter. Even the FRU get out of the rain.
The scattered protestors move towards the stadium in small groups of two or three following SMSes from Pakatan leaders asking them to gather there.
2.35pm: Bukit Bintang - The Umno Youth group have stopped in front of Royale Bintang Hotel where they are walking towards another Bersih group at the Jalan Pudu-Bukit Bintang intersection.
2.35pm: Puduraya - As the Bersih group retreats towards Jalan Pudu, the police steadily move in before firing rounds of tear gas into the crowd. The protestors hurl the canisters back into the police.
Some police officers, who were earlier seen punching protestors, are spotted with bruised eyes and coughing.
2.40pm: Bukit Bintang - Umno Youth's rally stands off with the FRU with neither side budging.
Three are arrested after a scuffle ensues as protestors try to break past the FRU and tear gas is fired.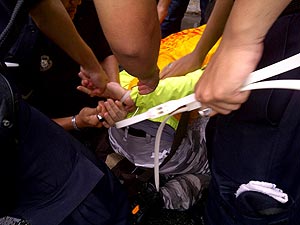 2.41pm: PDRM Facebook : As of 2pm, 644 arrested - 597 males and 47 females.
2.43pm: Jalan Hang Jebat - In a lighthearted moment at Jln Hang Jebat, members of the procession to the stadium stops to buy ice cream from a hawker, who is doing brisk business.
They are mostly from the 10,000-strong crowd in front of Puduraya earlier.
2.43pm: KL Sentral - Pandemonium breaks out at KL Sentral as police fire tear gas in a closed environment as Bersih 2.0 and opposition leaders attempted to exit the station via Brickfields.
The tear gas forced protesters back into the station, which has been locked down. Journalists outside KL Sentral were barred from entering the station, making it difficult to verify the status of the situation.
It was, however, confirmed that a group of Pakatan leaders and individuals were arrested in the chaos, including Batu MP Tian Chua, Kuala Selangor MP Dzukefly Ahmad, artist Wong Hoy Cheong, PAS president Abdul Hadi Awang's son and three other supporters.
2.45pm: Puduraya - The police curiously arrest about 10 individuals out of a large group who have dispersed into the Tung Shin hospital.
Meanwhile, a man ( right ) who appears to have fractured his leg during the earlier melee is being attended to by volunteer doctors.
He was lying unattended on the road with his wrists bound by police, before the medical volunteers spotted him.
"The police held me, grabbed my head, bound my wrists and kicked me. There were several of them," said the man, visibly in pain.
2.45pm: KL Sentral - Anwar Ibrahim tweets that he has suffered a minor injury and that his daughter Nurul Hana has been arrested during the melee.
Bersih 2.0 chief Ambiga Sreenevasan confirms that she has been arrested, so too PAS president Abdul Hadi Awang.
2.48pm: Puduraya - The crowd disperses into Tung Shin Hospital and a nearby Chinese school. Police are firing tear gas into the hospital, attempting to disperse the protestors.
There is abrief respite as Subang MP R Sivarasa tries to negotiate with the police to allow protestors to to Jalan Sultan.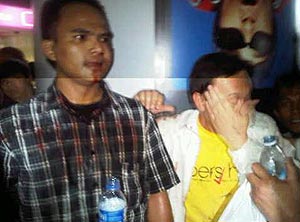 2.50pm: KL Sentral - PKR vice-president N Surendran told Malaysiakini Anwar is bleeding from the head and injured in one of his knees.
2.52pm: Jalan Hang Jebat - Some 3,000 Bersih supporters are gathered here attempting to move over to Stadium Merdeka nearby.
They meet a blockade with barbed wire. The crowd, growing by the minute, groups in front of the cops and chant at them.
Led by PAS election director Hatta Ramli and PKR Johor chief Chua Jui Meng, the crowd calls on the police to remove the barricades to no avail.
The two leaders give a short speech each telling the crowd they have accomplished their mission in arriving at the stadium, despite being unable to enter.
They thank the police and tell the crowd to return to Central Market.
2.55pm: Bukit Bintang - There's a standstill between the Umno Youth's Patriot rally and the FRU with neither side budging.
About three arrests were made when Umno Youth tried to break through the FRU line, breaking out into a scuffle before a tear gas canister was fired.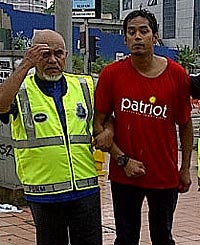 2.57pm: Bukit Bintang - Umno Youth chief Khairy Jamaluddin has been arrested when he was found to be resting and clearing his eyes from the tear gas fired, at a shack just 100m from the FRU line.
Water cannons and tear gas have also been aimed at the remaining Umno Youth supporters, pushing them back 50m from their original location.
The group has thinned out to about 200.
He wrote on Twitter later that he is being held at the Police Training Academy at Jalan Padang Tembak.
He said that one of his exco members was injured by a tear gas cannister.
"Have been taken Pulapol. FRU tear gas straight at them. Exco Zaki Zahid hurt," he wrote.
3.10pm: PDRM Facebook - The total number of people arrested as of 2.30pm has reached 672.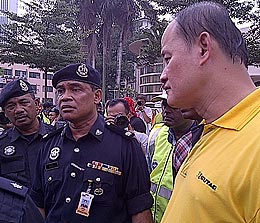 3.15pm: Puduraya - Police have agreed to give safe passage to the thousands of protesters assembled at Pudu up till Jalan Sultan on condition that they only use half of the road and march peacefully.
The accord was reached after Pakatan parliamentarians R Sivarasa and Ngeh Khoo Ham negotiated with the police, who also decided to allow the crowd to chant as they march.
3.20pm: Puduraya - The crowd has begun to head from Pudu to Jalan Sultan, thanking the police for allowing them safe passage. The 2,000-strong crowd also began singing Negaraku as they marched.
3.22pm:
Bukit Bintang - The 200 Umno Youth supporters at Jalan Bukit Bintang in front of Federal Hotel begin to disperse after negotiation with the police.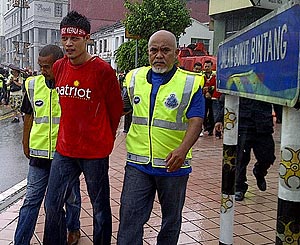 Claiming moral victory despite only being able to proceed 200m along Jalan Bukit Bintang - still far from their Stadium Merdeka destination - Umno Youth exco Megat Zulkarnain Omardin said that their message have been conveyed.
"We have come and we fulfilled our purpose," he told the crowd before another individual led a prayer.
Later, Umno Youth Petaling Jaya Utara chief Arman Azha told Malaysiakini that exco Lokman Noor Adam as well as 20 of their members had been arrested.
Movement head Khairy Jamaluddin, who was also arrested, later tweeted that he had been taken to Pulapol while exco Ahmad Zaki Zahid was injured.
"Have been taken to Pulapol. FRU tear gas straight at us. Exco @zakizahid hurt," he wrote.
3.37pm: Pasar Seni - The triumphant group from Jalan Hang Jebat marched down Jalan Sultan towards Central Market, but were attacked by polie tear gas near the Pasar Seni LRT Station.
This forced them to retreat down Jalan Sultan.
3.38pm: Pudu - The 2,000-strong crowd at Pudu has now been denied safe passage to Jalan Sultan, and riot police have fired both water cannons and tear gas at the protesters assembled in front of the Tung Shin hospital. The crowd is now sandwiched between two FRU blockades.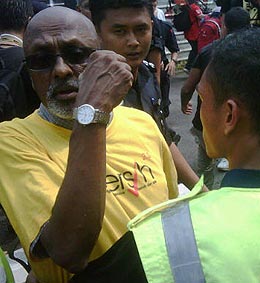 The police started spraying the crowd after negotiations broke down between police and Pakatan MPs R Sivarasa and Ngeh Khoo Ham, following confusion over what the crowd is required to do.
It was learnt that the crowd was told to only use one side of the road and march peacefully, while it was understood that the police had wanted them to disperse into smaller groups before they would be allowed to move on.
It is believed that Sivarasa has been detained, though it is not known where he has been taken to.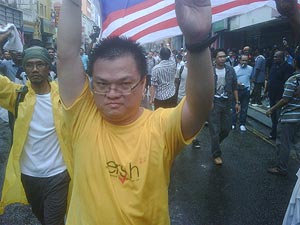 3.39pm: Pasar Seni - The police fired more than 10 volleys of tear gas at the crowd led by Bersih 2.0 steering committee member Wong Chin Huat ( right ) without warning as he was trying to deliver a speech before dispersing.
The volley came while the crowd was singing the national anthem. Most of the people are now seeking shelter under the Pasar Seni LRT station as Wong again lead them in singing Negaraku.
3.40pm: Titiwangsa Lake Gardens - About 20 Perkasa members are seen at a restaurant in Titiwangsa Lake Gardens, following the goings-on of the Bersih 2.0 rally on a television screen. However, the group's president Ibrahim Ali and his deputy were nowhere to be seen.
Ten police officers were seen keeping order at the main door of the recreation park.
Meanwhile, a sad fate befell a bride and groom on their wedding day today as their convoy was not allowed through police cordons, forcing them to walk to the site of the wedding celebrations two kilometres away.
3.49pm:
Pudu - The group of Bersih 2.0 supporters caught in a pincer between two police cordons in Tung Shin Hospital have now dispersed after police rushed in to arrest dozens.
Most fled through back roads and alleys in small groups to escape while a hardcore few holed up in the upper parking lot of the hospital. The police subsequently fired tear gas cat them and the last remaining holdouts were either arrested or left voluntarily.
At least 50 were arrested as police broke up the Tung Shin Hospital crowd.
3.50pm: Istana Negara - A small group of Bersih 2.0 steering committee members are marching towards the palace from Midah Hotel. They are awaiting clearance from the palace to submit Bersih 2.0's petition.
3.55pm: Pasar Seni - Bersih leader Wong Chin Huat ( left ), after reading out the eight demands of Bersih 2.0, calls on the crowd to disperse.
The crowd begins to disperse peacefully with many of them still chanting 'Reformasi' and 'Bersih' under the Pasar Seni LRT station.
This earns them another round round of tear gas.
3.50pm: KL Hilton - At an impromptu press conference, PKR vice-president Nurul Izzah Anwar, N Surendran and PAS deputy secretary general Syed Azman condemn the police brutality that they allege has caused injury to several Pakatan leaders.
They say besides PKR de facto chief Anwar Ibrahim, who has been sent to Pantai Hospital, PAS Shah Alam MP Khalid Samad and Bersih 2.0 leaders Maria Chin Abdullah and national laureate A Samad Said have also sustained injuries.
4pm: Istana Negara - The Bersih 2.0 delegation of about 20 people led by national laureate A Samad Said was stopped by police about 200m away from the palace gates.
Negotiations with the police failed and the group agreed to disperse. However, Samad said he needed to rest and the group left him alone with the police before leaving the area.
4.01pm: PDRM Facebook - Among the top leaders arrested are:
Mahfuz Omar - KL Sentral
Salahuddin Ayub - KL Sentral
Mohamad Sabu - Jalan Mahameru
Fauziah Salleh - KL Sentral
Tian Chua - KL Sentral
S Ambiga - KL Sentral
Hadi Awang - KL Sentral
Azeez Rahim - Jalan Bukit Bintang
4.10pm: Light Rail Train (LRT) stations still closed, according to RapidKL - Pasar Seni, KL Sentral, Masjid Jamek and Dang Wangi.
4.21pm: After almost four hours of cat-and-mouse confrontation with the police in downtown Kuala Lumpur, most of the protesters have dispersed.
The Bersih committee is to call press conference at 4.45pm at Midah Hotel.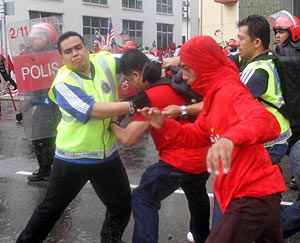 4.40pm: Pudu - Suhakam commissioner Muhammad Sha'ani B Abdullah condemns the authorities for their harsh handling of the protesters.
The police force has not only disrespected the people's right of assembly but also compromised the safety and health of the public by firing tear gas into the Tung Shin hospital compound.
When asked how the people should respond to such violations, he said Malaysians should choose representatives who can protect their rights.
4.50pm: Fadiah Nadwa Fikri of Lawyers for Liberty says that the police have invoked section 28A(8) of the Criminal Procedure Code - denial of access to lawyers - at Pulapol (Police Training Centre), where she says 1,000 people are being detained.
According to her, this is a violation of Article 5 of constitution.
5.34pm: PDRM Facebook - As of 3.30pm, a total of 924 people have been arrested.
6.30pm: Police say 1,401 protesters were arrested during the day-long operation, including 13 children. The authorities estimate the crowd turn out between 5,000 to 6,000.
6.45pm: IPK KL - Ambiga Sreenevasan has been released from detention. KL CID chief Ku Chin Wa said that the police would decide whether to take action against her after investigations are concluded.
7.01pm: PDRM Facebook - A total of 1,667 people, including 16 children, have been arrested for "disturbing the peace" and taking part in an "illegal gathering".
Related reports
Pakatan: Cops fired tear gas directly at crowd, MPs
Crackdown widens, cops comb hotels
Global Bersih rallies kick off in Melbourne
Massive rally may signal BN losing ground
My right to wear clean yellow T-shirt
PSM 6: Interrogation all about Bersih
Pakatan ceramah: Calm before the storm
A case of monkey see, monkey do
Gerakan leaders can't see eye to eye on Bersih