Thasleem Mohamed Ibrahim passed away yesterday at the age of 68. Malaysiakini republishes this 2016 interview with the towering Malaysian.
---
MALAYSIANS KINI | Thasleem Mohamed Ibrahim did not shed a tear when he spoke about his adoptive mother, neither did his eyes glisten.
But it was evident how strongly he felt about the woman who took care of him since he was 16 years old, when he literally had to fend for himself.
Now 66, Thasleem recounted the difficult period which shaped his life. He was born with a silver spoon in his mouth, chauffeur-driven everywhere when he was younger but all that changed when his father's business went bust during the Indonesia-Malaysia confrontation, which had led to the increase in food prices.
His father, who was a food supply contractor, with clients from educational institutions such as Malay College Kuala Kangsar (MCKK) and the then Sultan Idris Training College (now Sultan Idris Education University), decided to take his whole family to India - save for Thasleem.
His well-being was entrusted into the hands of his father's close friend, who was given money to take care of him.
After only three months, however, he was told the money had run out. Thasleem was left to his own devices and the Ipoh bus and railway station became his home.
The once-privileged child now had to make ends meet, working as a security guard, washing cars and slaughtering chickens.
Although he was able to sustain himself initially, he realised soon after that gangsters were controlling the area.
"I had to give 30 percent (of my) income to them. I was in a dilemma; I was tempted to join them," he admitted.
A life-changing gesture
Luckily for him, a woman noticed him at the local market; he asked her for just one meal, having not eaten for days.
"She didn't even ask (for) my name, she gave me (her) address. (After finishing) I told her that normally, after a meal, I would sleep on my mother's lap - (and) she let (me)," he said.
The woman then told Thasleem to bring all his belongings and stay with her and her family.
And that is the story of his adoptive mother, Thilagavathy Kandiah, whom Thasleem pointed out was not even Muslim.
But during the fasting month, his adoptive mother would wake up at 3am to cook his favourite dish of sawi and ikan bilis (mustard leaves and anchovies).
"She would sit down until I finish my sahur (pre-dawn meal) during the whole of Ramadan; she did that for me."
The young Thasleem also had a habit of sleeping after the meal but his adoptive mother would pour water on his face to wake him up for subuh (early morning) prayers.
"And we call her a kafir (infidel)?", asked Thasleem, referring to his Hindu adoptive mother who passed away in 2007.
His love for her was definitely not a tale spun out of thin air. Thasleem showed this writer a picture of his adoptive mother, placed beside that of his biological mother, which he took out from his wallet.
His adoptive mother may have passed away almost 10 years ago but 'til today, Thasleem is still treated as the eldest child, with his adoptive siblings consulting him on various matters.
No identity crisis
Thasleem is clear proof of how a conventional Tamil Muslim doesn't have to compromise his religious beliefs despite growing up in a Hindu family environment.
So it is not surprising that he and his wife are currently looking after a Roman Catholic girl, the daughter of his wife's nurse.
"We took care of her since she was three months old; she's now 15. She still practices her faith; she goes to church on Sundays," he added.
Life has taught Thasleem that religion or ethnicity is not an issue when it comes to education.
He has funded studies for over 60 hafiz (Quran memorisers) in the last 20 years. He has also adopted Tamil schools since 1995, with more than 15,000 children having benefited from the scheme.
In his own home, his 16 adopted children came from various backgrounds - Hindus, Christians, Malays, and Indian Muslims.
"We have seen them through education; some of them did so well that they became Public Services Department (JPA) and Yayasan (Khazanah) scholars.
"Those who didn't do so well but had performed sufficiently, my wife and I gave them the education that they wanted, be it to do pharmacy or dentistry," he said.
The man behind the cane and songkok
For those in the activism scene, the sight of a cane-wielding man with a songkok at NGO events and rallies is a familiar one. But who is Thasleem the man, really?
The 'Christmas baby' was born in 1949 in Tamil Nadu, India, and only came to Malaysia five years later.
He spent his early years in Ipoh and returned to India for higher studies where he studied leather and footwear technology. In fact, he later came to know that he is the first Malaysian who was professionally trained as a leather and footwear technologist.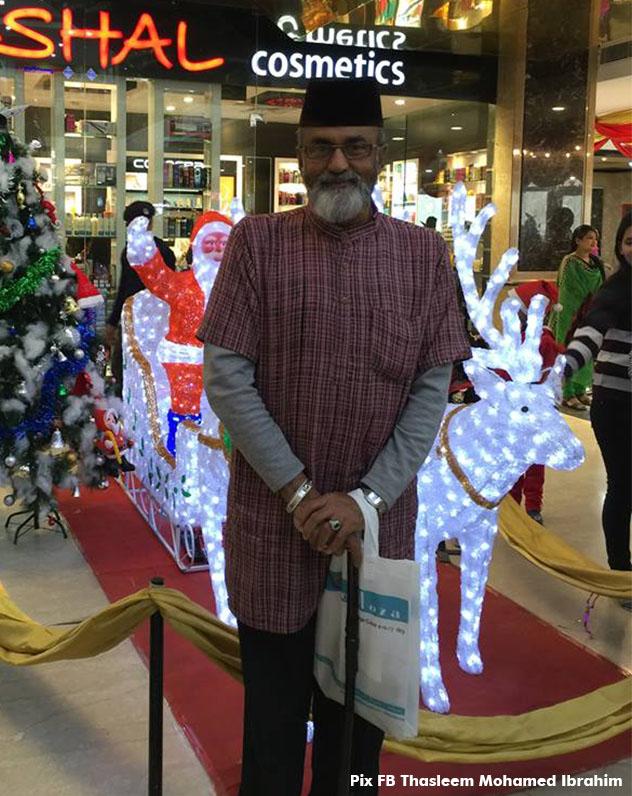 He secured a job in a factory producing leather products but tragedy befell when he was involved in a bad road accident. That and a botched surgery were the reasons Thasleem still needs a cane to walk.
In 1974, he started working in Butterworth, Penang, cutting his teeth in the shoe industry and even the light engineering industry.
From 1986 onwards, Thasleem went into trading and started his own business in project and construction management. His work has seen him working in nine countries, among them Indonesia and Hong Kong.
Thasleem nowadays plays an advisory role to some of the companies he had spent his time with.
The activist, although admitting that he is 'pro-Pakatan', is not a member of any political party.
He was, however, an ordinary member of MIC for 32 years from 1975 to 2007. Claiming that he has friends from both sides of the political divide, Thasleem makes it a point to raise his opinions whenever he sees 'injustice'.
He explained that he left the party in a 'very friendly and cordial manner', after realising the growing divide in ideological differences.
"I felt that staying in MIC and starting to criticise anything - the MIC leadership was not in the frame of mind to accept - would have turned unhealthy," he said.
Promoting only one 'race'
Thasleem is currently involved in civil society organisations Jihad for Justice, and the National Indian Rights Action Team (Niat), and proudly says he backs the movement to promote one 'race' - the human race.
"I'm always involved when there is an issue (related to) any social justice movement. Of late, due to health reasons, I've taken a back seat. But I'm still very active in any issue involving Tamil schools," he said.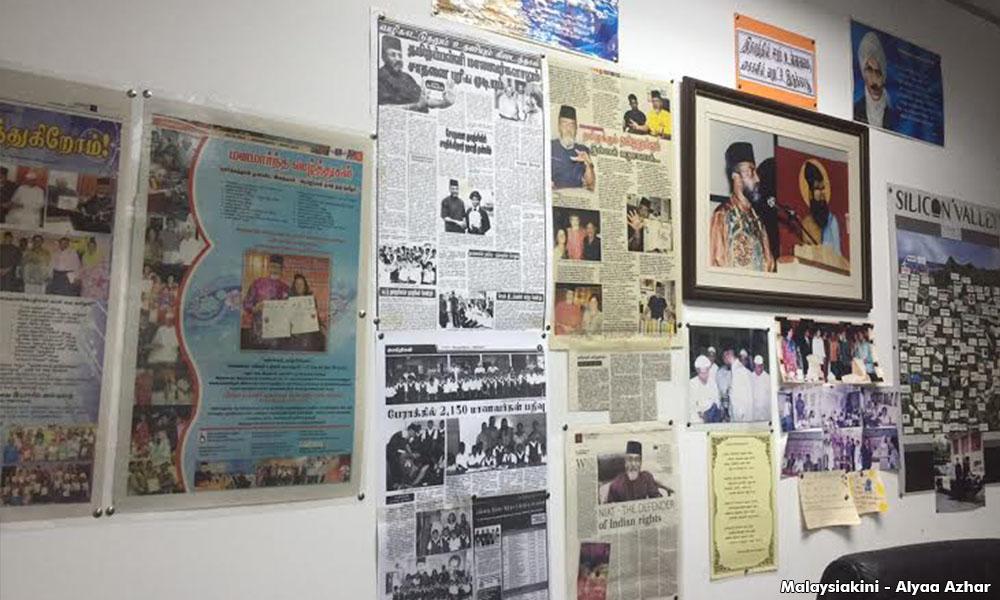 And he has also since changed his approach from that of very confrontational to having more dialogues instead.
"Even on the government side, knowing I'm very pro-Pakatan, there are ministers and deputy ministers who are willing to sit down and have a chat. Some of the issues have been amicably resolved without confrontation.
"One thing is clear; when it comes to educational issues and institutions, I've always maintained a very strict policy - no politics.
"Some people don't like this. Some would like to politicise every issue, but there are times when we can sit down at the table and resolve it," said Thasleem, who gets invitations from the government to discussions on matters related to education.
Apart from all these, he also fills his time by being active in mosques and religious schools. He was the Indian Muslim mosque chairperson for seven years and served as adviser to more than 20 mosques.
Rooted to the past
Despite the strong ties with those identities, as a proponent of the one race - the human race - he ultimately, however, sees himself as a Malaysian.
"We can be Malay, Chinese, Indian, Kadazan, but at the end of the day, I believe we are all Malaysians."
However, Thasleem is steadfast in identifying himself as a sixth-generation Tamil Muslim.
He puts the blame on religious department officers when asked why some Indians choose to deny their roots after conversion to Islam.
Citing Prophet Muhammad, Thasleem pointed out how the prophet's own uncle did not convert to Islam.
"I wouldn't put the blame on those who have converted. I think it is the authorities who have a huge responsibility to ensure that after conversion, they are given in-depth knowledge about family ties after their conversion.
"I know some who have converted; they don't even acknowledge that they have Indian origins or that they were Hindus.
"What is there for you to deny? My appeal to converts - you don't have to be shy of your origins. Muslims from all over the world have all sorts of origins," he pointed out.
Finding inspiration
Thasleem has a few people that he looks up to. One of them used to be or is former premier Dr Mahathir Mohamad. Others include former president of India APJ Abdul Kalam and the current Dalai Lama.
They appeal to him for different reasons.
For Kalam, it's simplicity and humility. "He never amassed any wealth; he left behind two suitcases of clothes and no property," said Thasleem, who first met his hero in 2001.
Inspired by Kalam, Thasleem gave away most of his assets to charitable trusts, claiming that he doesn't own anything.
He would therefore be fine if ever asked to declare his assets, quipping the house he lives in belongs to his wife, who had bought it.
As for the Dalai Lama, Thasleem said he had asked the Tibetan Buddhist leader for some wisdom on peace. "His answer was simple - 'love every creation of God; don't hate anybody'," he said.
And then there are his 'daily' heroes, definitely not lesser than the famed ones. For one, his adoptive mother, whose gestures, he said, 'saved me from gangsters'.
Or his doctor-wife. "She realises there are a lot of risks (in what I do); she prays very hard for me," he said, quipping that he would be healthy if only he had listened to even 50 percent of her medical advice.
Other heroes are in local politics, and the list is long - former deputy premier Muhyiddin Yassin, ousted Perak menteri besar Nizar Jamaluddin, as well as DAP leaders Lim Kit Siang, Lim Guan Eng, M Kulasegaran, P Ramasamy and PKR's Mohd Rashid Hasnon.
From the BN side are former Perak menteri besar Tajul Rosli Ghazali, the late politician Megat Junid Megat Ayub, former Kedah menteri besar Mukhriz Mahathir, former MIC presidents S Samy Vellu and VT Sambanthan, as well as former premiers Tunku Abdul Rahman, Abdul Razak Hussein, and Abdullah Ahmad Badawi.
Abdullah had many critics but Thasleem remembers him as the only premier who made time to meet a delegation of Indian Muslims.
"He did listen; he acted on a memorandum we gave him. Although he did not act on all of them, he had done what he could on some of the things we had raised," said Thasleem.
But the person most esteemed in his eyes is the late former PAS spiritual leader Nik Abdul Aziz Nik Mat.
Thasleem points out that Kelantan, during Nik Aziz's time, was the only state which saw its menteri besar breaking fast with the people.
"I cannot, in the near future, foresee anyone who can even come close to Nik Aziz in terms of his leadership, understanding, and interpretation.
"Why is it until today non-Muslims love him so much? Ask any non-Muslim; ten out of ten will say good things about him. Even MIC leaders told me of such wonderful experiences they had had with him," he said.
---
MALAYSIANSKINI is a series on Malaysians you should know.
Previously featured
Poster girl for diversity? No thanks, says novelist Zen Cho
M'sian int'l hackathon champ shows computer games good for you
Pianist bears no grudge over concert cancellation due to Bersih 2
Facing possible jail time, Lena's main worry is dad finding out
This Malaysian youth has helped 10,000 Syrian families and counting
'Cat-man' quits day job to save 80 feline friends
Teen writer aspires to outdo Harry Potter
This Malaysian youth has helped 10,000 Syrian families, and counting
'Cat-man' quits day job to save 80 feline friends
Engineer, activist, kampung rebel - Yati starts her 50th year anew
Facing possible jail time, Lena's main worry is dad finding out
What if Hang Jebat never stood up to the sultan?
'Am I going to die?' - student journo reports from conflict zone frontlines
Snubbed by Masterchef, M'sian youth wins over refugees in Greece
The radicalisation of Mandeep Singh - from suits to streets