The 1MDB taskforce has revealed that former premier Najib Abdul Razak will be charged tomorrow.
In a brief media statement this evening, the taskforce said he would be charged at the Kuala Lumpur Sessions Court tomorrow morning.
The taskforce comprises former attorney-general Abdul Gani Patail, former MACC chief commissioner Abu Kassim Mohamed, current MACC chief commissioner Mohd Shukri Abdull and former police special branch deputy director Abdul Hamid Bador.
Meanwhile, sources told Malaysiakini that Najib might be slapped with multiple charges.
"He could be charged under Section 409 of the Penal Code for criminal breach of trust (CBT) and Section 23 of the MACC Act," said the source.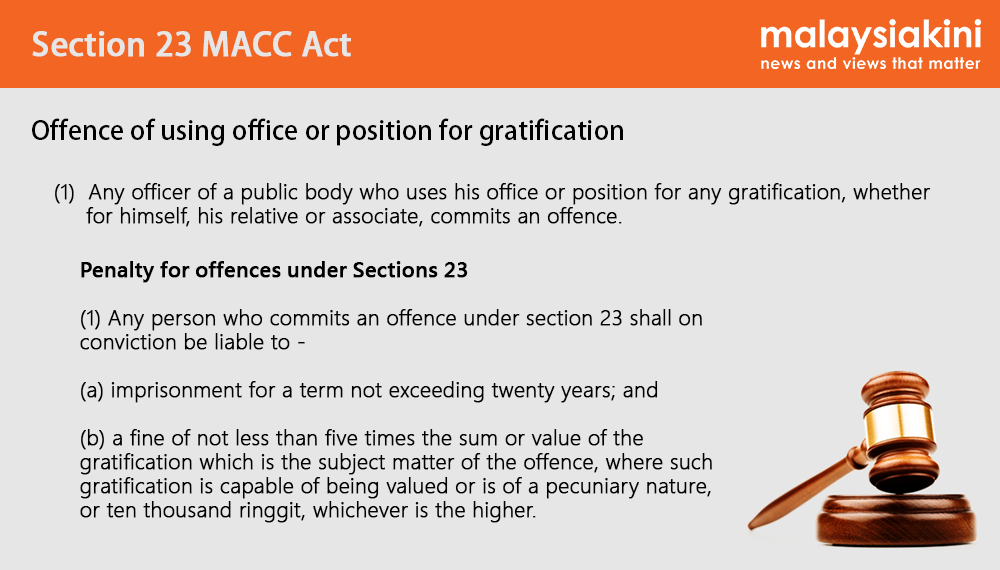 According to the source, the former premier could also be charged under the Anti-Money Laundering, Anti-Terrorism Financing and Proceeds of Unlawful Activities Act 2001 (Amla).
The police are investigating Najib under Amla.
If convicted for CBT, he could face a jail term of between two to twenty years, whipping and would also be liable for a fine.
Whereas Section 23 of the MACC Act is related to offences of using the office or position for personal gratification or for family members.
If convicted, he could face a jail term not exceeding 20 years and fine not exceeding five times the amount involved.
MACC officers had detained Najib at his residence in Jalan Duta this afternoon with regard to the commission's investigation into the SRC International issue.
RELATED REPORTS
From GE14 to Najib's arrest – 56 days of drama
On 3rd anniversary of exposé on RM2.6b, the law catches up with Najib
Umno leader to hold solidarity rally for 'persecuted' Najib
MACC arrests Najib at his residence
Ex-PM to be charged tomorrow – 1MDB taskforce
MACC urged to treat Najib fairly
Wanita Umno to hold special prayers for Najib