WHITE PAPER | Bad business decisions by Felda Global Ventures Bhd (FGV) and Felda Investment Corporation (FIC) are the main cause of Felda's current cash flow problems.
According to the government's White Paper on Felda, the federal agency - through its companies FGV and FIC - indulged in "aggressive" and "uncontrolled" investments that did not generate expected returns.
"Decisions were made without planning or due diligence, which exposed Felda and FIC to risk of losses due to investments in companies that were not strategic," read the document.
The White Paper, which looked at Felda's financial position from 2007 to 2017, said the agency was profitable up to 2012.
That year, Felda listed its investment arm FGV, generating RM10.5 billion - the second largest initial public offering (IPO) that year.
Felda's cut from this was RM6 billion. Of this amount, Felda only invested RM1.4 billion, or 24 percent, while the balance was used on non-productive expenditure such as the RM1.69 billion bonus to Felda settlers in 2012, which critics at the time panned as a vote-buying scheme.
The funds were supposed to help Felda grow and resolve problems such as financing a scheme to replace ageing oil palm. FGV was also supposed to engage in plantation, logistics and supporting services industry, that would synergise with Felda's business.
FGV would take a RM4.5 billion cut from the money raised during the IPO, of which 73 percent (RM3.3 billion) was invested in companies that did not make a profit. The balance was spent on operational cost.
The White Paper does not go into detail about the FGV, whose share price is down 71.2 percent from its listing price of RM4.55.
As for FIC, Felda's wholly-owned investment arm, the White Paper said it squandered Felda's money on non-core businesses such as real estate and hospitality. Felda even dabbled in the broadband internet industry.
The most damning indictment of FIC was contained in the summary of a forensic audit of eight of its investments. It was conducted by Ernst & Young, commissioned by the Economic Affairs Ministry that now oversees Felda.
The forensic audit covered the acquisition of a stake in Indonesia-based PT Eagle High Plantations TBK, real estate deals in the UK, and the defunct pharmaceutical company Felda Wellness Corporation Sdn Bhd, among others.
The weaknesses cited by auditors on these deals include paying above market value, failing to inform the Felda board of investment decisions, bad accounting practices, ignoring risk reports, and violating Felda's investment policy, among others.
The White Paper does not specifically pin the blame on any individual for the FGV and FIC gambit. However, the document does state that it was a conflict of interest to have Mohd Isa Abdul Samad (photo, above) chair the board for Felda, FIC and FGV.
"This situation will lead to a conflict of interest and mismanagement. It will encourage unethical work practices with questionable integrity," read the document.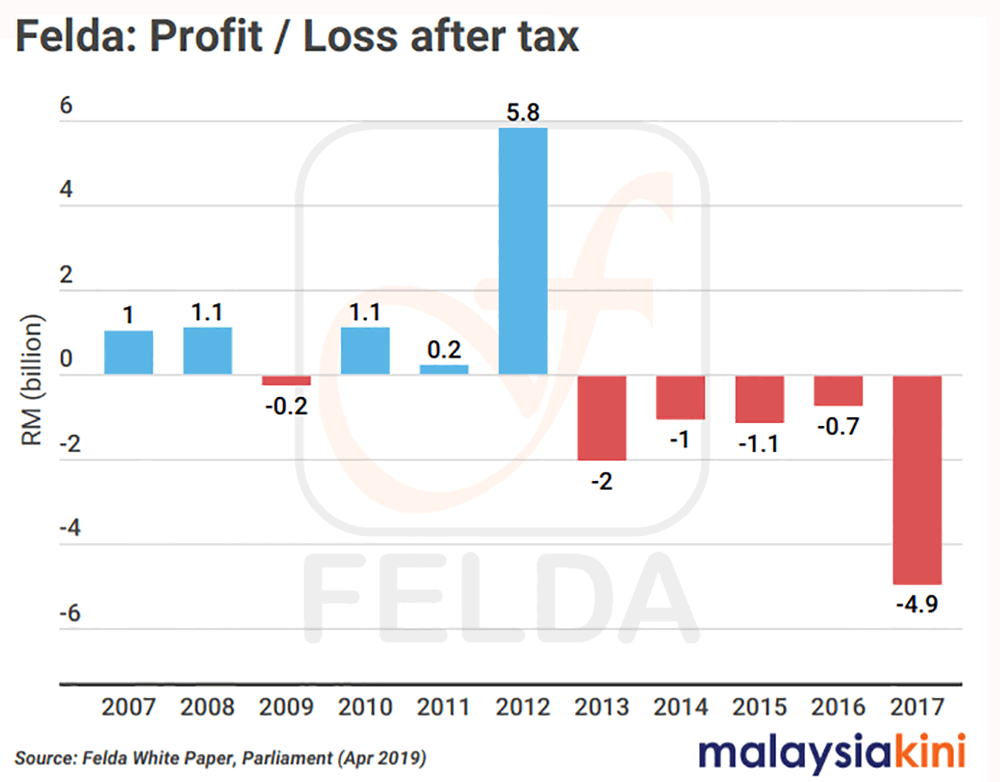 According to the White Paper, FGV's failure to deliver the RM800 million per annum income projected prior to the IPO, as well as the fall in palm oil prices, had hit Felda's bottom line from 2013 onwards.
Low palm oil prices alone, read the document, should not be blamed for Felda's losses as Felda was profitable in 2008 when palm oil prices were similar to 2017, when the agency recorded its highest loss to date - RM4.9 billion.
"This showed that the LLA (land lease agreement by FGV) did not provide the returns predicted prior to the FGV initial public offering. Conversely, it had a negative impact on Felda's finances," read the document.
The White Paper also noted that Felda's debt has grown from RM0.1 billion in 2007 to RM12.1 billion in 2017. By 2017, the company's debts had exceeded the net value of its assets.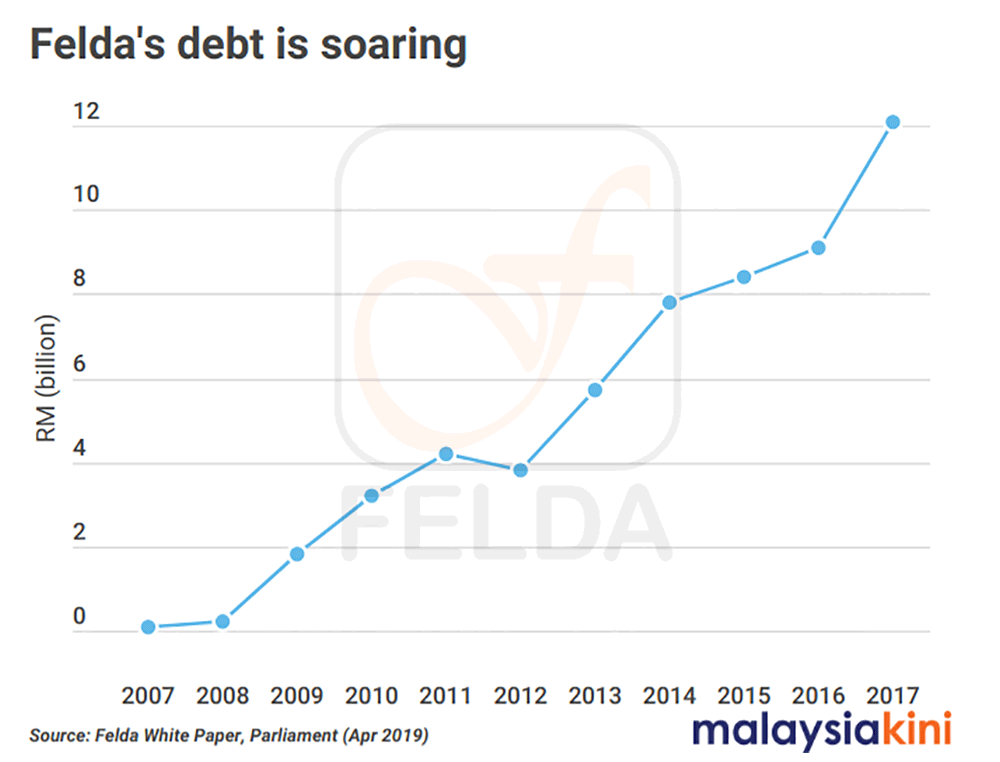 To remedy Felda's problems, the White Paper outlined broad reform objectives such as restructuring, disposal of non-core assets, and introduced what was termed as the "New Felda Model".
Again, this portion of the White Paper offered scant mention of FGV.
Aside from promises to fix management and administrative problems, the White Paper contained a long list of promises to help settlers in terms of welfare.
Among others, the federal government plans to introduce a new scheme to rent land from settlers, which would provide settlers with a consistent source of income.
---
RELATED REPORTS
PM: Action will be taken against Najib for Felda White Paper leak
'I smelled rat' - BN MP flings rodent at Najib's Eagle High deal
Felda's RM2b at risk: Azmin schools Najib on 'put option'
Felda HQ is 'jammed' with 100 new cars, claims Anwar
Dr M: Why weren't Felda proposals raised with 'Bossku' during BN era?
To revive Felda, gov't needs to pour in RM6.23b
Azmin: MO1 sped up Eagle High deal
Eight dodgy Felda deals under the microscope