Former senator Ezam Mohd Noor wants authorities to view the cases against former Defence Minister Hishammuddin Hussein and Economic Affairs Minister Mohamed Azmin Ali seriously amid claims that they were involved in a plot to form a new coalition government.
"Why are the police and MACC swift in acting on other cases but not on cases involving these two political leaders?
"There needs to be urgency in investigating these cases involving these two leaders after it was revealed in Parliament that they were plotting to undermine the current government to form a 'backdoor' government.
"Efforts to undermine the current government through a 'backdoor' one is a disgusting political crime perpetrated by political elites at a time when the people are struggling with the difficult economy," he said in a statement today.
Hishammuddin had described the claims against him as "baffling and ridiculous" while Azmin said the allegations were perpetrated by those who are "desperate" and wanted to enter the government through a backdoor method themselves.
Ezam made referring to controversial land swap deals undertaken during Hishammuddin's time as defence minister as well as alleged abuses in the acquisition of McDonnell Douglas helicopters which were never delivered.
He also referred to Azmin's alleged sex video involving another man.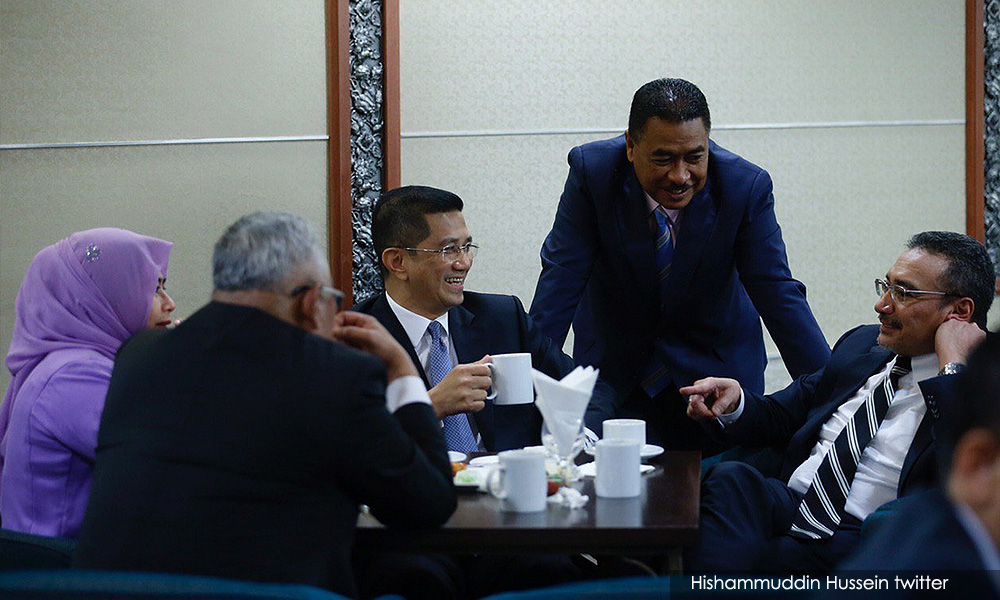 Hishammuddin has maintained he has not committed wrongdoing while Azmin said the video was an attempt to destroy his political career.
Ezam claimed that both Hishammuddin and Azmin had motives to "save themselves" and urged the authorities to act swiftly.
"Have the police and MACC become tools of political leaders and only act based on political motives?
"The concern is that it appears as if these two political leaders are shielded from legal action by the police and MACC," he said.
Ezam said this was a fair suspicion when contrasted with the manner in which former prime minister Najib Abdul Razak is being prosecuted for the 1MDB scandal.
He also highlighted meetings between Mahathir and Hishammuddin.
"Under this backdrop, would it be wrong to claim that the police and MACC are political tools?
"If not, then prove it by bringing Hishammuddin and Azmin to justice," he said.