Below are verified locations that are reported to be affected today.
Malaysiakini will continue adding to the list as more locations are announced.
If you know any locations which were announced today but are not listed here, please send an email to [email protected]
For a list of locations affected in the past 14 days, please visit the Kini News Lab's Covid-19 tracker.
---
GOVERNMENT BUILDINGS
- Kota Setar police district headquarters (IPD), Alor Setar, Kedah
A detainee here tested positive for Covid-19. The detainee is the index case for the Kolam Air cluster, named as such because the IPD is located at Jalan Kolam Air.
He was held there on Dec 12, said the Health Ministry. To date, the cluster has 14 cases involving the detainee's social contacts, with eight linked to a detention centre.
- Pusat Pemulihan Akhlak Muar, Johor
This detention centre will be placed under enhanced movement control order starting tomorrow, due to a spike in Covid-19 cases.
---
OFFICES
- D7, Jalan Sentul, Kuala Lumpur
An occupant of a unit at Level 3A of this commercial building has tested positive for Covid-19.
The management has conducted disinfection in the affected areas.
Owners and tenants at neighbouring buildings are advised to avoid the D7 building "until the situation is back to normal".
---
RESIDENCES
- Terasek, Bangsar, Kuala Lumpur
According to the Health Ministry's MySejahtera app, six Covid-19 cases have been detected within a 1km radius of Jalan Terasek 7 in the past fortnight.
Jalan Terasek 7 is located in the middle of the Terasek area of Bangsar, next to the popular Telawi area.
This area consists of nine lanes of residential homes and a sports complex.
When contacted, the local residents' association said while there has been speculation of cases detected among residents, the association has not received notice from Health officials or the said infected residents.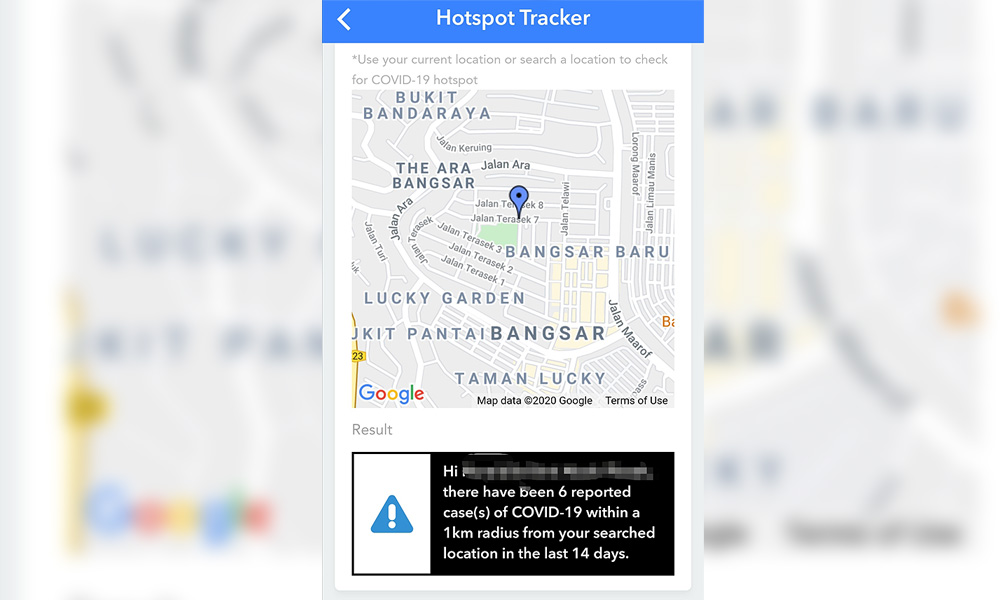 - Sri Sarawak Public Housing, Jalan Kenanga, Kuala Lumpur
Two Covid-19 cases were detected at Block B.
This is according to a notice by the Kuala Lumpur City Hall.
- Kristal Heights Condominium, Seksyen 7, Shah Alam, Selangor
A resident has tested positive for Covid-19, Malaysiakini has learnt.
The resident's flatmates will be screened by the Health Ministry today.
- Fortune Perdana apartment, Kepong, Kuala Lumpur
A resident here has tested positive for Covid-19, said the management in a notice today.
The management is arranging for "urgent intensive disinfection", while cleaners regularly sanitise lifts and door handles, it said.
---
FACTORIES
- ATA Components Sdn Bhd, Kawasan Perindustrian Dewani, Johor Bahru
Two employees of the fully-owned subsidiary of electronics manufacturer ATA IMS tested positive on Dec 15 and 16 respectively.
All operations at the ATA Components were suspended on Dec 16 for sanitation while all employees who had close contact have undergone Covid-19 screening, ATA IMS told Bursa Malaysia on Monday.
The facility which produces wire harness is closed until tomorrow for further disinfection and testing.
The closure will impact less than one percent of the group's revenue, ATA IMS said.
- VS Industry Bhd, Taman Perindustrian Murni, Senai, Johor
A technician at the tooling division has tested positive after contact with an infected family member, the company said in an announcement to Bursa Malaysia on Dec 18.
Staff who had close contact with the infected employee have undergone Covid-19 testing and are under home quarantine for 14 days.
Disinfection has been done at the affected premise.
- OKA Corporation Bhd, Senai, Johor
Two out of 200 production workers at the Senai factory tested positive for Covid-19, the company said in an announcement to Bursa Malaysia on Dec 16.
The factory was closed until Dec 21 for sanitation.
All close contacts have been identified, tested and quarantined.
The shut down impacted to less than 0.7 percent of the group's total output as the factory is just one of five in the group, the company said. 
- Elentec (M) Sdn Bhd, Sijangkang, Selangor
The factory was ordered by the Health Ministry yesterday after several workers tested positive for Covid-19.
According to the notice by the Kuala Langat Health Department, the factory must close until Jan 4.
At least four cases were detected within a 1km radius of the factory.
---
BUSINESSES
- Future Lifestyle, Scott Garden, Kuala Lumpur
An employee of this retail outlet at North Street, Scott Garden tested positive for Covid-19 on Dec 20.
The retail outlet is below Block C residential units, Scott Garden's management said in a notice yesterday.
All other employees tested negative for Covid-19.
Preventive measures will be taken to ensure customer, tenant and resident safety, it said.
- Public Bank Medan Idaman, Kuala Lumpur
An employee at this branch tested positive for Covid-19 on Dec 22, the bank said. The employee was last here on Dec 18.
All staff who had close contact with the affected employee are under home quarantine. The branch is closed temporarily for sanitation.