Dr Mahathir Mohamad continues to court flak over his decision to ink a declaration with his allies and former foes.
In a series of tweets, Abdul Rahman Dahlan said the former premier's decision to tango with the opposition whose agenda is to destroy Umno has made him a foe as well.
"This fight is no longer between Tun (Mahathir) and PM (Najib Abdul Razak). Now it's between Tun and Umno," said the BN strategic communications director.
On a sarcastic note, he said Mahathir should also "hug and kiss" his one time foe now turned ally, DAP supremo Lim Kit Siang.
"Do us a favour please; tomorrow please hug and kiss Kit Siang's cheeks. Why?
"Because by then I won't be surprised if one of my Umno branch leaders will change his son's name from 'Mahathir'. Lucky it wasn't tattooed!" he added.
He also said that Mahathir's comical antics only serve to make Najib stronger.
"Tun, your advisers forgot to tell you that the more you do this funny stuff, the more PM's position within Umno will be entrenched.
"The response I got from Umno grassroots leaders on Whatsapp and Telegram (mobile messaging applications) groups was unequivocal - stand behind the president," he added.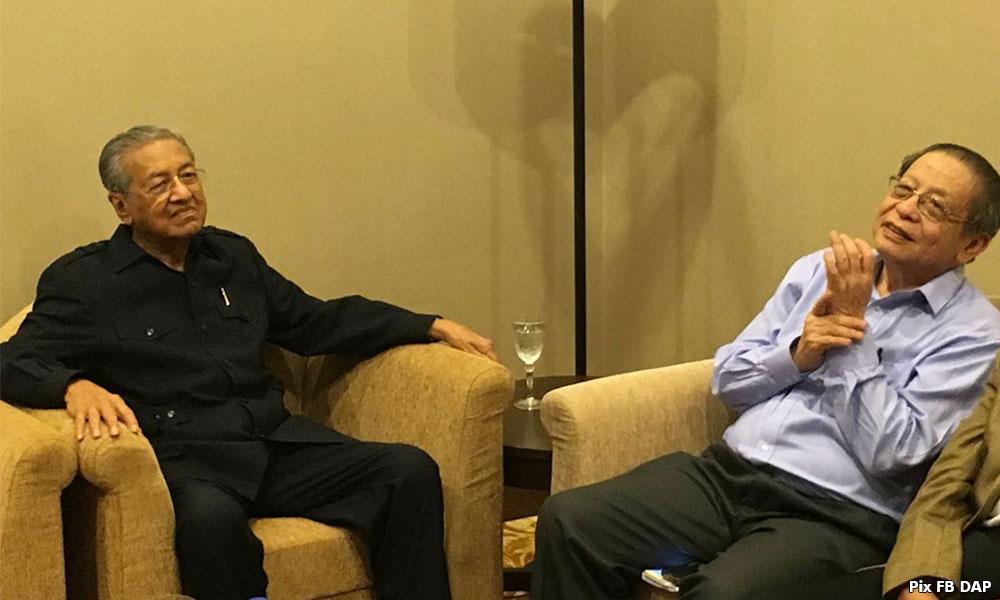 Abdul Rahman also said Mahathir never ceased to amaze him.
"In one fell swoop, he lived up to his Melayu Mudah Lupa (Malays forget easily) poem and demonstrated his sheer ignorance of Umno's mood," he added.
He also thanked Mahathir for rallying Umno to stand behind the prime minister.
The housing, local government and urban well-being minister was responding to Mahathir signing what is described as the "Citizens' Declaration" to remove Najib.
Among the 58 signatories were numerous opposition and civil society leaders, who were once critical of Mahathir and his policies.
Najib elected via democratic process
Meanwhile, Deputy Prime Minister Ahmad Zahid Hamidi said those who inked the Citizens' Declaration must respect the law.
According to NST Online , he said Najib, like all prime ministers before him, was elected via a democratic process.
"Therefore any bid to remove Najib without following the same democratic process is going against legal ethics," he told reporters in Malacca.
On another matter, Zahid, who is also home minister, said the ministry would not interfere in any decision to be made by the Registrar of Societies involving the suspension of Muhyiddin Yassin as Umno deputy president.
Muhyiddin was also among those who signed the declaration.
Related reports
11 questions Dr M did and did not answer
Dr M: Strange group, but all agree Najib must go
Citizens' declaration spells out demands for removal of Najib
'No right-thinking Umno member will accept Declaration'
Save M'sia group divided on whether to save Anwar
Coming to terms with 'authoritarian' Mahathir
'Mahathir-opposition alliance just a face-saving exercise'
After Anwar alliance, Mahathir can now die in peace, says MyKMU
Citizens' Declaration a signal that S'wak should keep Najib away
Please hug and kiss Kit Siang's cheeks, minister tells Dr M
Wait for GE: Putrajaya chides 'desperate' band
Useless to give Umno a life-line, says PAS VP
MCA distances itself from ex-president, backs PM
Analyst: Najib may accuse 'Save M'sia' of illegal coup
'Dr M easily swayed by smart, good-looking, charismatic people'
What's next - People's uprising, Umno rebellion or crackdown?
Umno Youth calls for Muhyiddin, Mukhriz to quit or be sacked
Umno Youth rejects PKR invitation to join agenda for change
Otai Reformis to join 'oust Najib' move, with conditions
Wan Azizah needs to 'stay above', says Rafizi
It's not about opportunism, but swallowing of one's pride
Carrying the joke too far, again
Can the opposition trust a Machiavellian Dr M?