Penang-born businessman Jho Low holds a Malaysian passport as well as a passport for the West Indies island of St Kitts and Nevis, breaching the Federal Constitution which does not recognise dual nationality.
This was revealed in the United States Department of Justice's (DOJ) third lawsuit with regard to 1MDB in order to seize another US$540 million in assets associated with what the department described as an "international conspiracy to launder funds misappropriated from a Malaysian sovereign wealth fund".
This brings the total forfeiture claim made by the DOJ in this case to US$1.7 billion.
The DOJ claimed Low had signed a letter bearing the letterhead of his firm Good Star Ltd to facilitate a fund transfer on March 19, 2010.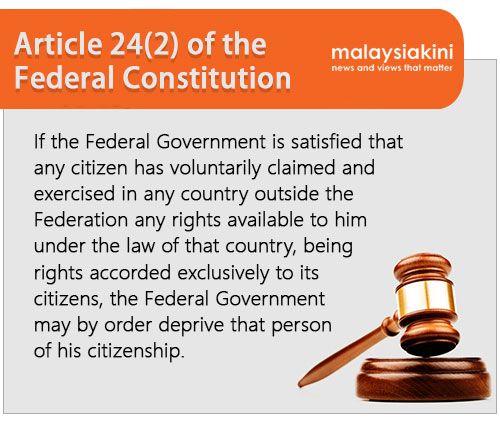 The signature was "similar to the one Low used on his Malaysian and St Kitts and Nevis passports", it said.
St Kitts allows foreigners to obtain citizenship in return for real estate investment of at least US$400,000 or a contribution of at least US$250,000 to the state's sugar industry diversification fund.
More than US$1b in real estate
According to the third filing made yesterday, the DOJ alleged that Low amassed more than US$1 billion in real estate using funds diverted from 1MDB. They include:
A Time Warner penthouse, New York (US$30.55 million);
The Oriole Mansion, Beverly Hills (US$390.98 million);
Greene Condominium unit, New York (US$13.8 million);
L'Ermitage luxury hotel, Beverly Hills (US$44.8 million);
Hillcrest Road mansion, Beverly Hills (US$17.5 million);
Park Laurel condominium, New York (US$23.98 million);
Qentas Townhouse, Belgravia, London (17 million pounds);
Stratton penthouse and Stratton flat, London (35 million pounds);
Stratton offices, London (42 million pounds); and
Interest in Park Lane Hotel, New York via a partnership (total purchase price US$654 million).
Sold homes to Najib's stepson'
The Qentas Townhouse, Hillcrest Road mansion and Park Laurel condominium are notable because the DOJ found the properties were then sold for a profit to Prime Minister Najib Abdul Razak's stepson Riza Aziz.
In 2012, Riza bought the Qentas Townhouse for 6.35 million pounds more than what Low paid two years before.
Similarly, for the Park Laurel property, Riza had in 2012 paid Low US$35.5 million, close to 50 percent more than what Low paid in 2010, the DOJ claimed.
The DOJ claimed Low masked where he obtained the money by passing the funds through a complicated web of transactions, sometimes up to several transactions a day for no other discernible reason.
He also represented himself as a "third-generation steward" of a large family trust fund.
In more than one instance, the DOJ alleged, he funnelled cash through his father, Larry Low's bank account to make it appear that the funds came from his family.
The complicated money trail showed in fact, the funds were misappropriated from 1MDB and channelled through bank accounts of firms owned by Low or his associates, it added.
This included through the siphoning of cash via a British Virgin Island entity called Aabar, which bears a similar name with Abu Dhabi International Petroleum Investment Corporation (IPIC)'s subsidiary but is unrelated to IPIC.
IPIC and 1MDB are in talks over some RM3.5 billion, which 1MDB said it inadvertently transferred to the Aabar in the BVI.
Art for collateral
Sale of prime real estate to Riza was not the only way Low was growing the cash he allegedly siphoned from 1MDB.
The DOJ also filed records of Low using multi-million dollar paintings he purchased at auctions as collateral to obtain a loan.
Email transcripts showed how Low asked around for "relaxed" boutique banks which could extend a loan on the back of the artworks, without asking too many questions.
According to the DOJ, his Cayman Islands firm Triple Eight Ltd obtained a US$107 million loan from Sotheby's by pledging 17 pieces of art valued up to US$258.3 million.
Sotheby has since sold most of the artwork to recover the amount it loaned to Low, the DOJ said.
The artworks include pieces from Vincent Van Gogh and Monet, as well as several works purchased by the firm of his associate Eric Tan - Tanore - which were "gifted" to Low.
The DOJ said Tanore is the firm which received funds siphoned from 1MDB.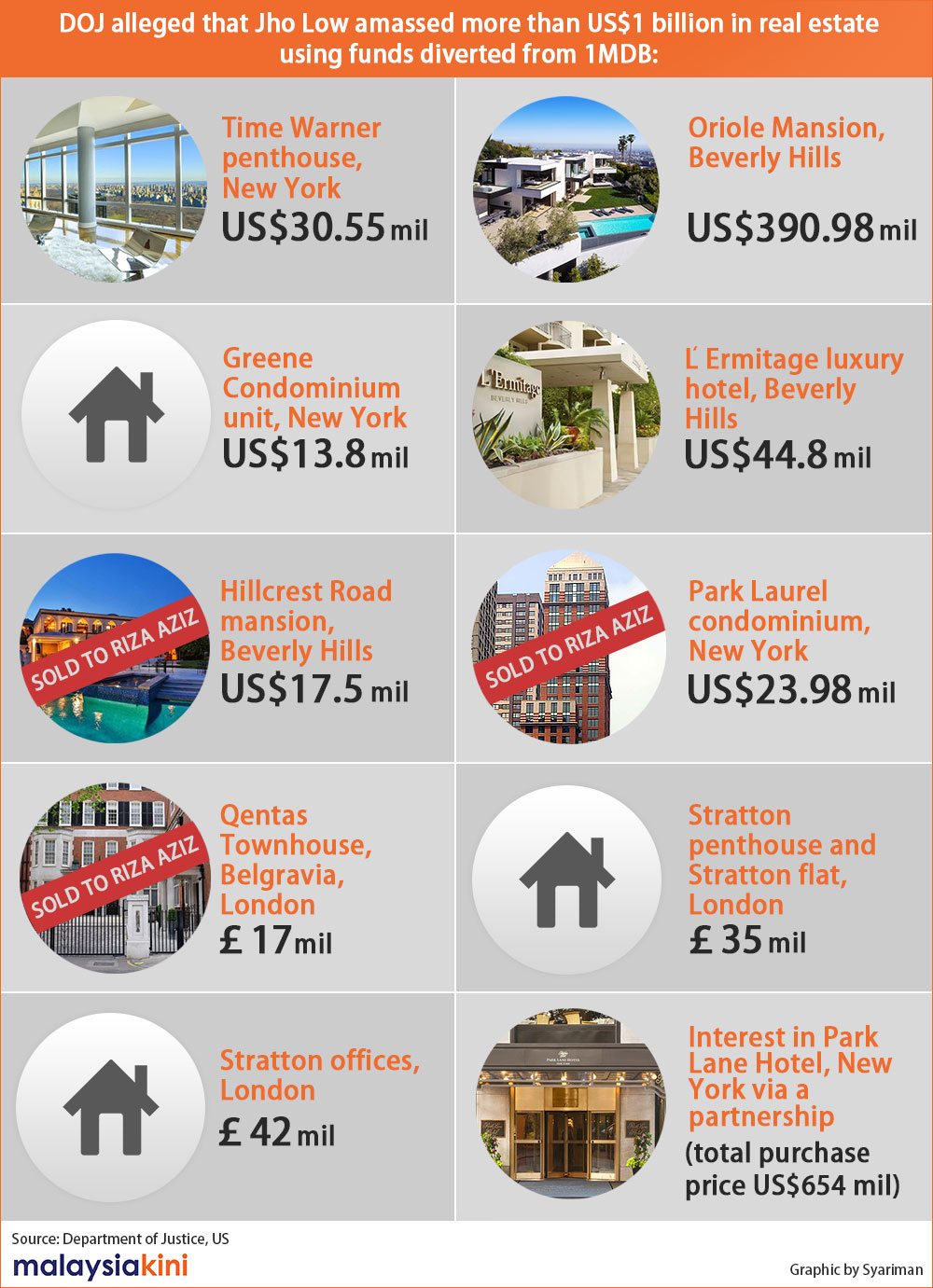 ---
RELATED REPORTS
DOJ: US$620m returned 'donation' used to buy pink diamond for MO1's wife
'Dual national Low bought over US$1b in properties with 1MDB cash'
Yacht, diamonds and more in DOJ's latest 1MDB filing
DiCaprio returns Brando Oscar as part of 1MDB probe
DOJ: Najib's stepson bought properties, posters using funds from Aabar BVI
'Jho Low's award-winning superyacht bought with 1MDB funds'
DOJ: Jho Low spent US$10m on jewellery for Aussie model, mom
DOJ details 1MDB's alleged plot to cover up 'relatively worthless' fund units
'Saudi Prince' not mentioned in DOJ's June 7 filing
1MDB: No proof to support DOJ's allegations
Apandi rues DOJ's 'insinuations' of wrongdoing against PM
PM's aide: Motivation of DOJ filing goes 'beyond seizing assets'
IGP: Police will not interfere in DOJ's 'civil suit'
Kit Siang: Reveal findings of disbanded 1MDB taskforce