Indonesian police have claimed that the captain of the US$250 million superyacht seized in Bali yesterday, the Equanimity, had turned off the vessel's automated identification system (AIS) to avoid detection.
"While sailing, Captain Rolf (no other name provided) had switched off the vessel's AIS several times, so the vessel was undetectable along Philippine waters and towards the southeast of Singapore.
"At the time, US authorities had issued a seizure warrant," Indonesian police spokesperson M Iqbal was quoted as stating by news portal Detiknews.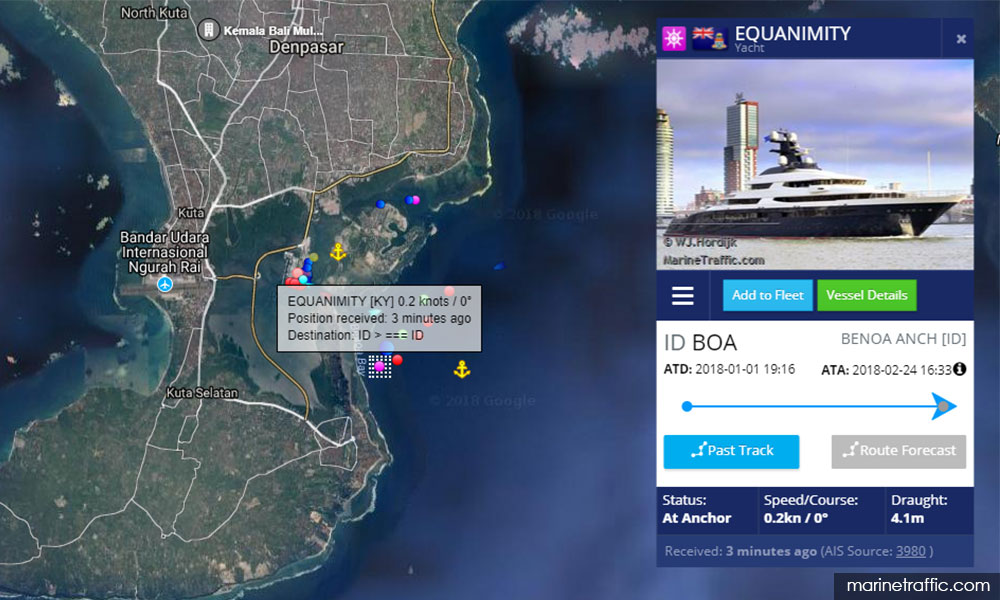 It was reported that the yacht was first detected entering Indonesian waters last November, and had passed through the resort island of Raja Ampat in East Nusa Tenggara, before moving westward towards Lombok and Bali.
Iqbal said the vessel is believed to have sailed towards the republic to evade US authorities investigating the 1MDB scandal.
He revealed that the hunt for the superyacht had begun in 2015. It was tracked to Lombok before being seized along Teluk Benoa in Bali yesterday, where it remains berthed.
"The yacht was sailing into Indonesian waters. We suspect that it (the route) was chosen to avoid detection of US authorities...," he added.
Indonesian authorities have so far confirmed that 34 crew members were on board the vessel and that investigators are attempting to determine the whereabouts of its owner.
The Equanimity, which belongs to businessperson Jho Low, was seized yesterday in a joint operation reportedly involving 21 personnel from Indonesian police and Bali marine police, along with seven agents from the US Federal Bureau of Investigation.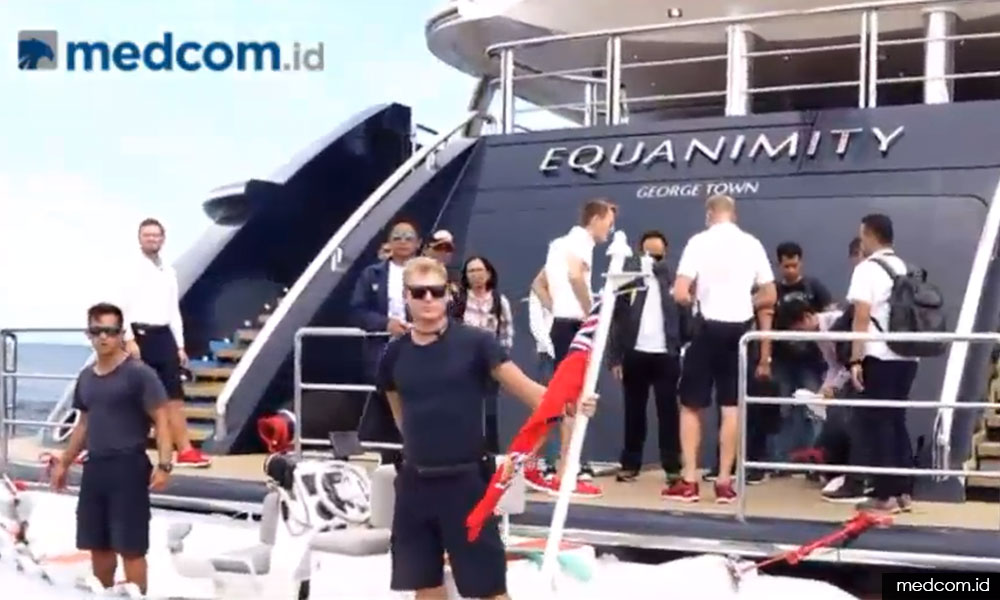 They were also facilitated by eight harbour masters, and spent about eight hours on board, before leaving with travel documents. The search was continued this morning.
The US Department of Justice (DOJ), in its asset forfeiture suit, claimed businessperson Low Taek Jho @ Jho Low had commissioned the superyacht to be built at an estimated cost of US$250 million (RM1 billion), using money allegedly siphoned from 1MDB.
According to reports, the 91.5m-long vessel has a spa and beach club, a beauty salon, a gym, a sauna, a Turkish bath and a large pool. The interior has some orientally inspired themes, using materials such as wenge, bamboo and gold lead.
READ MORE
Media blackout on yacht seizure, despite making a splash abroad
Indonesian police verifying documents seized from Equanimity
Pro-Najib portal: US should detain Jho Low, not yacht
1MDB chair Irwan ignores questions on Equanimity seizure
DOJ tight-lipped on seizure of Jho Low's superyacht
AG: Why would the gov't claim Equanimity?
Azmin: Yacht seizure gives taste of what Harapan win will herald
Investigators spend six hours on Low's 1MDB-linked yacht
Jho Low decries DOJ's 'global overreach' after superyacht seized
'Jho Low not on board seized superyacht'
Equanimity been on our radar for 8 days - Indonesian cops
Indonesia, FBI seize Jho Low's yacht Equanimity in Bali
The hunt for Jho Low's mega yacht - The Equanimity
But money can't buy Jho love
Kerr hands over US$8.1m worth of jewellery to DOJ
The 1MDB players - in their own words
What's in DOJ's third and latest bombshell?
DOJ: US$620m returned 'donation' used to buy pink diamond for MO1's wife
'Dual national Low bought over US$1b in properties with 1MDB cash'
Yacht, diamonds and more in DOJ's latest 1MDB filing
DiCaprio returns Brando Oscar as part of 1MDB probe
DOJ: Najib's stepson bought properties, posters using funds from Aabar BVI
'Jho Low's award-winning superyacht bought with 1MDB funds'
DOJ: Jho Low spent US$10m on jewellery for Aussie model, mom
DOJ details 1MDB's alleged plot to cover up 'relatively worthless' fund units