The glowing smiles at Sheraton Hotel in Petaling Jaya among BN and PAS leaders last Sunday were this evening replaced with serious faces at Putra World Trade Centre in Kuala Lumpur, where they announced a U-turn - BN and PAS would no longer support Langkawi MP Dr Mahathir Mohamad as prime minister.
The context had rapidly changed in just three days. Last Sunday, Putrajaya appeared within grasp for BN and PAS.
PAS secretary-general Takiyuddin Hassan, at the press conference this evening, admitted that a "Perikatan Nasional" coalition was about to be formed that would oust the Pakatan Harapan government.
"In the early stage, we had agreed in principle for a coalition with the opposition. We had more than 130 seats and were in the process of finalising a new coalition.
"Prior to this, it was said to be 'Pakatan Nasional' but it actually had a new name - 'Perikatan Nasional'," he said.
He said their party leaders had even submitted statutory declarations to the Yang Di-Pertuan Agong on their support for the new coalition.
"In the end, what was planned did not materialise when the prime minister resigned," he said.
BN, PAS, GPS, Warisan and Bersatu, coordinated by Gombak MP Azmin Ali who leads a faction of 10 other PKR defectors, were under the impression that they would form a new coalition with Dr Mahathir Mohamad still as prime minister.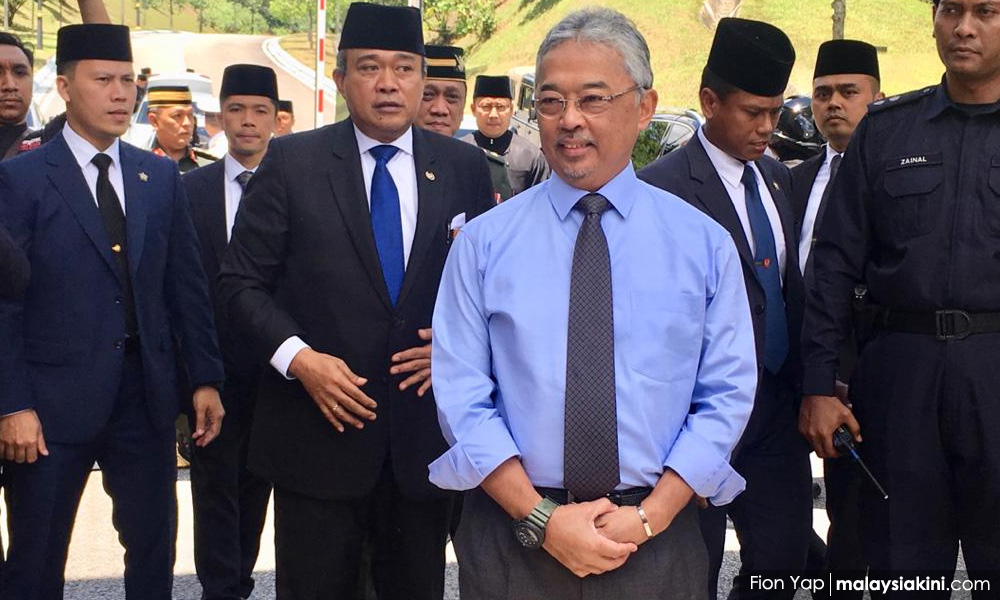 Last Sunday evening, after the party leaders met with the Yang Di-Pertuan Agong to show that they have the support for the new coalition, their MPs were feted at a "unity dinner" at Sheraton Hotel while the ruler was given time to decide.
There, behind closed doors, Azmin made a passionate speech to his supporters, claiming that he was doing this for Mahathir who he claimed was being undermined by PKR president Anwar Ibrahim.
Bombshell and lobbying of a silent Mahathir
But the next day, the very man whom Azmin claimed he was propping up dropped a bombshell. He resigned as prime minister, causing the Pakatan Harapan government to automatically dissolve.
In the early stages, this did not appear out of the ordinary as Mahathir would be resigning as the prime minister of a Pakatan Harapan government but can then be reappointed as the prime minister of a new Perikatan Nasional government.
But just an hour later, Mahathir also resigned as Bersatu chairperson, shortly after Bersatu president Muhyiddin Yassin took the party out of Pakatan Harapan, suggesting that all was not well between Mahathir and his Bersatu lieutenants who had worked with Azmin on trying to form "Perikatan Nasional".
Harapan leaders who had met Mahathir that morning said they were informed of the impending resignation and claimed Mahathir was upset at efforts to form a coalition that involves Umno, his former party which he had ousted in the 2018 general election amid inaction against former prime minister Najib Abdul Razak who was embroiled in the 1MDB scandal.
Up to this point, Mahathir had remained silent publicly and people could only guess what he was thinking and speculate based on hearsay from leaders who had met him at his home.
There was jostling by both sides to court Mahathir to their coalition - leading to a strange situation where all 221 MPs of the Dewan Rakyat supporting him as the prime minister but both sides have different ideas on what kind of government Mahathir will lead.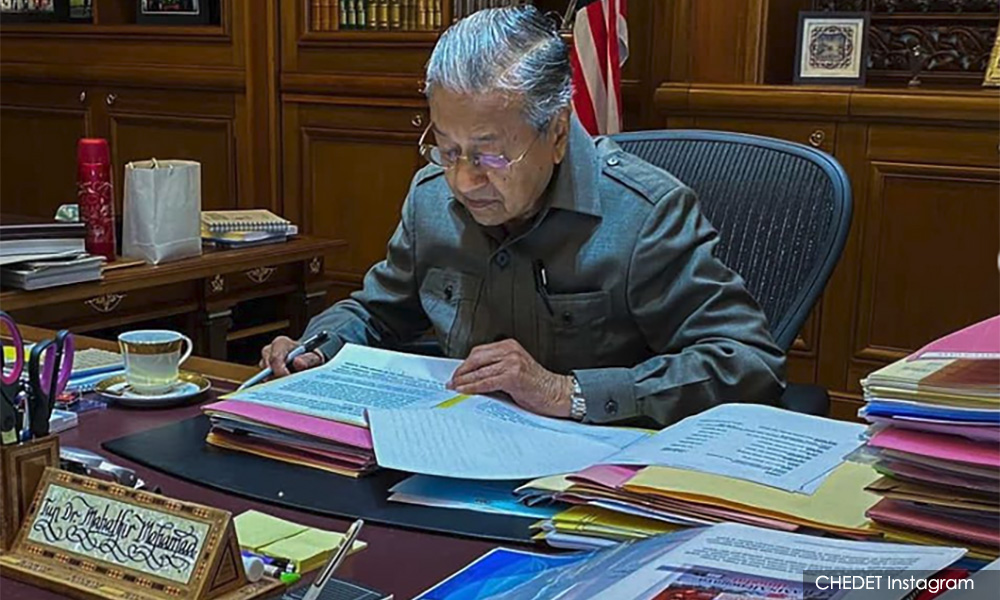 The political drama continued today, with Mahathir, who was appointed interim prime minister by the Yang Di-Pertuan Agong, meeting the various party heads on forming a new government.
Even though the Yang Di-Pertuan Agong had indicated he will need two days to interview all MPs to establish where their loyalty lies or whether Parliament should to dissolved, it was widely assumed they will renominate Mahathir as prime minister, as all political parties in the Dewan Rakyat had publicly voiced support for Mahathir.
While Mahathir met with the party leaders to gauge them on forming the new government, the party leaders too could gauge where Mahathir stood - It was a contest between those trying to revive the Pakatan Harapan government and proponents of a Perikatan Nasional government, albeit with some modifications.
Mahathir's envisioned coalition upsets Umno
And for Umno, the Malay nationalist party did not appear to like where things were heading.
Hours after Umno president Ahmad Zahid Hamidi met with Mahathir at the Prime Minister's Office, Umno secretary-general Annuar Musa was sending angry posts on Twitter about the need to act as a party and not as individuals.
Mahathir has continued to remain silent but Annuar gave a glimpse of what the interim prime minister was planning at the press conference this evening.
Mahathir was planning a "unity government" but only wanted selected individuals. He wouldn't' accept Umno wholesale in the new government. He had previously said he won't work with "kleptocrats" in Umno.
"Our parties believe that the formation of a government must be along party lines and not individuals.
"This unity government to be formed by the future prime minister chooses from individuals to form a cabinet which goes against the position of our parties," Annuar said, warning that this could tear the parties apart.
The fact that a broad-ranging unity government will also include the DAP was also unpalatable to both BN and PAS.
Finding the "Perikatan Nasional" sold to them by Azmin and other operatives to be vastly different from the new coalition that Mahathir is personally envisioning, both BN and PAS decided to revoke their support for Mahathir.
"The support (for Mahathir) which we presented to the Yang Di-Pertuan Agong last Sunday - We are retracting it," he declared.
'Perikatan Nasional dead on arrival'
Without BN and PAS' support, Perikatan Nasional was dead even before it was created.
With the dramatic U-turn, BN and PAS' messaging have also changed.
From trying to form a new government without going through elections, both now want fresh elections in the name of "the people".
"We are in a situation where the mandate should be returned to the people and we call for Parliament to be dissolved - Let the people decide," Annuar (below) said.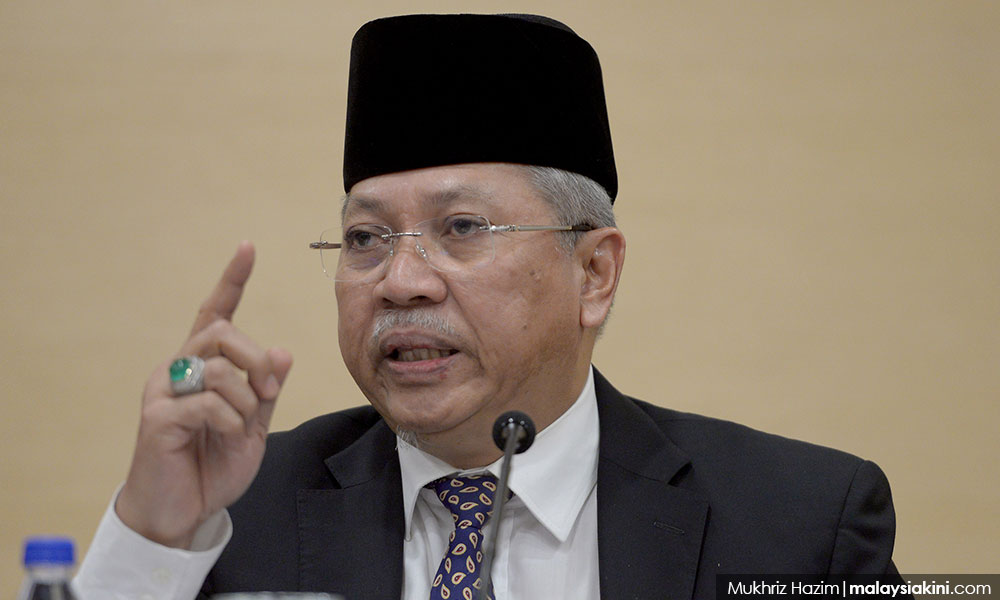 GPS and Warisan, which were in a similar position with BN and PAS, have thus far not changed their position about supporting Mahathir.
With Harapan - comprising PKR, DAP and Amanah - also behind Mahathir, he will now need to mediate between the two groupings for his new coalition.
It also remains to be seen how he will deal with the PKR defectors, who until yesterday, was still at his home in Sungai Besi to lobby him.
Finally, he will need to deal with his own Bersatu house, or at least those who have misbehaved in the political saga.
Bersatu president Muhyiddin Yassin today visited Mahathir at the Prime Minister's Office to appeal that he does not resign as the party chairperson.
However, Mahathir's special media adviser A Kadir Jasin had said this was not a priority for him right now and will likely only be addressed after he completes negotiations with the other parties.
If Mahathir succeeds, the new coalition will likely resemble the previous Pakatan Harapan with some modification.
Annuar who had triumphantly declared Harapan "dead" last Sunday, will be left with a stillborn "Perikatan Nasional".
RELATED REPORTS:
While no side has clear majority, will Mahathir form minority gov't?
Kadir: Rest assured, no room for kleptocrats and crooks in Dr M's new gov't
We've lost tens of billions, don't take too long to end crisis – PAS to Dr M
Chief secretary: Business as usual for civil service
Second mission to evacuate M'sians from Wuhan still on despite gov't dissolution
Johor Umno confident there can be new state gov't with PKR defection
Half of those surveyed say combo of bumi parties will make better gov't
Selangor gov't intact, Bersatu's fate uncertain
Malacca Harapan confirms it no longer controls the state assembly