UPDATED 2.49PM

to include explanations by sources.

BREAKING NEWS |
Prime Minister Dr Mahathir Mohamad has tendered his resignation, confirmed the Prime Minister's Office (PMO) this afternoon.
The PMO said the resignation letter was delivered to the Yang di-Pertuan Agong at 1pm.
Malaysiakini reported earlier that speculation had been rife that the premier and Bersatu chairperson would be resigning.
Following the resignation, sources offered two different scenarios for Mahathir's decision.
One source claimed that the 94-year-old premier was fed-up with what transpired in the last 24 hours.
"He is just too tired when his own party leaders tried to go for the latest manoeuvring. He was against the move in the first place," the source told Malaysiakini.
Whereas, another source alleged Mahathir is resigning as the Pakatan Harapan prime minister in order for him to become the legitimate prime minister of the new coalition.
If this is true, then Mahathir would become the eighth prime minister of Malaysia after serving as the fourth from 1981 to 2003 and the seventh from May 10, 2018, to Feb 24, 2020.
However, the source said the Agong could also decide to call for snap polls or appoint an MP, whom the monarch is confident can command a simple majority in Parliament, to be prime minister.
"Yes, it is a good move, so it is really up to the king now to reappoint him or somebody else, or dissolve parliament for a snap election," added the analyst.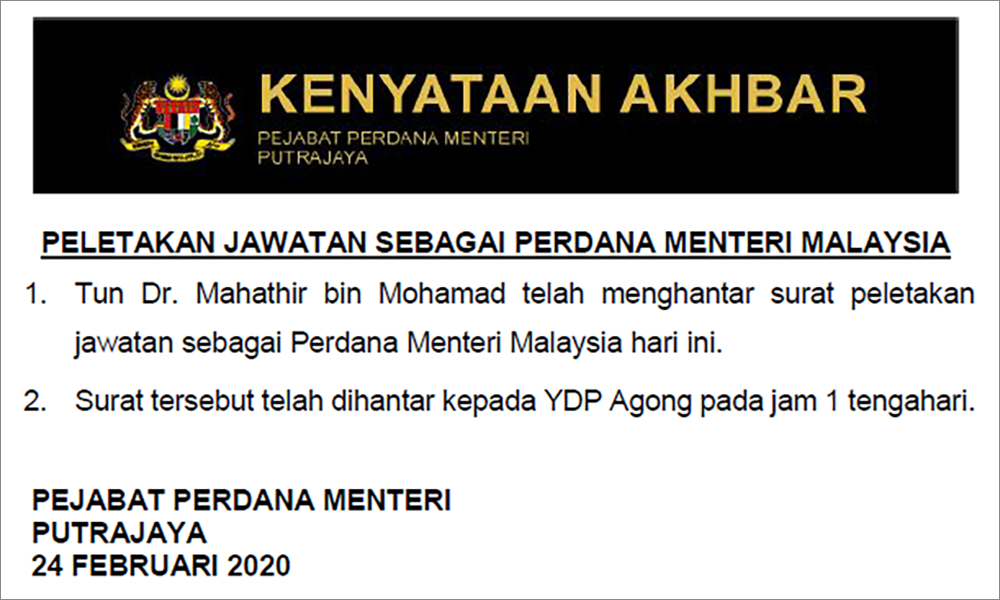 Cabinet automatically dissolved
The source also pointed out that with Mahathir's resignation, the cabinet the latter appointed is automatically dissolved as well.
"Dr M (Mahathir) may present another letter with majority MPs and form his new administration. Then he appoints his new cabinet," he added.
Prior to PMO confirming the resignation, Bersatu president Muhyiddin Yassin announced that the party would withdraw from Harapan.
Bersatu has 26 parliament seats.
Meanwhile, former PKR deputy president Azmin Ali said he and 10 other MPS would form an independent block.
Commenting on this, Umno secretary-general Annuar Musa said this means the Harapan government has collapsed.
"The question of a government being formed through the front door or back door does no longer arises. It depends on the MPs and Agong," he tweeted.
RELATED REPORTS
LIVE: Anwar enters Istana Negara
Azmin quits PKR, takes 10 other MPs with him
Mahathir resigns - PMO confirms
Muhyiddin: Bersatu quits Harapan
Anwar satisfied with Dr M's stand on regime change
Selangor likely to remain a Harapan state
Gerakan to decide whether to accept Azmin and Co
Dr M also quits as Bersatu chair moments after party exits Harapan
GPS more comfortable working with PAS than DAP - Masing
Harapan gov't collapses but opponents have no clear majority either
At least three Harapan state governments could fall to new coalition