Former PKR deputy president Azmin Ali today condemned the attack on PKR vice-president Tian Chua and claimed that the party has been infiltrated by gangsters.
This is after PKR members converged at the PKR headquarters in Petaling Jaya this evening and hurled abuse at leaders who were deemed to have supported Azmin prior to his defection to Bersatu.
Azmin had led a group of PKR defectors, and in cooperation with Bersatu, BN, PAS and GPS, brought down the Pakatan Harapan government to form a new Perikatan Nasional government.
"I strongly condemn the attack on Tian Chua in front of the PKR headquarters today. He is a respected social activist and a founding leader of PKR and had contributed to the PKR cause since it was created.
"The attack on the PKR vice-president merely over a difference in opinion reflects how the party has been infiltrated by a culture of gangsterism and violence.
"This is a symptom of a party which was set up to defend the people but was hijacked by people wearing the reformation mask and instead deified a dictator as their struggle," he said.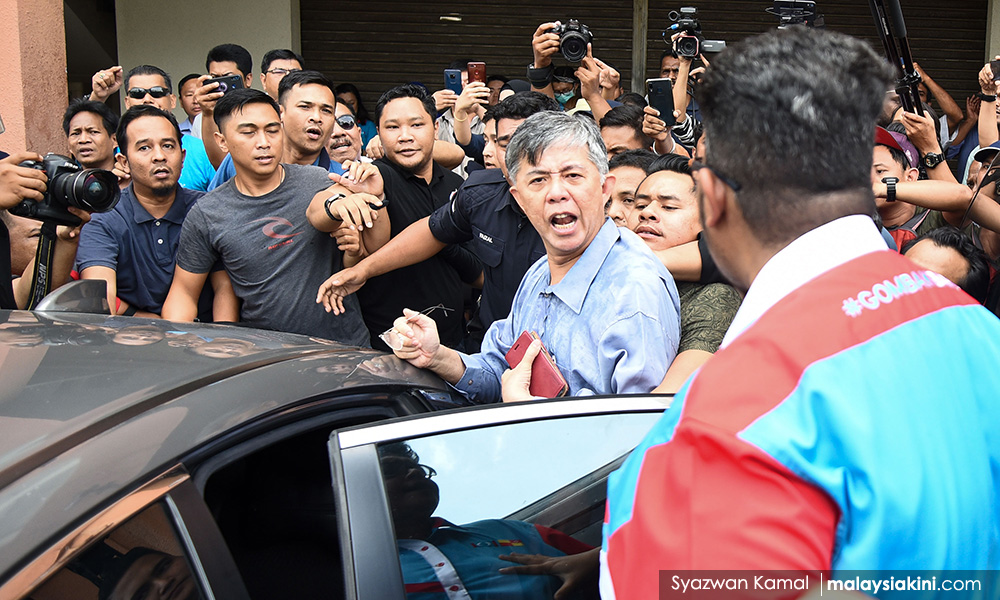 Azmin, who is also the Gombak MP, said as a political party that fights for justice and democracy, it should be rational and engage in fact-based debate.
"When a party is possessed by gangsterism and its leaders are left unchecked, it shows the party is on the verge of collapse," he said.
Earlier today, PKR members hurled abuse at party leaders who had aligned with Azmin and Tian Chua received the brunt of the abuse.
A water bottle was hurled at him and he was also punched and hit on the head as bodyguards tried to keep the angry protesters back.
The protesters had chanted "traitor, traitor, traitor" every time they saw a leader who is seen to be aligned with Azmin.
Tian Chua had downplayed the incident, stating that it was a small matter and stressed that he is still loyal to PKR.
RELATED REPORTS
LIVE Day 8: PM's Dept denies tomorrow will be a public holiday
On fate of charged Umno leaders, Hadi says Harapan leaders let off too
Behind closed doors, Dr M blames Muhyiddin and Anwar
Azmin condemns attack on Tian Chua, says PKR infiltrated by gangsters
Chants of 'traitor' outside PKR HQ as leaders aligned to Azmin heckled
Anwar: Azmin's supporters not privy to backdoor deals
Bypassed no more: Malaysia's 'Malay first' PM takes over
Our week-long struggle has succeeded, says Azmin
Muhyiddin takes oath as prime minister before King
Harapan: Let Parliament convene on Mar 9 as scheduled
Timeline: A week of political crisis in Malaysia
Umno sec-gen: PM has the prerogative to appoint ministers
'Blue skies' - Zahid celebrates passing of 'dark clouds' with return of BN
Maszlee: I had a heavy heart sitting with Umno leaders
Police warn against planned protest at Sogo
Muhyiddin rises from the ashes
King won't see me, 'GE14 losers' will form gov't - Mahathir
Dr M: I told Muhyiddin to wait until graft trials were over