Dr Mahathir Mohamad said that the Yang di-Pertuan Agong Sultan Abdullah Sultan Ahmad Shah did not grant him audience to present the numbers to prove he commands the majority support of MPs.
At a press conference this morning, Mahathir said Bersatu president Muhyiddin Yassin will be sworn in as the eighth prime minister without commanding majority support.
"The loser would form a government, while the winner will become the opposition.
"It is a very strange situation," Mahathir told reporters at Yayasan Al Bukhary in Kuala Lumpur.
According to the Bersatu chairperson, he has already received the support of 114 parliamentarians.
For a simple majority in the Dewan Rakyat, which has 222 members, 112 is the minimum number needed.
Mahathir said Pakatan Harapan has the support of 92 MPs, and together with six MPs from Bersatu including himself, Warisan MPs and several independent parliamentarians, they managed to secure a total of 114 as of last night.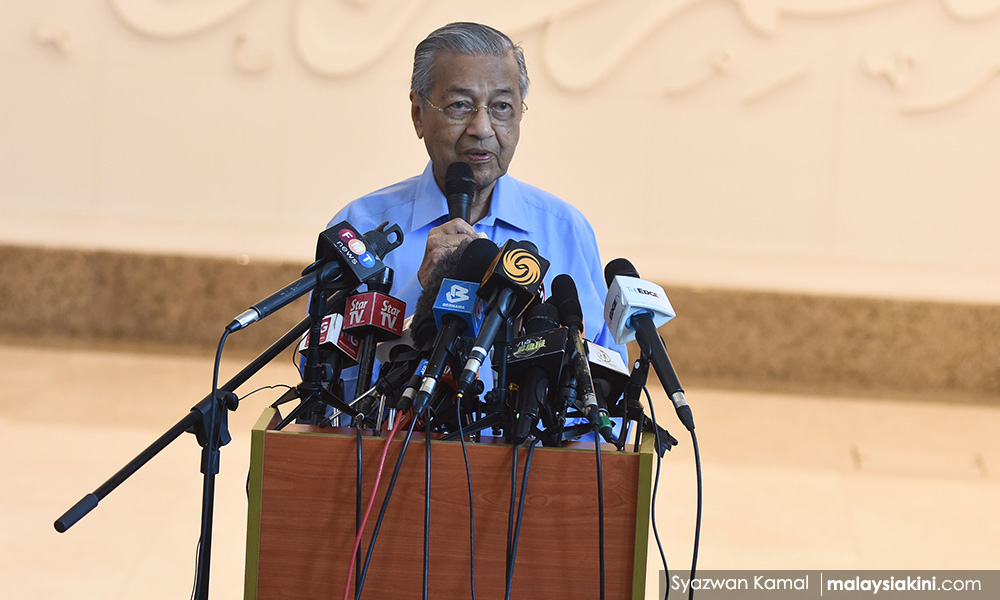 When asked what was the reaction of Sultan Abdullah when presented with the purported majority that he has, Mahathir said he did not have the chance to tell the king.
"The king has made the decision not to see me anymore, but to appoint Muhyiddin as the prime minister.
"So I don't have the chance to tell the king that he does not have the majority. That is the situation now, I cannot communicate with the palace," Mahathir said.
According to Mahathir, the law says that the king can appoint someone who he believes has the support of the majority as prime minister.
The chosen prime minister, however, cannot become one if he goes to the Parliament and gets rejected by the majority.
He said Harapan would ask for an urgent sitting of the Parliament, where they would see who has the majority.
However, Mahathir added that even though they believe they have the majority now "a lot of things can happen" until the parliamentary sitting, which can make their numbers decline.
Asked if he regrets resigning as the prime minister last Monday, Mahathir said he did not have a choice as Bersatu decided to come out of Harapan and form a government with Umno.
"That means I have to accept people whom I had been against for corruption.
"That I am not prepared to do. But Muhyiddin is ready to do that."
RELATED REPORTS
LIVE Day 8: PM's Dept denies tomorrow will be a public holiday
On fate of charged Umno leaders, Hadi says Harapan leaders let off too
Behind closed doors, Dr M blames Muhyiddin and Anwar
Azmin condemns attack on Tian Chua, says PKR infiltrated by gangsters
Chants of 'traitor' outside PKR HQ as leaders aligned to Azmin heckled
Anwar: Azmin's supporters not privy to backdoor deals
Bypassed no more: Malaysia's 'Malay first' PM takes over
Our week-long struggle has succeeded, says Azmin
Muhyiddin takes oath as prime minister before King
Harapan: Let Parliament convene on Mar 9 as scheduled
Timeline: A week of political crisis in Malaysia
Umno sec-gen: PM has the prerogative to appoint ministers
'Blue skies' - Zahid celebrates passing of 'dark clouds' with return of BN
Maszlee: I had a heavy heart sitting with Umno leaders
Police warn against planned protest at Sogo
Muhyiddin rises from the ashes
King won't see me, 'GE14 losers' will form gov't - Mahathir
Dr M: I told Muhyiddin to wait until graft trials were over