LIVE | Malaysiakini brings you live updates on the developing situation following the collapse of the 20-month-old Pakatan Harapan government.
Thank you for following Malaysiakini's live report
This wraps up Malaysiakini's coverage for today.
Read Malaysiakini's previous live updates on: Feb 23 (Sunday), Feb 24 (Monday), Feb 25 (Tuesday), Feb 26 (Wednesday), Feb 27 (Thursday), Feb 28 (Friday) and Feb 29 (Saturday).
If you like our reporting, support independent media by subscribing to Malaysiakini for as low as RM0.55 a day. Details here.
---
After denying support, now Sri Aman MP backs Dr M again
9pm: Parti Sarawak Bersatu instructs its sole MP, Masir Kujat (above) of Sri Aman, to support Dr Mahathir Mohamad.
This comes just a day after Masir Kujat denies supporting Mahathir as prime minister in a video message.
"The presidential council has decided that the video statement by Masir Kujat, MP for Sri Aman, is hereby withdrawn.
"PSB will support Mahathir and Pakatan Harapan in order to give effect to the wishes of the people in the 14th general election. We believe it is morally right to do so.
"As a member of the presidential council, Masir has agreed with this decision," it says.
It also calls for the Prime Minister Muhyiddin Yassin's support in the Dewan Rakyat to be tested when it convenes on March 9 as scheduled. Muhyiddin leads the Perikatan Nasional government which was installed this morning following a week-long coup against Harapan.
PSB adds that while it does not necessarily agree with Harapan and intends to contest against it in the next state election, the people's mandate in the general election should be respected.
---
Ambiga suggests special sitting to resolve dispute on PM's numbers
8.30pm: In light of a dispute over whether Prime Minister Muhyiddin Yassin has majority support among MPs, former Malaysian Bar president Ambiga Sreenevasan (photo) suggests that he convene a special parliamentary sitting to establish his support.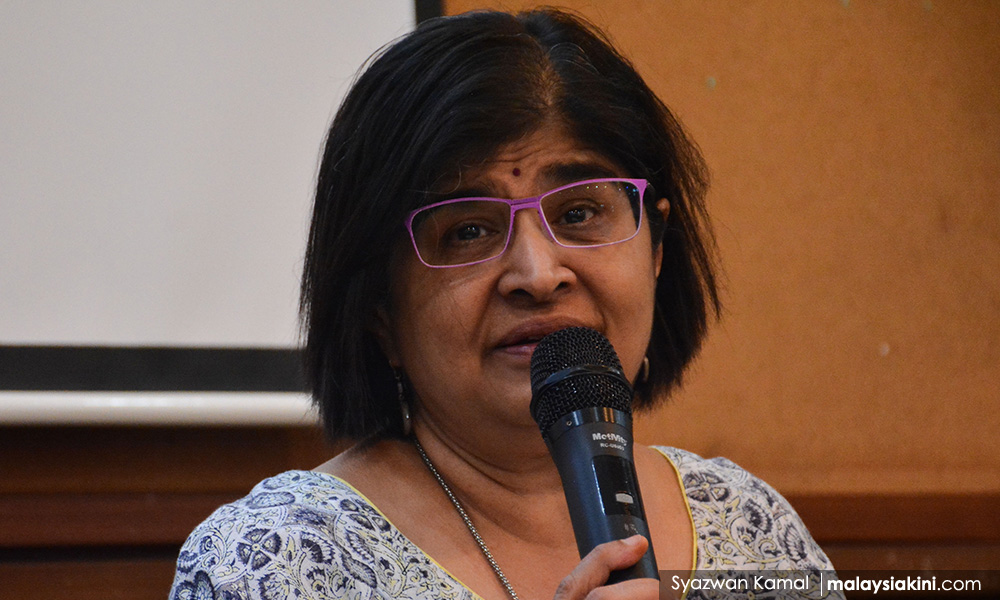 "I would urge the prime minister to call an emergency Parliament session this week to resolve this issue satisfactorily.
"It would not only be in his interests to do so, but it would also be in the overriding interests of the nation," she adds.
Ambiga says Standing Order 11(3) provides for a special sitting in the public interest.
"In light of the uncertainty, it is important and in the public interest that the prime minister tests his majority in Parliament by calling for a special sitting," she says.
Yesterday, Pakatan Harapan and allies published a list of 114 MPs, claiming its chosen leader Dr Mahathir Mohamad commands majority support instead of Muhyiddin, who was scheduled to be sworn in as prime minister this morning.
However, since then, at least four MPs have withdrawn or denied that they support Mahathir, leaving him with 110 MPs. A total of 112 MPs are needed for a majority.
Mahathir had also expressed concern that with Muhyiddin now as prime minister, more may be enticed to switch sides.
---
Save Malaysia protest ends peacefully
8.20pm: Dataran Merdeka, Kuala Lumpur - The "Save Malaysia" assembly ends peacefully with the organiser pledging more protests until things are done right.
"This will happen organically as the people are very unhappy with the way the new government was formed," says Save Malaysia Demonstration Committee spokesperson Amir Abd Hadi.
He also expresses gratitude to the police for facilitating their protest.
Earlier, the police allowed them to march to Dataran Merdeka with conditions that they must not raise placards and not walk on the tarred road.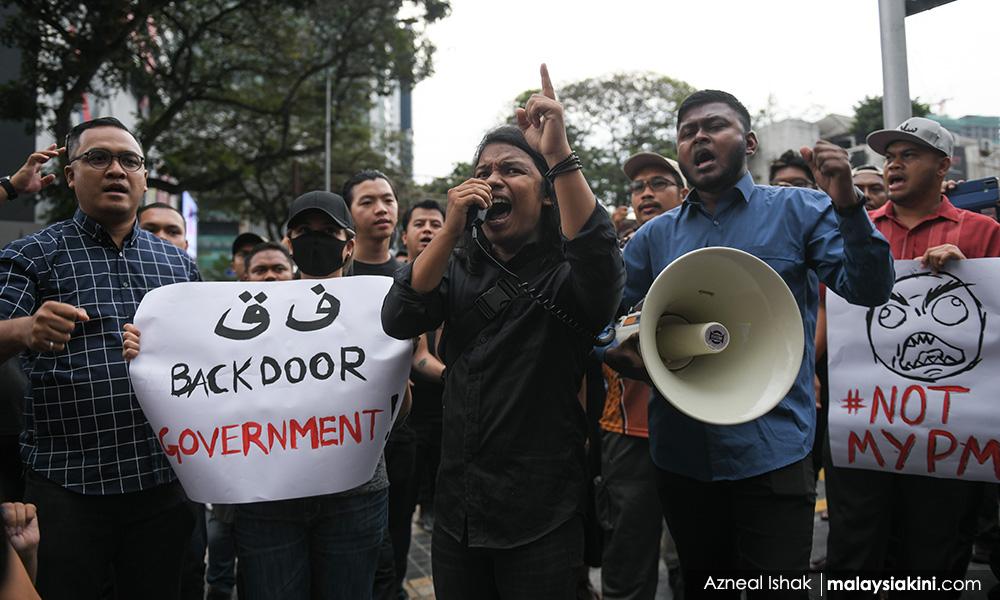 ---
8.00pm: Balik Pulau, Penang - Balik Pulau PKR committee member John Ooh has lodged a police report against individuals who assaulted party vice-president Tian Chua.
Ooh says he decided to lodge the report after witnessing today's incident at the PKR headquarters in Petaling Jaya.
"After a thorough discussion with my committee members, we have agreed to lodge a police report on the matter. We are against any form of brutality and physical assault. This is a very serious act of violence regardless of party," says the Taman Sri Indah branch chief.
Ooh urges party leadership to take this incident seriously as it could have caused serious injury to the victim.
He says Tian Chua is a good leader and his track record shows that he has been loyal to PKR's struggle.
"His commitment to fighting for justice and the well being of the nation cannot be denied. It is unfair for the mob to label him a traitor today. "
A copy of the police report has been obtained by Malaysiakini.
[Read more here]
---
PM's Dept denies tomorrow will be a public holiday
7.45pm: The Prime Minister's Department tonight issues a statement denying a doctored image claiming that tomorrow will be a public holiday.
This follows the swearing-in of Muhyiddin Yassin as the eighth prime minister this morning.
"The PMD stresses that viral news about tomorrow, March 2, being a public holiday in conjunction with the appointment of the eighth prime minister is false and all quarters are asked to immediately cease circulating it," it says.
---
Lost federal power, but we've not given up - Penang CM
7.30pm: Komtar, Penang - "We have lost federal power, but we have not given up," says Penang DAP chief Chow Kon Yeow, in a message to members of the state committee, parliamentary liaison committee, branch committees, women and youth leaders, MPs, state assemblypersons and city councillors.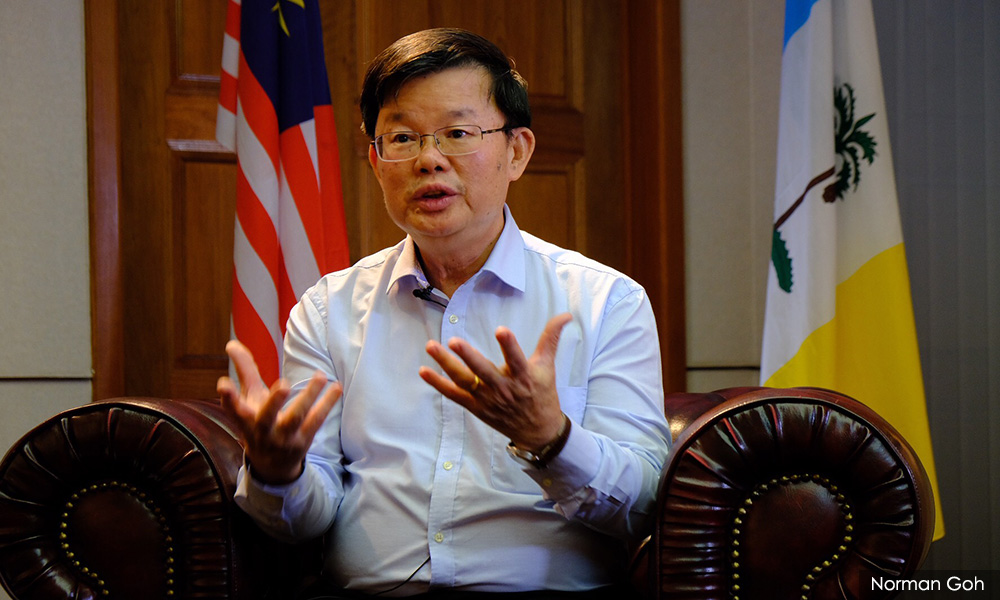 Chow (photo) says the Pakatan Harapan national leadership and MPs group will mount a legal, parliamentary and constitutional challenge against the appointment of Muhyiddin Yassin as the new prime minister.
"We appeal to all members to remain calm and be disciplined to follow the party directives. The past week had been a tumultuous one.
"Despite our greatest efforts to preserve the people's mandate, we lost the federal government to those unscrupulous schemers who wanted the return of the kleptocrats," he adds.
Chow, who is Penang chief minister, says the CEC leaders will be visiting the various states to have engagement sessions with them and listen to their views.
The Penang chief minister urged everyone to meanwhile continue with their governmental duties and personal job commitments.
"We will demonstrate that we are a responsible party which will continue our political mission for a better Malaysia," he said.
---
Protesters show up at Sogo despite police warning
6.10pm: Sogo, Kuala Lumpur - A defiant Save Malaysia Demonstration Committee continues with the protest against the backdoor government despite being warned by the police.
More than 100 protesters show up in front of Sogo shopping centre and they angrily chant "Reject traitors, reject racism" and "Hidup rakyat".
They carry placards which read "#NoMyPM", "We fight" and "Uphold democracy".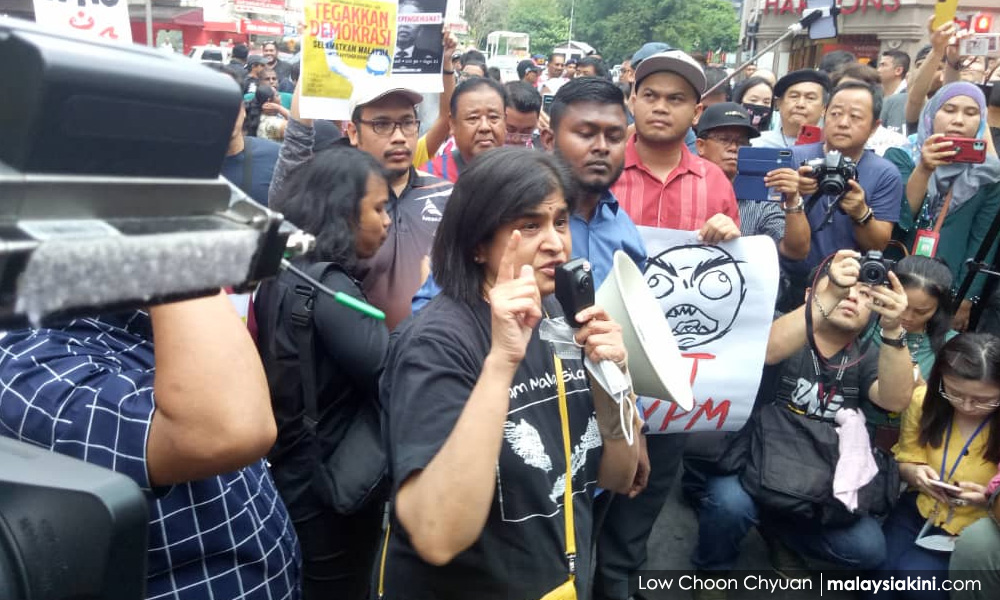 Former Bersih chairperson Ambiga Sreenevasan and Amanah Youth deputy chief Faiz Fadzil also attend the protest dubbed "Save Malaysia".
Demonstration spokesperson Amir Abd Hadi slams the police for probing activist Fadiah Natwa Fikri under Sedition Act 1948 for organising a peaceful assembly at Dataran Merdeka last night.
He says there are people out there playing out the issue as though they are against the Yang di-Pertuan Agong for picking Muhyiddin Yassin as the new prime minister
Amir says people are against the political coup, not the King.
More than 30 police personnel are present but they have not stopped the protest.
Earlier today, Dang Wangi district police chief Mohd Fahmi Visuvanthan warned the public against attending the protest.
---
Dr M blames Muhyiddin and Anwar for his fall
6pm: Langkawi MP Dr Mahathir Mohamad, in a closed-door briefing for his Bersatu supporters, blames Bersatu president Muhyiddin Yassin and PKR president Anwar Ibrahim for his failure to form the new government.
He slams Muhyiddin, who was this morning sworn in as the new prime minister, as a traitor.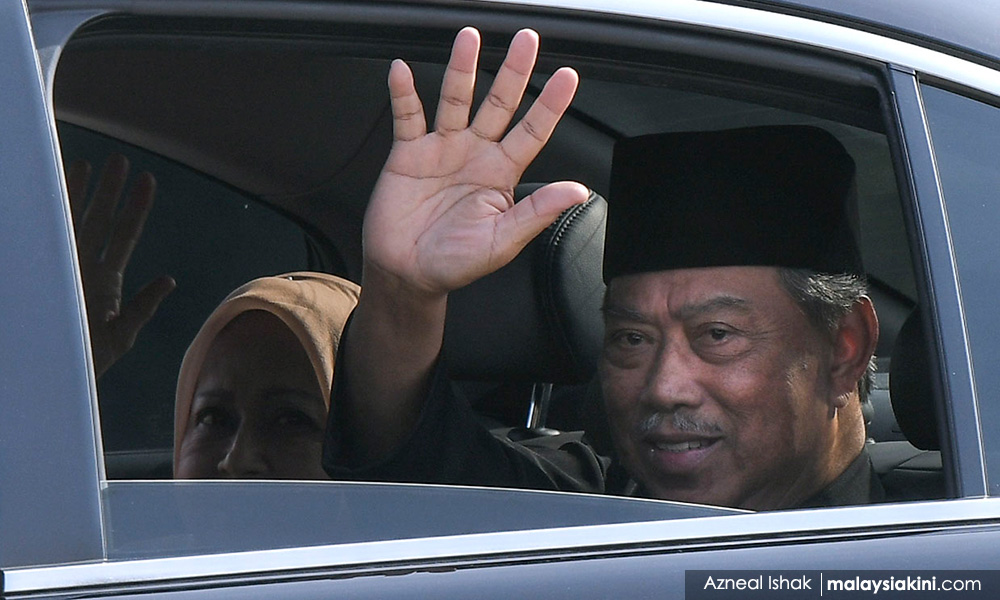 Mahathir maintains that Bersatu should not work with Umno, of which several leaders are facing trial for grand corruption, and is upset that Muhyiddin has done so.
"Now, if there is blood on someone's hands, he (Muhyiddin) will also be complicit," he says.
Someone asks Mahathir if Muhyiddin's move was to thwart Anwar but he disagrees, saying that Muhyiddin had wanted to use it as an excuse as he had expected Anwar to pressure Mahathir into making way for him as prime minister during the Harapan presidential council meeting on Feb 21.
He says that didn't happen as Anwar decided to back down and allow Mahathir to decide when to hand over power but Muhyiddin proceeded with his move to topple the Pakatan Harapan government anyway and replace it with Perikatan Nasional.
---
Read more: Behind closed doors, Dr M blames Muhyiddin and Anwar
---
However, Mahathir blames Anwar for Harapan's brief switch of support from Mahathir to Anwar after Mahathir refused to restore the previous Harapan government and wanted a new government that did not follow party lines.
"I am saddened because I lost because he (Anwar) asked Harapan to name him as prime minister. If not, I would have had 92 votes and I already had 60 votes, I would have the majority.
"But because he asked to become the prime minister candidate even though he didn't have the numbers. People like that believe in things that are not real," he says.
Harapan decided to back Mahathir after Anwar couldn't muster enough numbers but by that time, GPS had switched sides to support Muhyiddin.
Mahathir's briefing is streamed live on Amanah's Facebook page.
The former premier does not appear to be aware that his comments were aired live.
His son, Mukhriz Mahathir, who is also the Bersatu deputy president, is seen whispering in his ears before the live stream was terminated.
---
6.00pm: PAS headquarters, Kuala Lumpur - PAS president Abdul Hadi Awang, whose party is now part of the new ruling coalition, outlines his vision.
"PAS hopes the federal government will prioritise the agenda to revive the economy, narrow the income gap, improve the standard of education and practice equitable development for peninsular, Sabah and Sarawak and defend the principle of federalism with all states," he says.
Hadi also calls on the government to be fair to the people regardless of race, religion and political ideology.
[Read more here]
---
Rina Harun hopes conflict will be resolved as a 'family'
5pm: Muhyiddin's residence, Bukit Damansara - Bersatu's Titiwangsa MP Rina Harun (photo), who sided with Bersatu president Muhyiddin Yassin over party chairperson Dr Mahathir Mohamad, hopes the conflict will be resolved as a "family".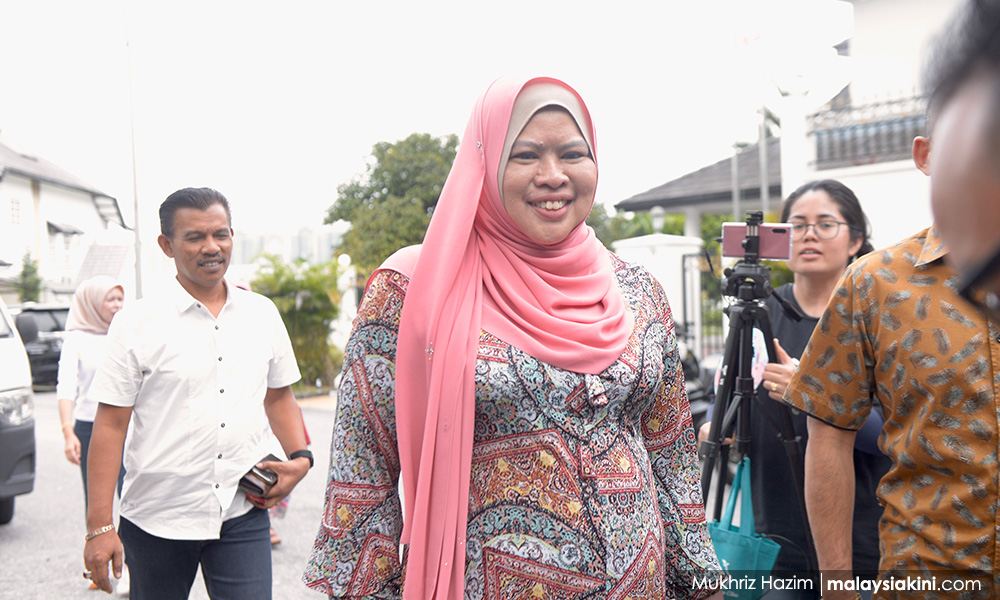 "We are a family, don't do this. I'm sad... we will resolve this internal problem amicably," she says.
Rina was asked about her position on Mahathir while leaving Muhyiddin's home.
She says Bersatu members still respect Mahathir.
"We still respect him. There are no issues," she says.
---
Tian Chua shrugs off assault by party supporters
4.25pm - Former PKR lawmaker Tian Chua dismisses the assault against him by several party supporters angry at those aligned to former deputy president Azmin Ali.
Speaking to The Malaysian Insight, he says it was a "small matter".
"It is a small matter. I understand the anger of this small group.
"Whatever it is, we start again. And this is not about any individuals but about our party.
"I am loyal to PKR," he reportedly says.
Meanwhile, PKR Lembah Pantai MP Fahmi Fadzil criticises the assault against Tian Chua.
In a tweet, he calls on authorities to take action against those found to have violated the law and for the party disciplinary board to investigate the fracas which took place at outside the party headquarters in Petaling Jaya earlier today.
---
If you like our reporting, support independent media by subscribing to Malaysiakini for as low as RM0.55 a day. Details here.
---
Police arrest a man over ruckus at PKR headquarters
4,10pm - Petaling Jaya district police chief Nik Ezanee Mohd Faisal (below) says that police have arrested a man over the ruckus at PKR headquarters earlier today.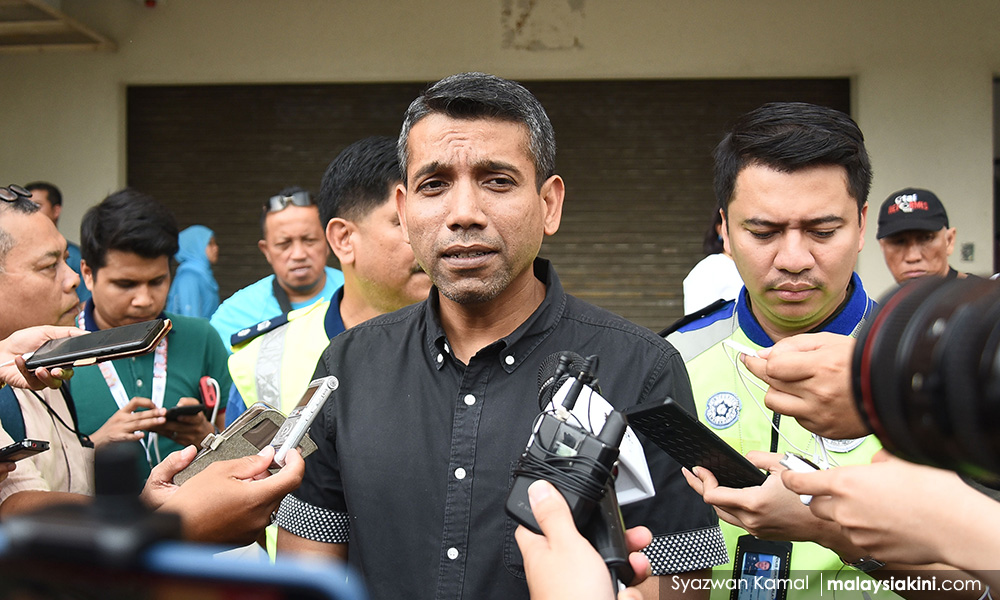 According to him, they are also looking for a few others to facilitate investigation into the incident which saw PKR vice-president Tian Chua among those assaulted by angry party members.
For the record, Tian Chua is among PKR leaders known to be aligned to its ex-deputy president Azmin Ali, who earlier this week was sacked from PKR. Azmin has since joined Bersatu, which formed an alliance with Umno and PAS to set up a new federal government.
Nik Ezanee tells reporters at the scene that the man in his 30s, whom police believe is a PKR member, was taken into custody during the incident.
He says police had lodged a report on the incident upon receiving information about it.
Tian Chua has yet to lodge a report on the matter.
Meanwhile, Nik Ezanee also calls for supporters of political parties to stay calm and not cause any trouble.
Asked on the district police's preparation following the current political situation, he says that they are ready for any eventualities, especially as the district houses the headquarters of two major parties, namely PKR and Bersatu.
---
Tough to put forward no-confidence vote - Kadir Jasin
3.50pm - Veteran newsperson A Kadir Jasin says Pakatan Harapan envisions a tough road ahead for Dr Mahathir Mohamad and the coalition to put forward a motion of no confidence in Dewan Rakyat.
This is because new Prime Minister Muhyiddin Yassin can simply instruct the sitting to be postponed to another date.
"Muhyiddin may utilise his executive power to gather support from Mahathir's faction by offering position and status," Kadir says in his blog today.
He, however, points out that Harapan can still keep the new government in check, especially in combatting corruption and debating graft and serious crimes involving Umno leaders, as they have a large number of representatives in Parliament.
Kadir also asks if Bersatu, being an Umno splinter party, will ultimately be merged or swallowed up.
"If Mahathir quits Bersatu, whether voluntarily or being expelled, many grassroots may follow his footsteps. But if he stays back, Muhyiddin's faction will find it difficult and uncomfortable to work with Mahathir after stabbing him in the back," says Kadir.
"In conclusion, like it or not, the appointment of Muhyiddin as the eighth premier in such a questionable atmosphere will create confidence issue except among opportunists and those who shout the slogan of 'for the sake of religion, races and country'," says Kadir.
---
Dewan Rakyat speaker to discuss with PM on next Parliament session
3.30pm: Dewan Rakyat speaker Mohamad Ariff Md Yusof will discuss with Muhyiddin Yassin on whether the coming Parliament session will sit on March 9 as initially slated.
He says he will write an official letter to the new prime minister (PM) tomorrow.
"Tomorrow, I will be writing to the PM to seek further information as to when the Dewan will sit before making an announcement.
"Just wait, I myself do not know because I don't decide the dates for Dewan Rakyat sittings," Bernama quotes him as saying after attending Muhyiddin's swearing-in ceremony at Istana Negara today.
---
'We've strength in solidarity', says activist probed over Dataran protest
3pm: Activist Fadiah Nadwa Fikri, who is being investigated by police for her alleged post on last night's peaceful protest at Dataran Merdeka says she has been summoned to Bukit Aman on Tuesday at 11am.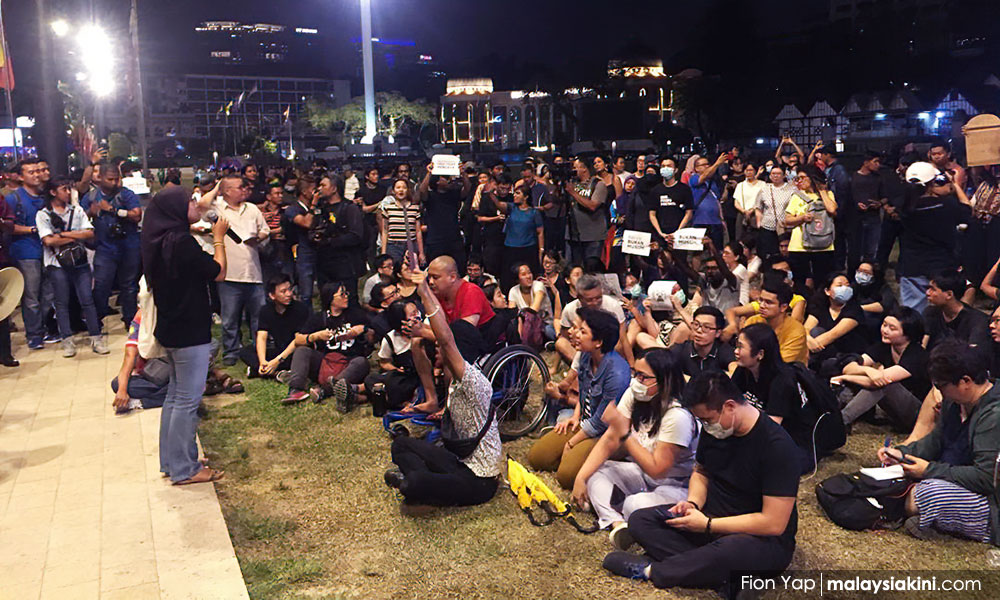 She confirms she is being investigated under Section 4(1)(a) of the Sedition Act and Section 233(1)(a) of the Communications and Multimedia Act.
"Malaysians have been expressing worry, grief, anger and frustration over the scheming and power tussle by politicians.
"The police, however, have singled me out for a gathering held on Saturday (Feb 29) at Dataran Merdeka.
"This isn't about me or any one person. As yesterday's gathering showed, we have strength in our solidarity," Fadiah says in a Facebook posting.
She adds Malaysians have been pushing back against the state for trying to silence their voices for decades and they will continue to persevere.
"Now more than ever, we must find and create spaces, knowledge, comfort and strength together. We must not be intimidated."
Standing up for all Malaysians, she says, should not be harmful or "seditious".
---
PKR to lodge police report against PM
3.10pm: PKR parliamentary whip Johari Abdul tells party supporters and members of the media that PKR will lodge a police report against Prime Minister Muhyiddin Yassin.
He accuses Muhyiddin of lying to the Yang di-Pertuan Agong when saying the former has majority MP support.
Besides this, Johari also tells supporters to be ready to face a snap election if it is proven Muhyiddin does not have majority support in Dewan Rakyat.
"This time, we will finish them (former opposition bloc) off," says Johari (below).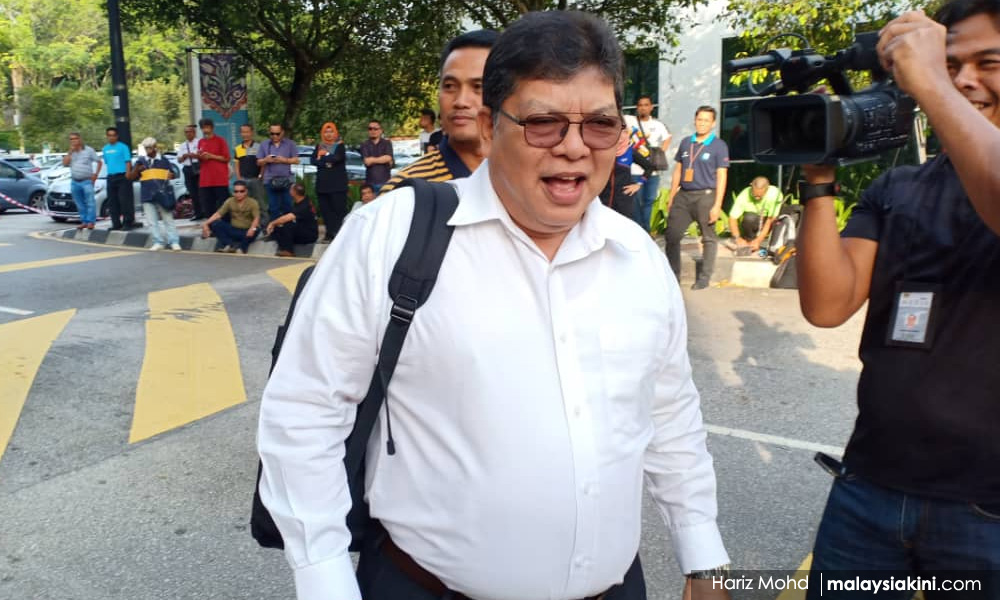 ---
Police congratulate Muhyiddin on appointment as 8th PM
2.45pm: Inspector-General of Police Abdul Hamid Bador, on behalf of the Royal Malaysia Police today congratulates Muhyiddin Yassin on the latter's appointment as the eighth prime minister.
In a statement today, Hamid says the police remain committed to shouldering the responsibility entrusted upon it to maintain national security and uphold the rule of law.
"This is for the well-being of the people and the country under (Muhyiddin's) leadership," he says.
Muhyiddin, who is Bersatu president, was sworn in as the eighth prime minister before the Yang di-Pertuan Agong Sultan Abdullah Sultan Ahmad Shah at Istana Negara at about 10.30am today.
---
Perak MB to meet Sultan Nazrin today on position of state gov't
2.35pm: Perak Menteri Besar Ahmad Faizal Azumu (below) says he will be meeting with Perak ruler Nazrin Shah today to discuss the position of the state government.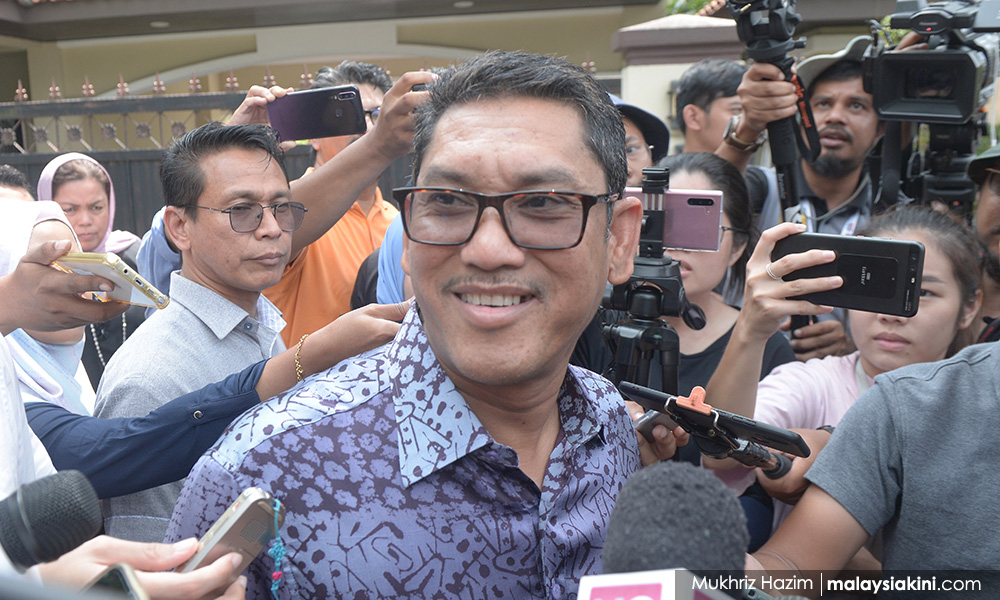 When asked by reporters if he believes the state government leadership has been decided, he briefly replies: "Yes, probably."
"Pray that I remain (as menteri besar)," he adds as he leaves new prime minister Muhyiddin Yassin's residence.
---
Police assert control as tension rises at PKR headquarters
2.30pm: A team of police officers in uniform start to take control of PKR headquarters' front entrance as tension rises with PKR supporters baying for the blood of several party leaders who were aligned to its former deputy president Azmin Ali.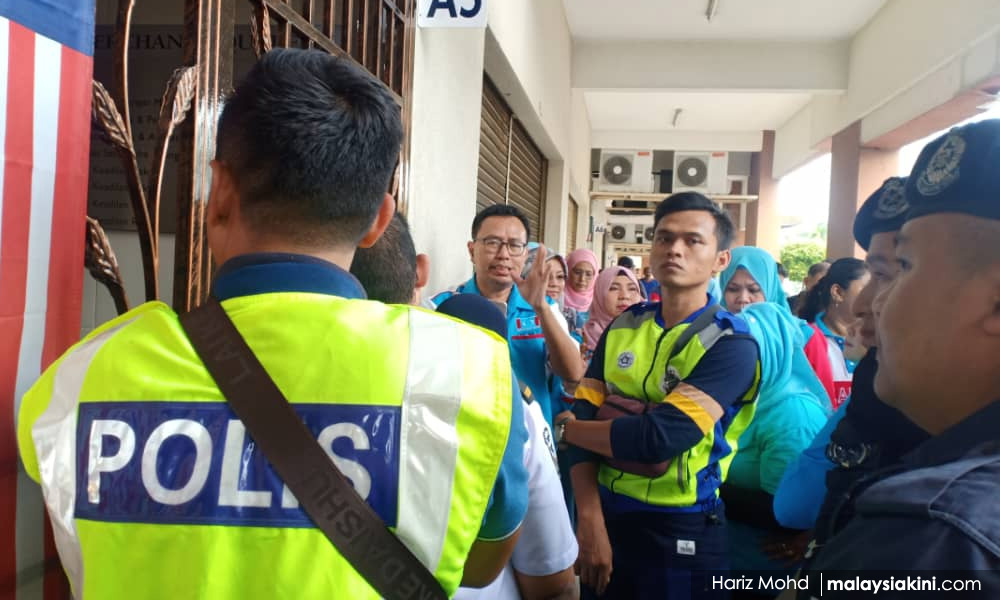 This comes as several of them were called "pengkhianat" (traitors) and was assaulted and set upon by the supporters earlier this afternoon.
At the moment, a group of women PKR members are still waiting in front of the entrance, calling for PKR women's chief Haniza Talhah and her deputy Daroyah Alwi to come out and see them.
Haniza and Daroyah are known to be staunch followers of Azmin when he was the party's number two.
---
Fracas at party HQ due to misunderstanding - Anwar
2.20pm: PKR headquarters - PKR president Anwar Ibrahim says that the assault by PKR supporters on party leaders aligned to its former deputy president Azmin Ali was a misunderstanding.
He tells reporters outside the party headquarters in Petaling Jaya that while the leaders were once supporters of Azmin, this was a thing in the past and it was okay as Azmin was a leader in the party.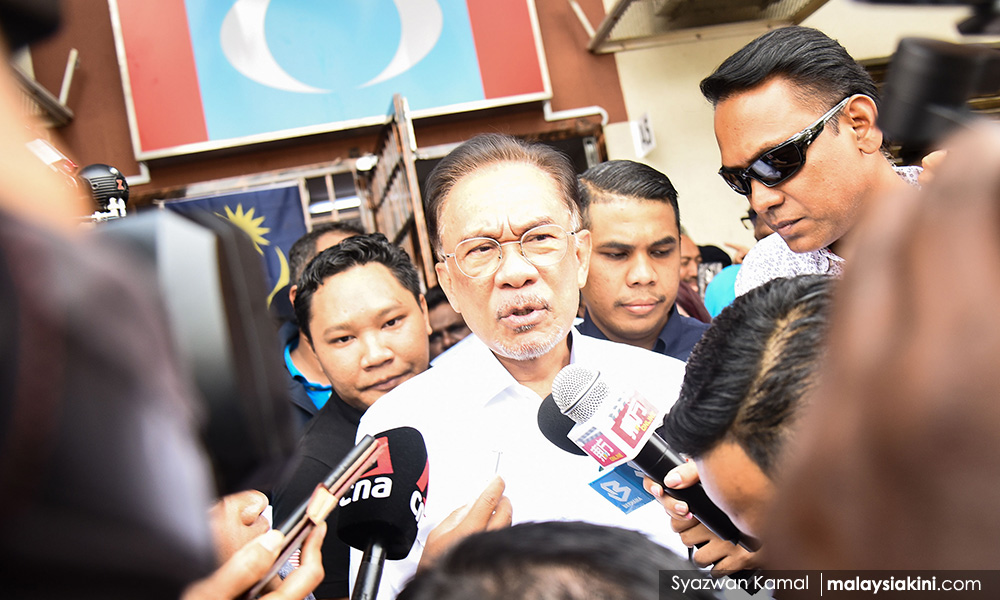 Anwar stresses that Azmin's PKR followers had also told him during a meeting earlier that they were loyal to the party, and that they were in the dark about what the Gombak MP had been planning all these while.
The comment by Anwar came as several Selangor PKR leaders, including Tian Chua, were assaulted as they were coming out from the PKR headquarters after their meeting with Anwar.
---
Umno sec-gen says new gov't can work with former ministers
2.15pm: Annuar Musa says the new government will have no qualms about working with former ministers.
"We can work together. For instance, the health minister (Dzulkefly Ahmad) had done a good job in handling Covid-19.
"Although he is not a minister (anymore), he can still help us. It doesn't mean that there's cut-off (of communications) when ministers are changed.
"Moreover, (prime minister) Muhyiddin (Yassin) was part of the previous government," he tells reporters at PWTC.
[Read more here]
---
If you like our reporting, support independent media by subscribing to Malaysiakini for as low as RM0.55 a day. Details here.
---
Tian Chua accosted by angry PKR supporters
2.10pm: Tian Chua, who is aligned to former PKR deputy president Azmin Ali, is accosted and assaulted by angry PKR supporters while attempting to leave the party's headquarters.
He was being escorted to a car parked in front of the headquarters when a group of angry PKR supporters surrounded him and the car.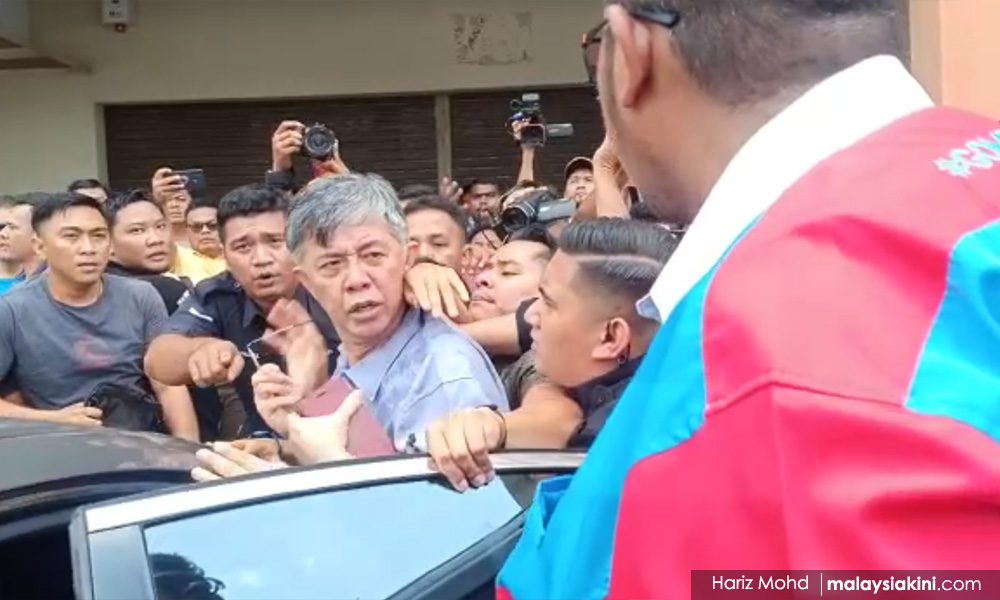 At the door of the car, Tian Chua who looks very angry, appears to engage with one of the supporters in a shouting match as someone throws a plastic bottle in his direction.
As his entourage attempts to calm everyone down and fend them off, the man Tian Chua is talking to smacks the back of Tian Chua's head.
Other supporters surrounding the car also begin to bang the car's roof.
Tian Chua is subsequently hurried into the car, after which it drives off.
[Read full story here]
---
Fracas outside PKR party headquarters
1.35pm - A group of PKR members and supporters get into a scuffle with Penang PKR's Afif Bahardin and his followers at the party headquarters in Tropicana, Petaling Jaya.
Afif, who is known to be aligned to ex-PKR deputy president Azmin Ali, was exiting the premises where party central leadership are having a meeting.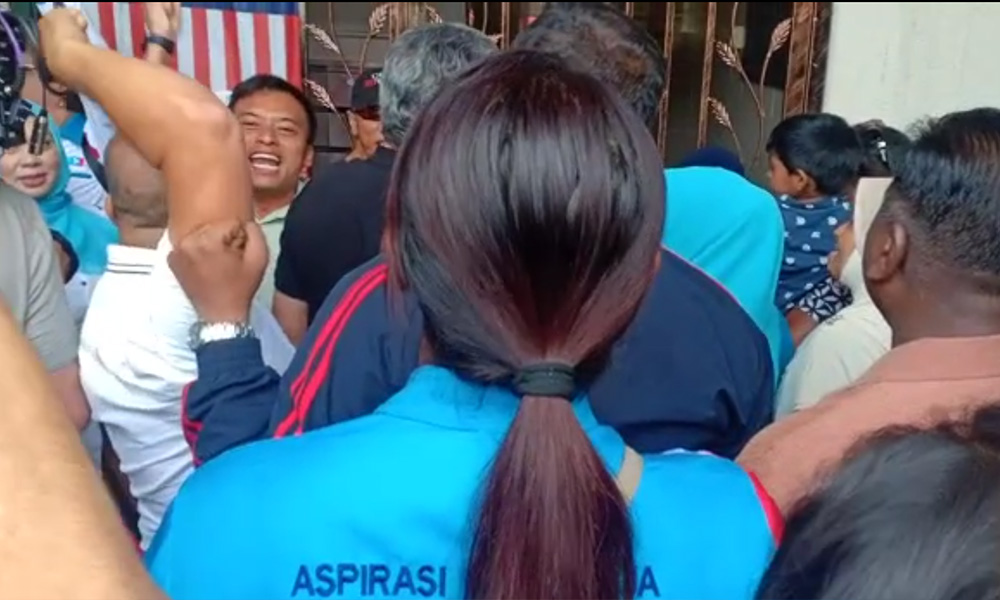 As soon as they exit the front entrance to the building, some 20 PKR supporters start to chant "pengkhianat" (traitor) and swarm Afif's followers.
---
Harapan to table motion of no confidence in next Parliament sitting
1.30pm - Pakatan Harapan agrees to table a motion of no confidence against prime minister Muhyiddin Yassin when the Parliament sits next.
"We decided (to table the motion) as soon as possible. The date will depend on Dewan Rakyat," Harian Metro quotes PKR president Anwar Ibrahim saying at the latter's resident in Bukit Segambut, Kuala Lumpur earlier.
[Read full story here]
---
PM Muhyiddin to clock in at 8am tomorrow
1.09pm - Newly minted Prime Minister Muhyiddin Yassin will clock in for his first day on the job tomorrow.
The Prime Minister's Office, in invites issued to the media, says Muhyiddin is slated to clock in at his office in Putrajaya at 8am tomorrow.
---
Police warn against 6pm protest at Sogo mall
12.50pm: Dang Wangi district police chief Mohd Fahmi Visuvanthan warns the public against attending a planned protest to be held in Kuala Lumpur later today.
In a statement, he states that no notice was given on the 6pm protest, organised by a group calling themselves Save Malaysia Demonstration Committee.
Mohd Fahmi explains that the area in front of the Sogo mall is not sanctioned for demonstrations.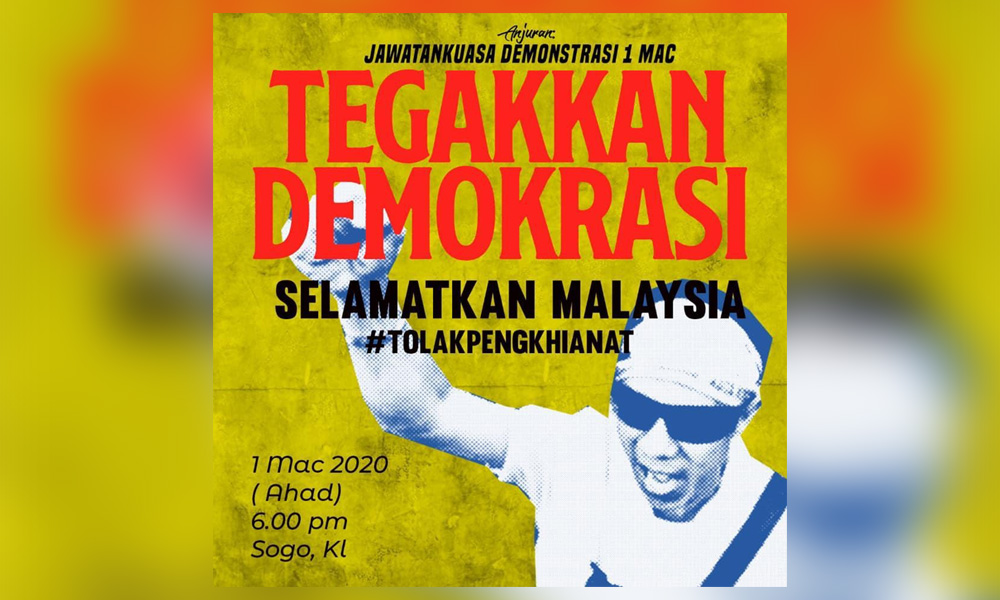 "Hence, the public is warned not to gather in front of Sogo this evening to demonstrate," he says.
Mohd Fahmi adds police are prepared for any eventuality.
According to the Save Malaysia Demonstration Committee, the current political situation "benefits no one, especially Malaysians" especially as it goes against the mandate set by the people in GE14.
"Therefore, after consultation with partners of civil society organisations, we collectively agreed to hold a demonstration."
The group has four demands:
To dissolve parliament and hold new elections;
To continue the prosecution of corruptors;
To uphold human rights and abolish draconian laws;
To ban party-hopping.
---
Tender moment as Mahathir consoles Siti Hasmah
12.30pm - An emotional scene unfolds back at Dr Mahathir Mohamad's office as his two-year reign as prime minister comes to an end following the swearing-in of Muhyiddin Yassin.
In a one-minute video uploaded on Mahathir's official Facebook page with the simple caption "thank you everyone", his wife Dr Siti Hasmah Mohd Ali is seen cheekily giving him a tight hug.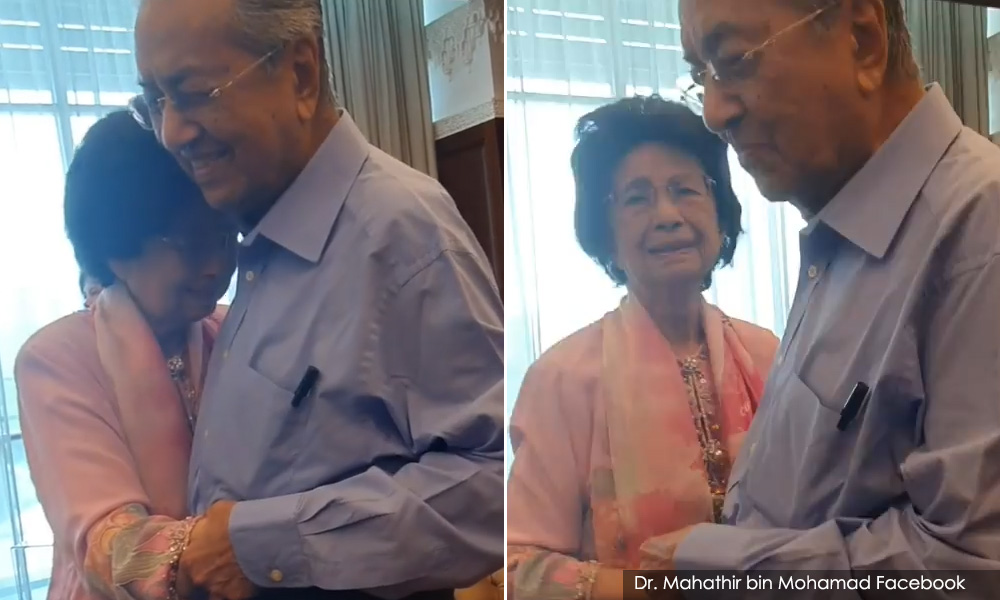 She resists the 94-year-old's repeated attempts to dislodge her arm from around his waist to laughter from those in the room.
Those present at the time include the couple's daughter and activist Marina. The audience is heard telling Mahathir not to be "shy" as he laughs along.
However, upon closer inspection, Siti Hasmah, 93, appears upset and the video ends with Mahathir finally putting one arm around his wife's shoulders.
---
Zahid: We will try our best to make sure people safeguarded again
12.16pm: Umno president Ahmad Zahid Hamidi stops to address the media outside Gate 2 of Istana Negara when he and a convoy of other lawmakers leave the palace.
Zahid says BN will fully support the leadership of new Prime Minister Muhyiddin Yassin.
"The episodes and dark clouds have passed and the sky is clear again. God-willing, the parties in BN will lend support to Muhyiddin's new policies.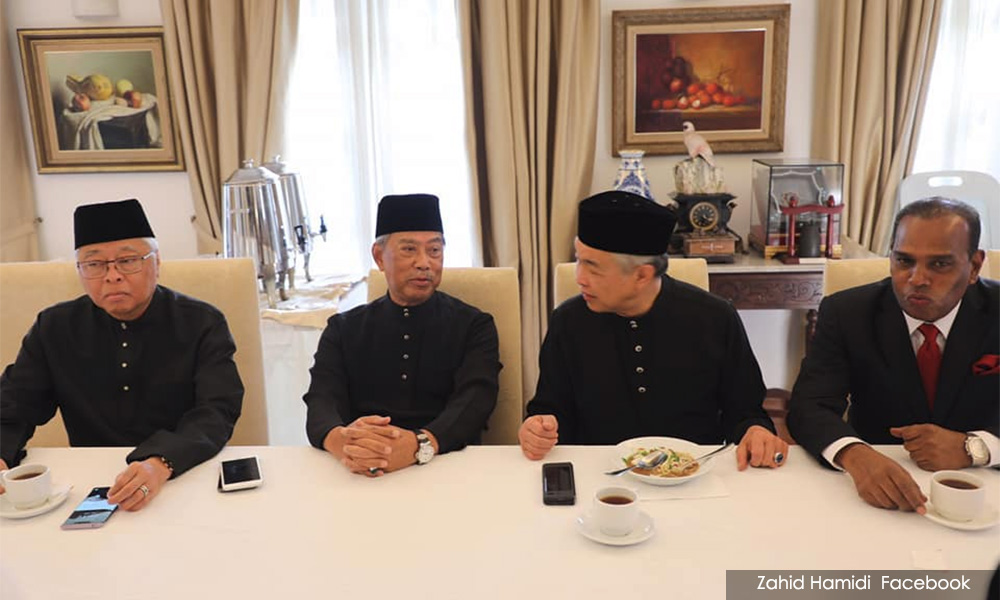 "We will try our best to make sure the people are safeguarded again. The people must be prioritised.

"The oppression against the people must stop and assistance must be returned," he says.
[Read full story here]
---
Dewan Rakyat, Dewan Negara speakers exit palace
12.06pm: Istana Negara - Dewan Rakyat speaker Mohamad Ariff Md Yusof and Dewan Negara speaker S A Vigneswaran leave the palace.
Meanwhile, the situation is calm outside Istana Negara. Police are stationed along roads heading toward the palace.
Members of the media are patiently waiting for other palace guests, including lawmakers, to make their exit.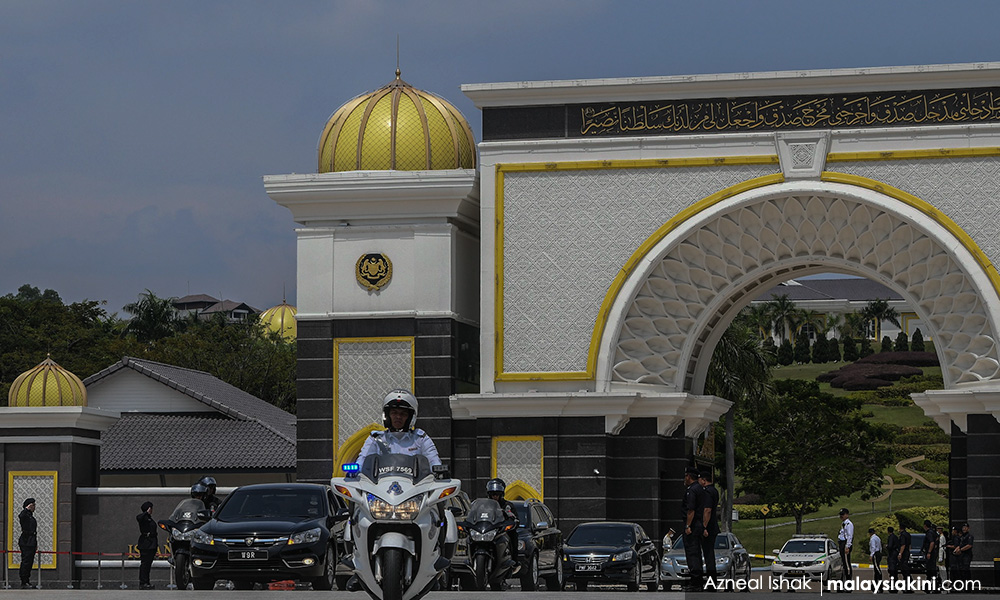 ---
PAS challenges Harapan to table motion of no confidence
12pm: PAS challenges Pakatan Harapan to table a motion of no confidence against the swearing-in of Muhyiddin Yassin as the new prime minister.
PAS information chief Kamaruzaman Mohamad accuses the former ruling coalition of creating a scene and "flip-flopping" throughout the crisis following the collapse of the Harapan government, "as though challenging the Yang di-Pertuan Agong's decision".
"If Harapan truly wishes to challenge the decision (to appoint Muhyiddin as premier), PAS urges Harapan to use channels permitted by law such as tabling a motion of no confidence in Parliament," he says in a statement.
---
Cuepacs supports new PM
11.58am: Congress of Unions of Employees in the Public and Civil Service (Cuepacs) expresses support for newly installed Prime Minister Muhyiddin Yassin.
"Even though governments come and go, the civil service remains loyal in neutrality to continue to serve to the country's overall welfare under the umbrella of the royal institution," Cuepacs president Adnan Mat says in a statement.
---
I supported Muhyiddin as I thought Dr M not keen on PM post - Baru Bian
11.40am: Selangau MP Baru Bian (below) explains his support for Dr Mahathir Mohamad in a statement sent earlier today.
"Working under his cabinet for the past 21 months as the works minister, I was able to achieve many tasks intended for a better Sarawak.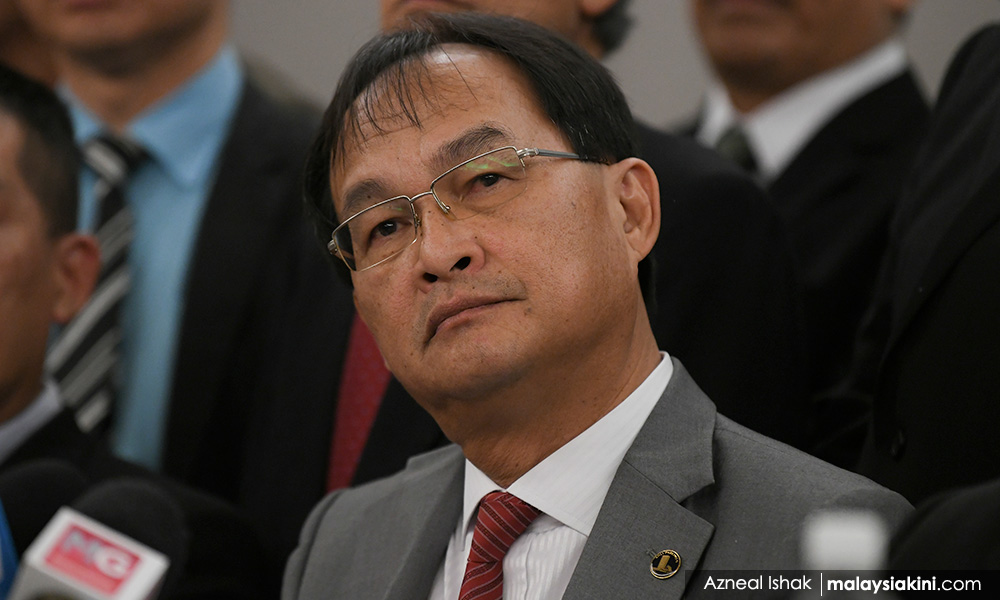 "His shared prosperity vision was taking shape under his leadership, and I had his support to initiate several key projects for Sarawak after 50 years. This included the Sarawak Sabah Link Road, the TransBorneo Highway, (efforts to fix) dilapidated schools, hospital repairs and so on," his statement reads.
Baru explains he initially pledge support for Bersatu president Muhyiddin Yassin as he and several others were made to understand Mahathir was not keen to stand for prime minister.
An independent MP, he was the first from Sarawak's Lun Bawang community to be appointed minister. Baru left PKR at the start of the imbroglio, along with former PKR deputy president Azmin Ali and nine other MPs.
Baru, however, was among over a hundred MPs to pledge support for Mahathir as prime minister yesterday despite the Agong stating he has selected Muhyiddin as the nation's eighth premier.
Mahathir's gambit did not work as Muhyiddin was sworn in earlier today. However, Mahathir says the next step would be for Muhyiddin to see if he truly has the support of majority MPs when Dewan Rakyat convenes soon.
Prior to the collapse of the Pakatan Harapan government, Parliament is slated to have convened on March 9.
---
Zahid: Let's work as a team
11.35am: Ahmad Zahid Hamidi's congratulates Muhyiddin Yassin and thank his comrades.
"Today is the start of a long journey in our sacred journey for the country.
"It will not be easy but let us move together as a team," says Zahid in a statement.
---
If you like our reporting, support independent media by subscribing to Malaysiakini for as low as RM0.55 a day. Details here.
---
Azmin outlines the new government agenda
11.15am: Gombak MP Azmin Ali congratulates Muhyiddin Yassin on becoming the eighth prime minister.
Azmin says he will work towards forming a new government based on the Federal Constitution and the Rukun Negara.
"We are committed towards a national agenda that will spur the economy, ensure shared prosperity, protect the safety and sovereignty of the country, forge unity and ensure institutional reforms," says Azmin in a statement.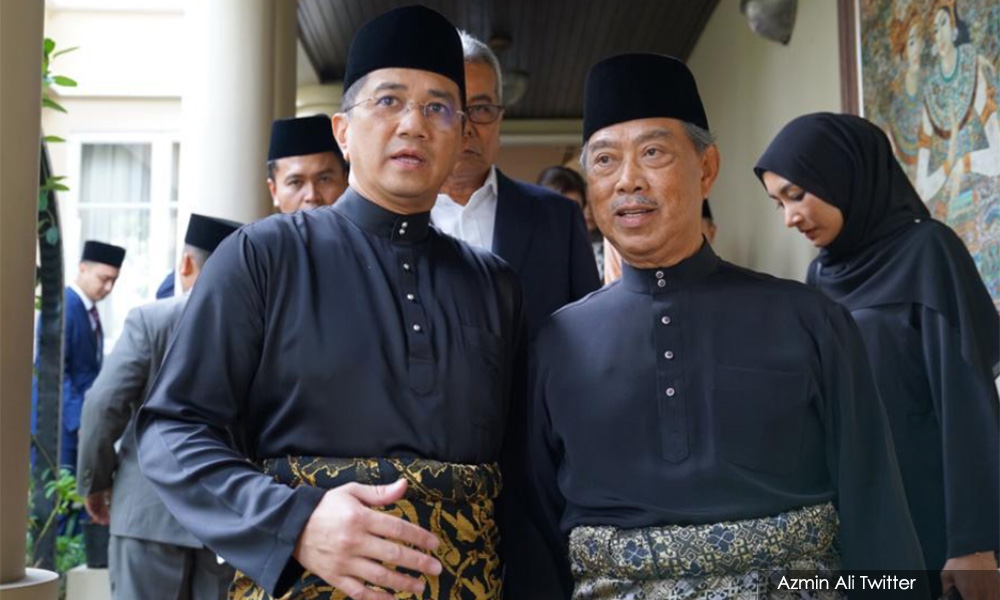 ---
Muhyiddin sworn in as Malaysia's 8th PM
10.40am: Istana Negara - It is done. Bersatu president Muhyiddin Yassin is sworn in as the country's eighth prime minister.
This is despite objection and a last-ditch attempt by Dr Mahathir Mohamad and the Pakatan Harapan bloc to convince that Mahathir has the majority MP support and not Muhyiddin's bloc comprising Bersatu, PAS and Umno, among others.
Muhyiddin is sworn in by Yang di-Pertuan Agong Sultan Abdullah Sultan Ahmad Shah in a short ceremony.
This is followed by hugs and congratulations by his fellow MPs who attended the ceremony at the palace.
---
Najib says not his fault Dr M loses PM post
10.20am: Former prime minister Najib Abdul Razak denies any blame over the current political brouhaha which sees his rival Dr Mahathir Mohamad lose his government and his premiership which results in the swearing-in of Muhyiddin Yassin as the new prime minister.
In a Facebook posting following a press conference by Mahathir, the Pekan MP says, among other things, it was the former Pakatan Harapan government that caused its own popularity to wane to the point of losing several by-elections back to back.
"I'm just playing (on) Facebook every day," he quips.
This comes after Mahathir, in addressing the media earlier, alleges that Najib was among those who were out to convince the leaders such as Muhyiddin Yassin that Harapan's component party, DAP was out to control the government.
"The Malays believe DAP was controlling the government...that is not true. But that is the skill of Najib to the point they no longer see Najib as wrong.
"They are willing to kiss Najib's hands. They acknowledge he is my boss, Bossku. This was the situation before the problems (the political crisis) started," Mahathir alleges earlier.
Read the full story here.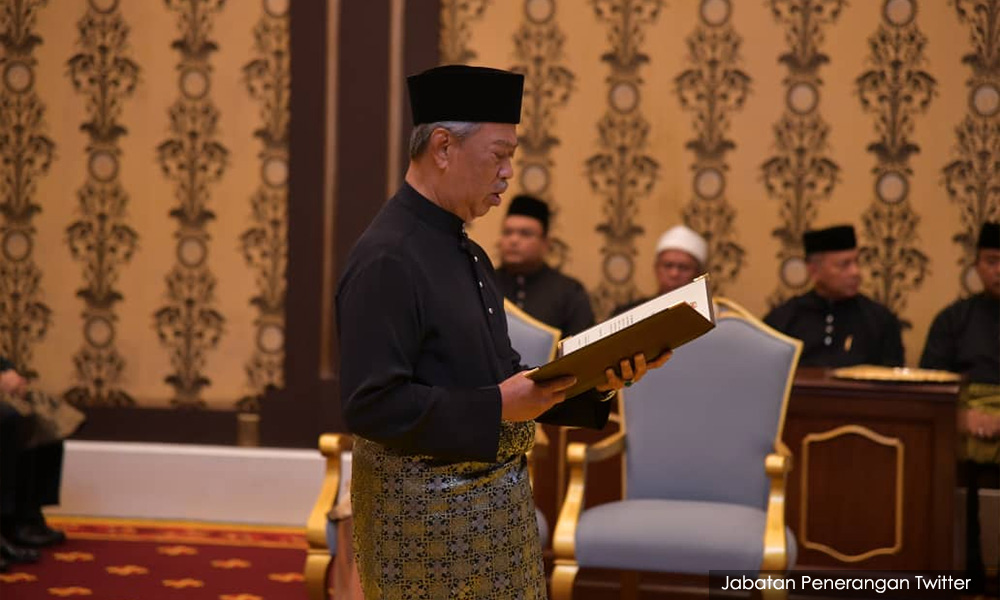 ---
Muhyiddin enters palace for his swearing-in ceremony
9.50am: Istana Negara - Bersatu president Muhyiddin Yassin enters the palace through Gate 1 for his swearing-in ceremony.
His black Perdana is escorted by police outriders. This follows prayers and gathering at his home earlier, with PAS leader Hadi Awang.
The Pagoh MP waves to the waiting press as he enters the gates.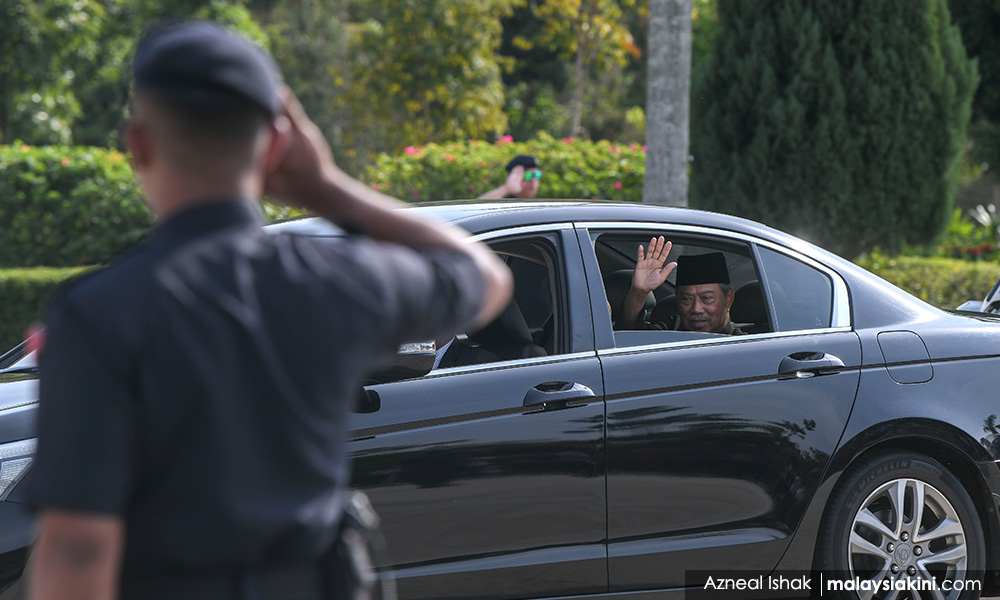 An entourage comprising more than 15 cars ferrying MPs aligned with the incoming new Prime Minister Muhyiddin Yassin also arrives at the palace.
Five minutes ago, Dewan Rakyat speaker Mohamad Ariff Md Yusof also arrived. Media members have also learned that one of three cars who arrived with KL police chief 19 earlier was carrying Chief Justice Tengku Maimun Tuan Mat.
---
KL police chief arrives at Istana Negara
9.26am: Kuala Lumpur police chief Mazlan Lazim arrives at Gate 2 of Istana Negara. His car enters the palace along with two other cars in which one of them has the Yang di-Pertua Dewan Negara emblem. However, the occupants of the vehicles could not be seen.
---
Dr M: Muhyiddin is not the right PM
9.15am: Dr Mahathir Mohamad maintains that Bersatu president Muhyiddin Yassin is not the "right prime minister" based on the law as the latter does not command majority support from MPs.
Addressing the media, Mahathir labels the Yang di-Pertuan Agong Sultan Abdullah Sultan Ahmad Shah's decision to appoint Muhyiddin as the country's eighth premier as "strange" considering that his bloc insists it has the larger number of support [Read more here].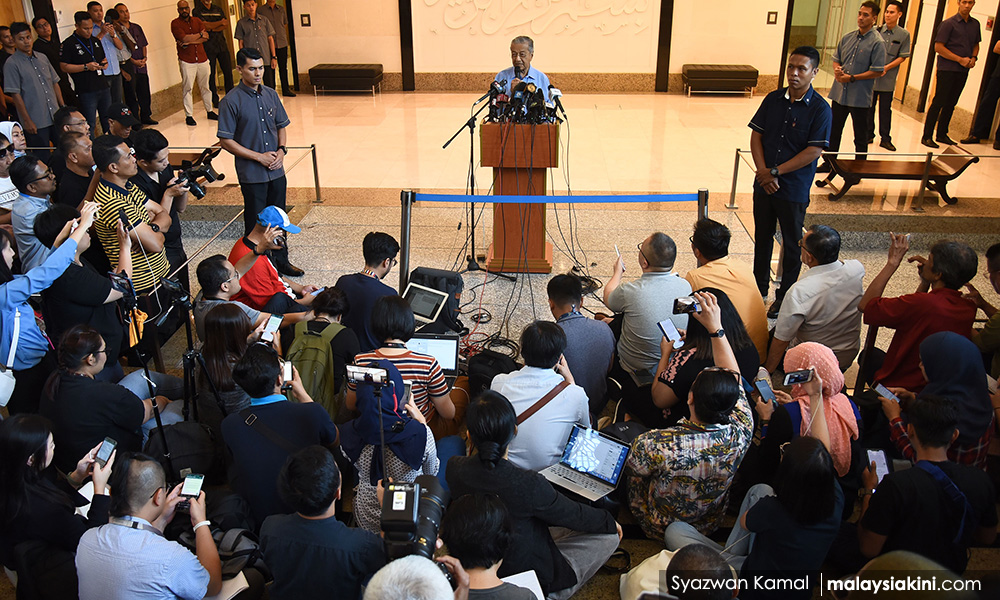 "The king has made the decision not to see me anymore but to appoint Muhyiddin as prime minister so I don't have the chance to tell the king that he (Muhyiddin) does not have the majority. That's it...I cannot communicate with the palace.
"[...] This is a very strange thing because from the results of the 14th (general) election it should be the winners that form the government. Here, we are going to see that from the same election, the losers will form the government and the winners will be the opposition," he says.
The next step would be for the MPs to wait for a Parliament sitting to be called and for the MPs to declare in the august House their support for Muhyiddin or not.
"Of course they, (Muhyiddin's bloc) can delay… but when that person goes to Parliament and Parliament rejects him, then he cannot be prime minister."
Other statements he made at the press conference are as follow:
Mahathir feels most betrayed by Muhyiddin. He adds: "He (Muhyiddin) was working on this for a long time and now he has succeeded." [Read the full story here].
He claims he wanted to wait until the corruption trial involving Umno leaders such as former premier Najib Abdul Razak is over as he will not work with people found guilty of graft.
However, he claims Muhyiddin was "willing to accept anything. He (Muhyiddin) says politics is more important than principles".
Mahathir expresses concern that the next Parliament sitting will be delayed, during which time there will be an opportunity for the 114 current MPs supporting him to be wooed by Muhyiddin's camp.
---
Cries of 'Reformasi' as Anwar arrives
9.07am: Yayasan Albukhary, Kuala Lumpur - PKR president Anwar Ibrahim arrives, greeted by loud chants of "reformasi" by supporters outside.
Earlier, PKR's Sungai Petani MP Johari Abdul replies ambiguously when asked if there is a plan to go to Istana Negara later.
"We shall see, we shall see," he replies briefly, referring to himself and other MPs gathered in support of Dr Mahathir Mohamad at the latter's office this morning.
---
MPs arrive for gathering in support of Dr M
8.40am: Yayasan Albukhary, Kuala Lumpur - Lawmakers are seen arriving at interim prime minister Dr Mahathir Mohammad's office here.
Over 100 MPs, most of which are from Pakatan Harapan component parties PKR, Amanah and DAP, who pledged support for Mahathir, are expected to gather here today. The list also includes six Bersatu MPs and independent MP Baru Bian (Selangau).
Among those seen arriving are Penang Chief Minister and Tanjong MP Chow Kon Yeow, Lembah Pantai MP Ahmad Fahmi Fadzil, Charles Santiago (Klang), Sim Tze Tzin (Bayan Baru), Wong Hon Wai (Bukit Bendera), M Kulasegaran (photo) (Ipoh Barat), Maria Chin (Petaling Jaya), and Teresa Kok (Seputeh).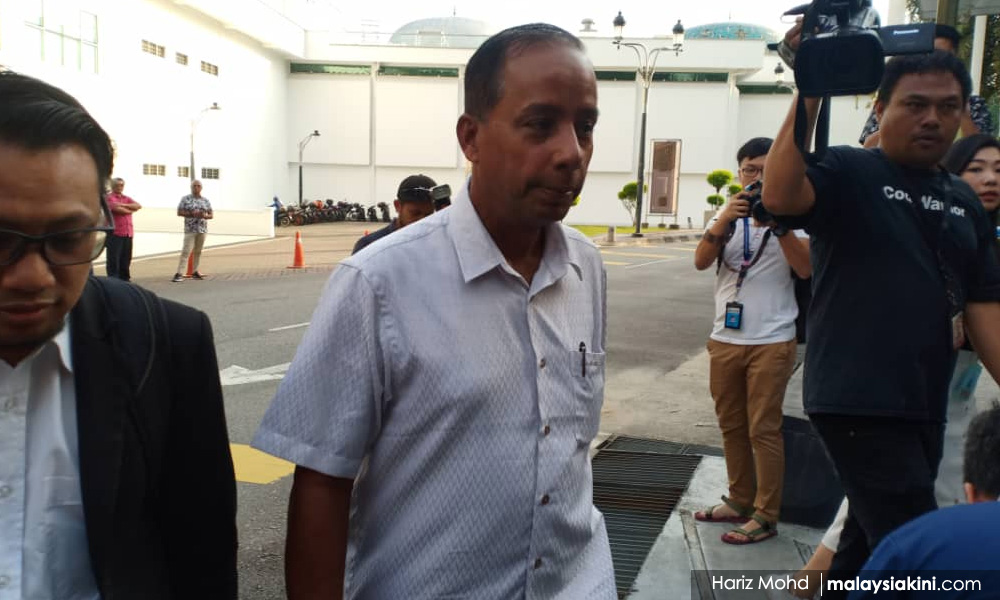 It is learned that Dr Mahathir arrived at 8.08am.
Last night, Mahathir claimed to have obtained the support of 115 MPs, in an attempt to thwart the selection of Bersatu president Muhyiddin Yassin as the eighth prime minister. The latter is set to be sworn in at Istana Negara soon.
However, several MPs have denied supporting Mahathir, bringing the number down to 113.
---
Police investigate activist over post on Dataran Merdeka protest
8.15am: Berita Harian reports that police are investigating activist Fadiah Nadwa Fikri over last night's peaceful protest at Dataran Merdeka.
This after the human rights lawyer is alleged to have uploaded a post online calling for people to attend the protest to object to the "betrayal" over the current political crises and collapse of the government.
In the report uploaded last night, Federal Criminal Investigation Department chief Huzir Mohamed says an investigation paper is opened on Fadiah.
She is being probed under Section 4(1) of the Sedition Act 1948 and Section 233 of the Communications and Multimedia Act (CMA) 1998, relating to alleged seditious actions and words, as well as improper use of network facilities or service.
---
PSM calls for transparency, wants Muhyiddin's 'numbers' revealed
8am: Parti Sosialis Malaysia (PSM) expresses hope that the Yang di-Pertuan Agong Sultan Abdullah Sultan Ahmad Shah will reveal the number of MPs supporting Bersatu president Muhyiddin Yassin.
The Agong announced yesterday that he has selected Muhyiddin (below) as the next prime minister following a week of uncertainty.
According to the palace, it is believed the former deputy prime minister would likely enjoy majority support of MPs in the Dewan Rakyat.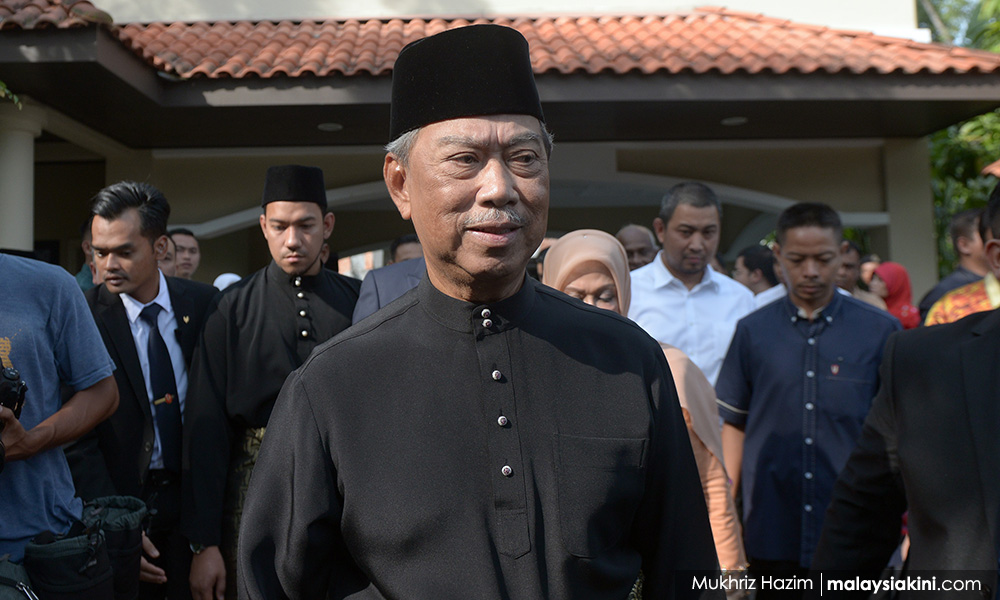 "With this announcement, we (PSM) are of the stand that the duties of the interim prime minister have ended, as the replacement PM candidate has been named.
"However, in the nature of open and transparent democracy, PSM hopes the Yang di-Pertuan Agong will announce the number of support obtained by Muhyiddin, seeing as there are many versions of the numbers obtained by him (Muhyiddin) as well as that by other candidates such as Anwar Ibrahim and (Dr) Mahathir (Mohamad)," party deputy chairperson S Arutchelvan says in a statement this morning.
---
Muhyiddin to be sworn in as PM
It's Day 8 of the Sheraton Move, which has finally become a success.
Muhyiddin Yassin will be sworn in today as the prime minister of a new coalition dubbed Perikatan Nasional.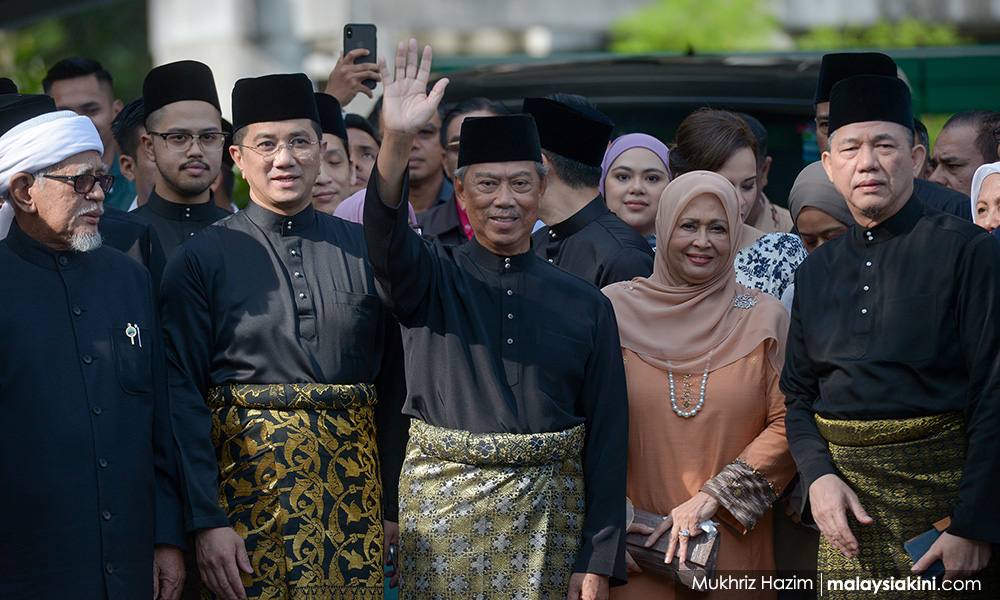 He will be taking his oath of office at Istana Negara at 10.30am.
However, Dr Mahathir Mohamad and Pakatan Harapan claim they have the backing of 115 MPs and is hoping for a last-minute reversal from the king.
Two of these MPs, however, have denied supporting Mahathir, leaving the possibility open that more denials may ensue today.
Read Malaysiakini's previous live updates on Feb 23 (Sunday), Feb 24 (Monday) and Feb 25 (Tuesday) and Feb 26 (Wednesday), Feb 27 (Thursday), Feb 28 (Friday) and Feb 29 (Saturday).
If you like our reporting, support independent media by subscribing to Malaysiakini for as low as RM0.55 a day. Details here.
RELATED REPORTS
LIVE Day 8: PM's Dept denies tomorrow will be a public holiday
On fate of charged Umno leaders, Hadi says Harapan leaders let off too
Behind closed doors, Dr M blames Muhyiddin and Anwar
Azmin condemns attack on Tian Chua, says PKR infiltrated by gangsters
Chants of 'traitor' outside PKR HQ as leaders aligned to Azmin heckled
Anwar: Azmin's supporters not privy to backdoor deals
Bypassed no more: Malaysia's 'Malay first' PM takes over
Our week-long struggle has succeeded, says Azmin
Muhyiddin takes oath as prime minister before King
Harapan: Let Parliament convene on Mar 9 as scheduled
Timeline: A week of political crisis in Malaysia
Umno sec-gen: PM has the prerogative to appoint ministers
'Blue skies' - Zahid celebrates passing of 'dark clouds' with return of BN
Maszlee: I had a heavy heart sitting with Umno leaders
Police warn against planned protest at Sogo
Muhyiddin rises from the ashes
King won't see me, 'GE14 losers' will form gov't - Mahathir
Dr M: I told Muhyiddin to wait until graft trials were over