Below are verified locations that are reported to be affected today.
Malaysiakini will continue adding to the list as more locations are announced.
If you know any locations which were announced today but are not listed here, please send an email to [email protected]
For a list of locations affected in the past 14 days, please visit the Kini News Lab's Covid-19 tracker.
---
GOVERNMENT FACILITIES
- Papar Temporary Detention Centre, Sabah
Sabah State Health Department reported that five officers at the detention centre had been tested positive Covid-19.
According to a Bernama report on Saturday, state minister in charge of local government and housing, Masidi Manjun said that a total of 33 undocumented migrants detained there had been screened for the virus following the incident.
Their test results are still pending.
---
PUBLIC ACCESS FACILITIES
- Mass Rapid Transit (Kajang Route)
An MRT transit officer who handles train operations has been tested positive and is now undergoing quarantine at Sungai Buloh Hospital, according to a statement by Prasana Malaysia Bhd.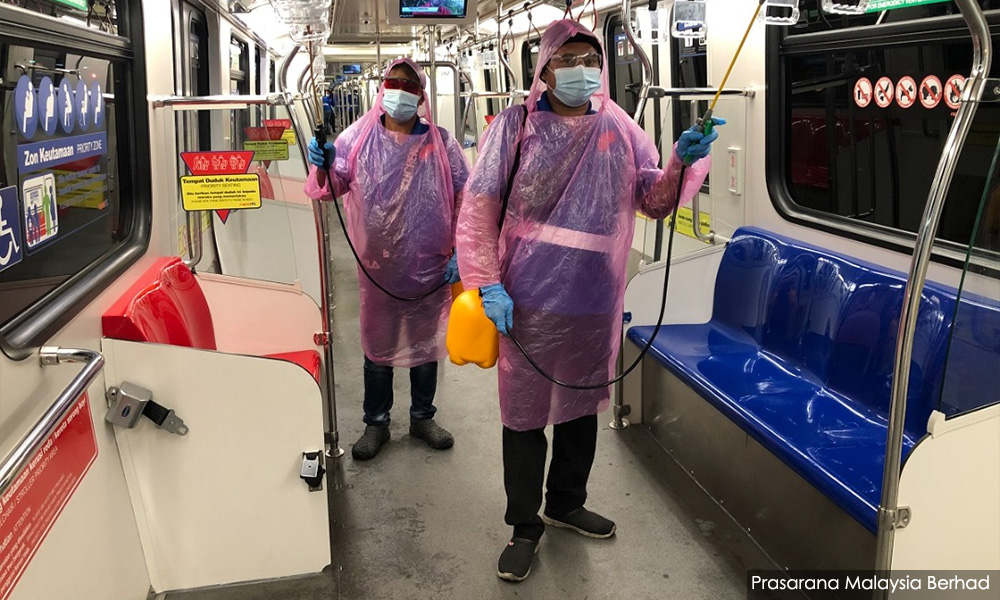 It said that Rapid Rail, which is the operator for MRT's Kajang Route, carried out disinfection and cleaning works at the employee's work station last night, while all trains are also sanitised every night after the end of daily operation.
Following this, all staff who had close contact with the positive person were ordered to undergo Covid-19 test and 14-day self-quarantine.
---
EDUCATION ENTITIES
- Sekolah Agama Kempas and Sekolah Agama Taman Cempaka, Johor
According to a Bernama report today, these two religious schools are closed from today until Oct 31.
---
RESIDENCES
- SA2 Tower D'sara Sentral, Selangor
The management of D'sara Sentral condominium issued a notice on Oct 22 notifying that two of its residents, who lived in the same unit, have been tested positive.
Both of them have since been taken to hospital for treatment.
- Goodyear Court 1, Subang Perdana
Sinchew Daily reported that the management body of Goodyear Court 1 in Subang Perdana has issued a notice on Oct 23 that a resident there tested positive with Covid-19.
It stated that disinfection works have been carried out on the same day.
- PV13 Platinum Lake Condominium, Danau Kota
The management of this condominium located in Danau Kota, Kuala Lumpur issued a notice yesterday (Oct 24), saying that a resident who lives in a unit at Level 21 of Block B has been tested positive with Covid-19.
According to a report carried by Sinchew Daily, the management says that they are conducting sanitising works at common areas including elevators at Block A and Block B of the condominium.
- Sri Manja Court, Petaling Jaya
Three residents on the 9th floor of Block F at Sri Manja Court condominium in Petaling Jaya have been confirmed positive Covid-19, according to Sinchew Daily.
A notice issued by the management said that they have engaged services to carry out deep sanitisation works at the building.
- PPR Kampung Baru Air Panas
A notice posted on Facebook by the management body of PPR Kampung Baru Air Panas on Oct 20 stated that a resident at Block D was tested positive Covid-19.
- D'Sands Residence, Jalan Klang Lama, Kuala Lumpur
A resident of Block B1 has tested positive today, the management said in a notice to residents.
Disinfection will be done immediately, it added.
Residents who are undergoing Covid-19 home quarantine are urged to inform the condominium management.
---
BUSINESSES
- LNG floating ships, Sabah and Sarawak
Fifteen crew members onboard two Liquid Natural Gas (LNG) Floating ships were tested positive with Covid-19, according to a report by Harian Metro today.
While the locations of the ships were not identified, the Health Ministry's statement on the Sauh Cluster said as of noon Saturday, a total of 30 individuals have been tested positive linked to the cluster.
The cluster is detected in four districts across Sabah and Sarawak, namely Kota Kinabalu and Papar in Sabah; and Miri and Daro in Sarawak.
- Baskin Robbins, 1Utama, Petaling Jaya
Baskin-Robbins Malaysia today issued a statement saying that a team member from its outlet in One Utama shopping complex in Bandar Utama, Petaling Jaya has been tested positive with Covid-19.
The employee last worked at the outlet on Oct 22 and is currently under treatment at a hospital.
It said that Baskin-Robbins One Utama has been closed for disinfection and all colleagues of the person identified as close contacts have been tested for the virus and order to go under quarantine. The company also took action to discard all exposed food and packaging.
- Mykori Dessert Cafe in Bayan Baru, Penang
A customer of Mykori Dessert Cafe located inside D'Piazza Mall in Penang was tested positive on Oct 23, according to a report by Guangming Daily.
A notice by the mall management said the customer had visited Mykori on Oct 20, traced through MySejahtera application.
The outlet has been ordered to close for 14 days starting Oct 23, and all its employees have taken Covid-19 detection tests and been ordered to undergo quarantine.
- Family Mart, KLIA2 Gateway Mall
An employee tested positive for Covid19 today, the convenience store chain said in a statement.
The employee was last at the store on Oct 22.